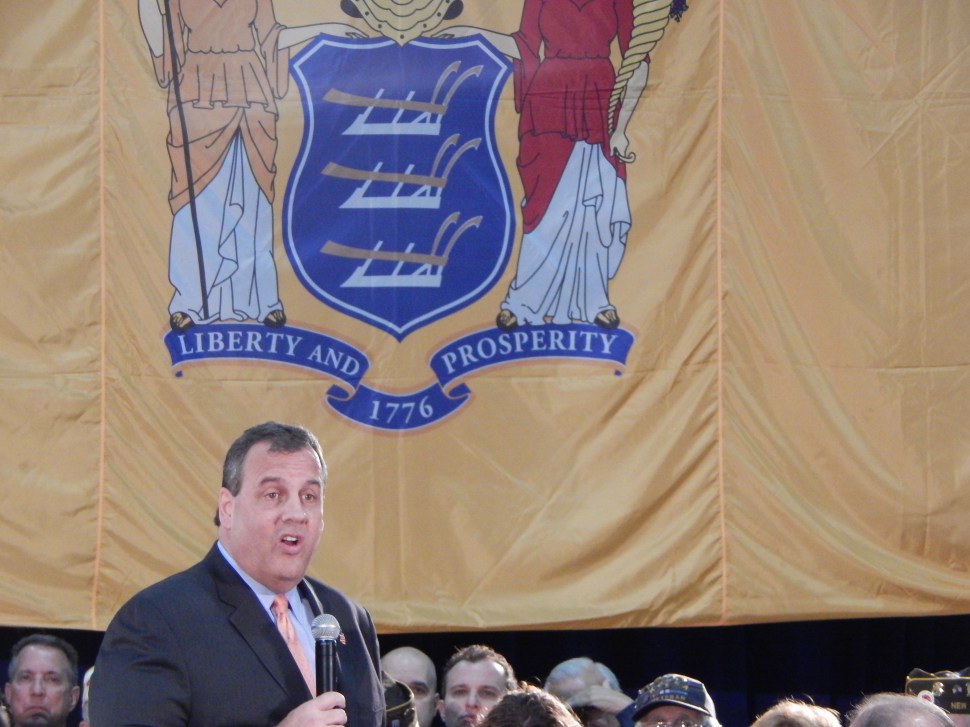 MATAWAN — Gov. Chris Christie went at it again with an audience member over the state's recent $225 million settlement with Exxon Mobil over a series of environmental damage lawsuits, saying he has "no second thoughts" when it comes to the final settlement figure during his 134th town hall here today.
Christie, speaking to an audience gathered in the gymnasium of the Old Bridge Highschool, argued that the state did not get a bad deal when it settled for that amount over a sought after $8.9 billion, as some critics and environmental activists have argued.
Responding to a woman who asked about the settlement and other "corporate subsidies" made under Christie's tenure, he said the final figure is "above and beyond what it's going to cost" to clean up individual contaminated sites across the state, and that the $8.9 billion number, which experts who testified at the trial estimated to be the company's full liability, had "no basis in fact."
"The entire site is going to be cleaned, and that's part of the settlement," Christie said.
He then teared into what he called certain inaccuracies in the questioner's assessment of the situation.
"I understand if you come in with a point of view, you're entitled to it," he said. "But when your numbers are so totally wrong… you're just making stuff up. It's fine if you want to make your point and be dramatic about it, but you've got to be right."
This week saw the governor's administration unveiling details the final details of the $225 million settlement with the Texas company, which state officials have called — and Christie today echoed as — "historic". In addition to the originally reported amount and cleanup sites, the settlement also clears Exxon's liability for pollution at 16 other industrial sites and hundreds of gas stations around the state.
Critics of the settlement — including some of the state's top Democrats, such as state Senator Ray Lesniak (D-21) — said those details paint an even worse deal than had been previously thought, and vowed this week to continue a campaign to oppose it.
""When you finally read the deal, it's even worse because it includes 16 other contaminated sites as well as contamination from hundreds of gas stations. The Christie Administration calls this the largest settlement in history, but it's really the largest sellout in state history," said Jeff Tittel, Director of the New Jersey Sierra Club, which is launching a grassroots campaign to raise awareness about the deal.
But Christie this afternoon maintained that the settlement is the biggest the state has ever seen, and that the company will still be held accountable for the damage incurred to contaminated sites. He said that "in the end", he has "absolutely no second thoughts about it."
"Come to the next town hall meetings, do the research, get the right numbers, and maybe next time we can have a more fruitful discussion,' Christie told the questioner. "But not with those numbers."