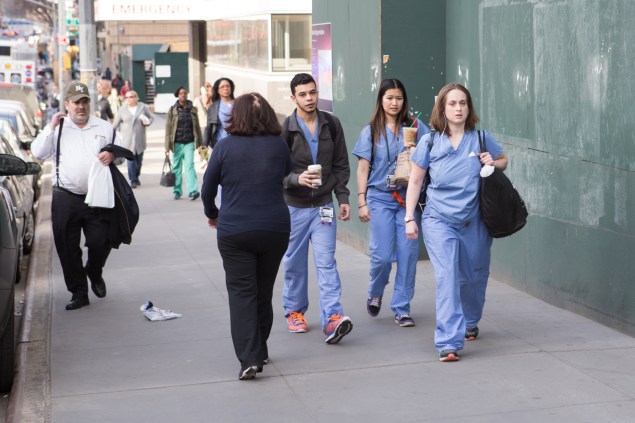 "As a medical student, you go through all these years of education and it's just an amazing, amazing day when you match," said Alexandra Price, an NYU medical student who found out her fate as a doctor-in-waiting on March 20, when she and some 18,000 graduating seniors across the country were matched with residency programs.
Both stressful and exhilarating, Match Day, which happens the third Friday in March each year, determines not only where every medical student in the country will continue his or her training (a computerized algorithm aligns the preferences of medical students with those of residency program directors, assigning each one to a single placement), but whether or not they'll be able to practice their preferred specialty, or even able to practice at all (a small percentage of students fail to match and must scramble to find a program with available slots).
Ms. Price's match, fortunately, was a happy one—she got one of her top choices—a year-long internship at NYU Tisch, rotating between Tisch, Bellevue and the VA hospital, followed by a dermatology residency in Miami, where she grew up. But just a few days later, she was worrying about another match, one that she hadn't spent years anticipating, or given any real thought to before: finding an apartment. The lease on her subsidized NYU studio, which costs about $1,000 a month, is up June 1, and as a resident she's not allowed to stay.
"I'm shocked at the prices, shocked at how much people pay for these apartments. It's very challenging," Ms. Price said, confessing that if it wasn't for her aunt, Warburg broker Susan Abrams, she'd be completely lost. "It did cross my mind that it might be difficult, but to be honest, I thought of the program first—I think that's a typical approach—the No. 1 thing as a doctor starting your career is to get the best training and the rest will just figure itself out."
The rest, as it happens, doesn't quite figure itself out, as scores of residents matched to Manhattan hospitals every year discover when they start looking for apartments, a task that's especially difficult given their relatively modest salaries—generally between $50,000 and $60,000 a year—and the grueling 16-hour days, late nights and early mornings that make commuting from Brooklyn or Queens inadvisable.
"They've all told me they've had that 'oh shit' moment," said Town broker Debra Hoffman, describing the stomach-sinking sensation when incoming residents, many of them still euphoric after being matched with their first-choice programs, learn how difficult the hunt will be. She recalled, years earlier, seeing two of her friends literally jumping for joy when they found out they were getting housing through the hospital.
***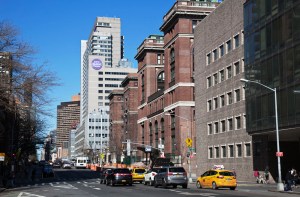 Of the many top-tier hospitals that line the East Side corridor disparagingly referred to as "bedpan alley," a number do offer some subsidized housing or stipends for residents—a tacit admission that the realities of the Manhattan real estate market do not align with the budgets of those in training programs, whose ability to commute in from cheaper areas is limited by hours so long that a few years ago residents' shifts were nationally capped at 16 hours; previously, shifts were notorious for stretching to 40 hours and beyond.
Of course, as a spokesperson for Lenox Hill, which offers subsidized housing for all of its residents, told the Observer, "Obviously demand is greater than the number of apartments." Lenox Hill provides stipends for those who don't get a subsidized apartment (just 5 percent), but residents at many other hospitals are not so lucky (and the accommodations at Lenox are hardly lavish—families with children get preference for one-bedrooms and couples have special claim to the alcove studios). What housing there is usually goes first to medical students, followed by residents relocating from out of state, with fellows—the training period after residency that generally pays about 20 to 30 percent more than a residency—at the bottom.
It is that last uncharmed category into which Zachary Vande Griend, who moved from Detroit with his wife and two young children last year for a one-year facial plastic surgery fellowship at Mount Sinai's otolaryngology department, falls.
"This was my top pick, so I was pretty excited to come here. But I found it phenomenally difficult," said Mr. Vande Griend, adding that he and his wife weren't real estate novices; he was buying a house when he met her, and she already owned one. "Buying a house is complicated and I've been a renter in other cities, but I really had no idea what it would be like in New York."
Neither he nor his wife knew anyone in the city, and Mount Sinai does not have a formal program to assist grads looking for housing. At first, they couldn't even get a broker; the one who had listed their houses in Michigan cold-called New York brokers until he found Citi Habitats' Etie Khan, who agreed to work with them.
Mr. Vande Griend quickly resigned himself to the fact that he'd need a guarantor to secure a lease for a two-bedroom on the Upper West Side, but he was stunned that theyneeded to make 80 times the rent, an amount that also seemed preposterous to his would-be guarantor, Mr. Vande Griend's father, a successful attorney in Oregon. He didn't qualify, so Ms. Khan recommended they offer to pay the entire year up front; Mr. Vande Griend père had to take out a home equity line of credit.
"We basically ended up offering to pay $50,000 up front and even then some places weren't interested," Mr. Vande Griend recounted. Eventually, they found a $3,500 two-bedroom on Amsterdam and 98th (he walks across the park to the hospital each morning) that met their two unextravagant requirements: on the first floor and with laundry in the building.
Mr. Vande Griend said they'd quickly learned to moderate their expectations. "At first we thought it might be nice to have a three-bedroom, but that wasn't going to happen. The 1-year-old sleeps in the second bathroom in a pack-and-play," he said, explaining that the kids keep each other up all night if they sleep in the same room. "The hardest part is that there are six stairs up and six stairs down, so we have to make multiple trips every time we leave—get the stroller, get the bags, get the one kid, then the other, then your super's live-in girlfriend is yelling at you."
In fact, Mr. Vande Griend's family was so astounded by the requirements of renting in the city that they began to suspect it was a scam, especially after Ms. Khan gave them the lease, which listed the landlord as an anonymous LLC, a common practice in the city.
"When they could not find if the landlord existed, they started getting paranoid. Then they said, 'How do I know Citi Habitats actually exists?' " recalled Ms. Khan, who had to ask her boss for proof that the company did, in fact, exist. "I don't blame them," she added. "He was sending me a check for $42,000."
Looking back, Mr. Vande Griend said that he wasn't surprised it had been hard to find a broker—he didn't think the broker's fee, which they'd initially bristled at paying, covered the extensive work Ms. Khan had needed to do. They'd be moving again soon, he added. He's taken a job along the Central Coast in California, far from bathrooms-turned-bedrooms and his super's yelling girlfriend.
***
Medical residents, brokers agree, are a practical sort, not given to the whims of some other freshly minted New Yorkers, who arrive with fantasies of sprawling lofts or vast prewar apartments. They're almost exclusively concerned with proximity to work and noise, though many also want a doorman for safety and convenience. They are unmoved, by and large, by the things that make other renters' hearts flutter—views, good light, period details.
"They just want to be as close as possible. I say, 'Do you want light to study?' They all say, 'No, we just want quiet,' " said Ms. Hoffman, the Town broker. "Nobody cares about the light, they all say the same thing: 'We're not going to see the light of day.' "
Of course, there is also the issue of what parents, many of them acting as guarantors, want. "A lot of them are stuck in walk-ups because of their budgets," Ms. Hoffman said. "They don't care about walking up the stairs because they're young, but their parents say, 'What do you mean, no doorman?' "
Indeed, a doorman is one of the few luxuries that Ms. Price, whose housing desires echo those of most residents, is insisting on.
"We wanted her to be able to walk and we wanted her to be safe, so a doorman was important, because we knew she would be coming home late," said Ms. Abrams. They've focused their search between 23rd and 34th by Second Avenue because of the amenities, with a budget of between $3,000 and $3,700 for a one-bedroom, which Ms. Price plans to share with her boyfriend.   
Ms. Abrams said one of the difficulties in Murray Hill was avoiding "party buildings—typical, post-college buildings that attract the more recent graduates." Ms. Price even upped her budget to avoid potentially noisy neighbors, focusing on buildings like Rivergate, Prism and the Grayson, where rents for one-bedrooms start in the mid-$3,000s. Even so, there aren't many units to choose from.
"Murray Hill used to be an area where you could get better value. Now we're finding it to be just as expensive as other areas of Manhattan," Ms. Abrams said.
And like many other graduating seniors, Ms. Price has little time to even look at, let alone look for, apartments. In fact, she left two weeks ago for medical rotation in Arizona, and she's given her boyfriend and Ms. Abrams authority to make a decision.
Romina Monsef, a Citi Habitats broker, who along with her partner Steve Hallerman is the preferred broker for Memorial Sloan Kettering and NYU Langone, agreed that the hardest thing about working with residents is that they don't have the time to look. There's only about a month between graduation and the beginning of residency programs.
And though they are few and far between, there are some landlords who value residents as tenants: After all, they're not home much and when they are they're usually asleep, noted Corcoran broker Beth Benalloul, who said the building where she lives, Chartwell House at 92nd and Second, has about 40 doctors living in it any one time.
"We're inundated with requests from residents every year—I guess because it's easy walking distance to the hospital," she said. Nor do preferences change all that much as doctors move up the pay scale. Ms. Benalloul recently sold a $19.34 million penthouse at 515 East 72nd Street to the chief surgeon at Weill Cornell. Among the main attractions, she said, had been proximity to the hospital and the condo's full-service amenities, particularly the gym.
But even with a severely pared down list of must-haves, it's often difficult to find housing within walking distance of work. Ms. Monsef said that she advises many NYU residents to look on the Upper East Side, where studios start around $1,600, rather than Murray Hill, where they start at $1,750. It may not seem like a huge difference, but $150 a month really matters when you're looking at the top of your budget. Besides, she added, on the Upper East Side, cheaper apartments are more plentiful, whereas in Murray Hill there might be just one $1,800 studio available at any one time.
In the highly competitive Manhattan real estate market, she added, there is one thing that helps residents secure the apartment they want: a wedding ring. Married residents, with two incomes, have a distinct advantage in the housing market, a notable reversal from the Match itself, in which couples who decide to match together face difficult odds in securing top placements.
Husband and wife David Fealey and April Pruski, who are both going into second-year residencies at NYU, were "expecting that rents were going to be through the roof in Murray Hill," Mr. Fealey said, "a minimum of $3,000 if we didn't want to live in a shoebox." Both from Staten Island, they'd never lived in Manhattan before, having done their first year of residency at Staten Island University Hospital, which they commuted to from the relatively affordable Sheepshead Bay. But they knew well enough to prime themselves before apartment hunting with Ms. Monsef this winter.
Instead, they were pleasantly surprised. "Granted, some of the places for $2,100 were sort of misshapen, like the first thing you see is the refrigerator," Mr. Fealey said. But they pronounced themselves pleased with the one-bedroom at 4 Park Avenue that they just moved into.  
When we spoke, they were still unpacking, but the place was, in short, almost exactly what they'd hoped for: a true one-bedroom that's about a 10-minute walk from work for $2,700 a month. It has a good layout and 12-foot ceilings—a pleasant change after their basement apartment in Sheepshead Bay—and even an elevator and a doorman, which hadn't been on their list of requirements.
The only thing that's missing, Mr. Fealey said, was a dishwasher—and a dog.