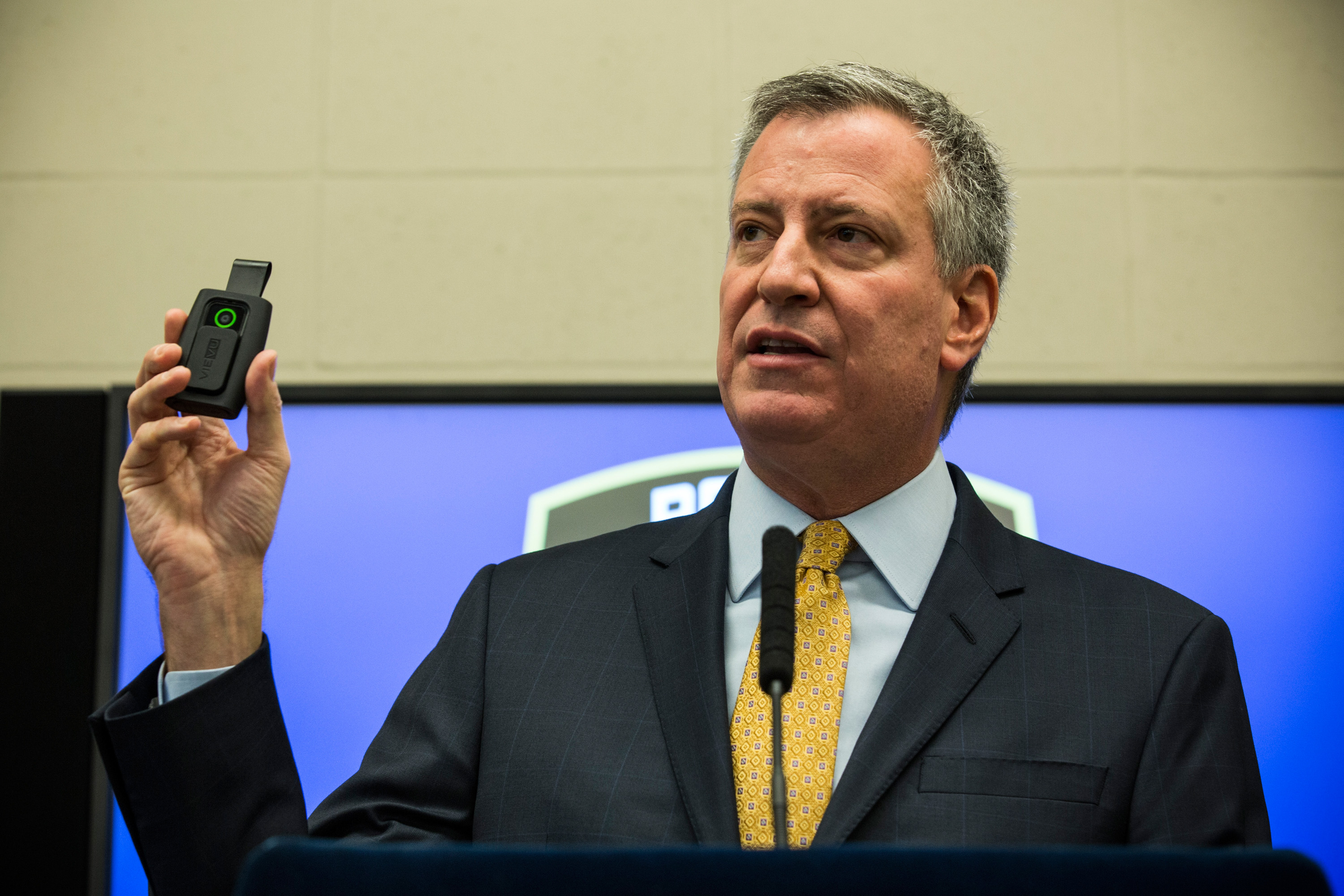 After yet another deadly encounter between a police officer and an unarmed black man was caught on cell phone video—and this time led to a murder charge—elected officials in New York City are again turning their attention to the planned rollout of body cameras for police officers.
Mayor Bill de Blasio announced the start of a body camera pilot program late last year, after a federal court ruling ordered the city to do so and after video emerged of a police officer taking down Staten Islander Eric Garner, who died after repeatedly screaming he could not breathe. He alluded, obliquely, to that video today in discussing footage of North Charleston, S.C., police officer Michael Slager shooting Walter Scott in the back as he fled.
"We're all feeling some pain today, I would imagine. I certainly am. We watched a video yesterday—once again, we are watching a video—we watched a video that is so disturbing and so painful," Mr. de Blasio said at the annual convention of Rev. Al Sharpton's National Action Network. "You can't watch that as a human being and not feel pain. It makes no sense, according to what our core notions of humanity and decency and justice are."
Based in large part on the video—which paints a drastically different picture than the one Mr. Slager first offered up after the shooting—Mr. Slager has been charged with murder. But while Garner's death, too, was caught on video, the officer who wrapped his arm around Garner's neck, Daniel Pantaleo, was not charged with any crime by a Staten Island grand jury.
Despite the fact that footage in cases like Garner's has not always led to charges, today advocates for police reform and elected officials like Mr. de Blasio renewed the call for their use, and argued they would reduce the use of force by police. Mr. de Blasio said the city's camera pilot program was "a measure of accountability and transparency."
"A few years ago, body cameras were considered something out of reach. But now they're becoming a norm in more and more police departments around the country. It's because people demanded change. And technology gave us a chance to create a kind of transparency and accountability we had never known before," Mr. de Blasio said. "We've seen these painful moments captured on individual citizens' cellphone cameras. We are going to move more and more to a society where the cameras on police officers – for the good of all, so the truth comes out."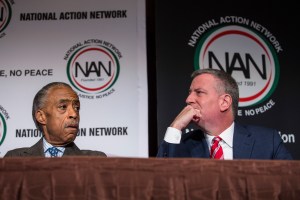 In the wake of Scott's death, the North Charleston mayor ordered that the entire department—which, at 250 officers, is a tiny fraction the size of the NYPD—be fitted with body cameras.
Mr. Sharpton, meanwhile, also called for the increase use of body cameras—saying they ought to be mandated in a federal law.
"Let me say this: it not only protects citizens, it protects police," Mr. Sharpton said. "No one should fight transparency."
When asked after the event if he thought wearable cameras ought to be universal for cops, Mr. de Blasio said he was waiting to see the results of the city's yearlong pilot.
"Certainly there's some very good indications from body camera use around the country that it can change the whole equation, that it gives you an immediate level of transparency and accountability for everyone involved. Again, if the citizen has done something wrong, that's captured on film. If the officer's done something wrong, it creates accountability," Mr. de Blasio said.
But beyond capturing evidence in violent encounters, Mr. de Blasio said the cameras can also change an officers entire approach to their job. Proponents of the use of body cameras often cite statistics from their use in Rialto, Calif.—where complaints against officers fell by 88 percent in the first year of their use, and use of force by officers fell by nearly 60 percent, according to the New York Times.
"It changes the way people think about their work, knowing that every single piece of it is being recorded when they have a confrontation with an individual. This is all about reducing the use of force, respecting the crucial work that police play in our city, the crucial role they play in our society, but also reducing the use of force in every way we can," he said. "And I think body cameras are a key part of that."
Mr. de Blasio said the video from North Charleston was the kind of thing you view and "your heart skips a beat." Asked what he made of the way the video changed the narrative of the shooting—clearly contradicting Mr. Slager's initial claims that Scott had stolen his taser and was threatening his life when he fired the shots—Mr. de Blasio said it was "cautionary."
"I think this is part of why we're very hopeful about what the body camera pilot program will mean. Because we're seeing things in a different light now that we have so much more on video. You know, let's face it—technology complicates society, but it also opens up a lot of possibilities," he said. "And so, we've now seen things that in the past might have been mischaracterized portrayed very starkly and very honestly. I believe that will lead to progress. I believe it will force all of us to come to grips with a bunch of challenging dynamics that we have to deal with."
Public Advocate Letitia James has also repeatedly called on the city to make wider use of body cameras for police—and re-upped that call today.
"The video from South Carolina released last night demonstrates the crucial importance of body cameras for police encounters. Had a concerned citizen not taken the initiative to record the shooting, this tragedy and injustice would have gone unknown," Ms. James said in a statement to the Observer. "Incidents of recorded police brutality are reaching a critical mass nationwide, and they underscore the urgent need for police reform, transparency, and accountability measures—including body cameras, improved police-community relations, and innovative technology in police departments. We must expand the use of body cameras in New York City and in police departments across the nation."