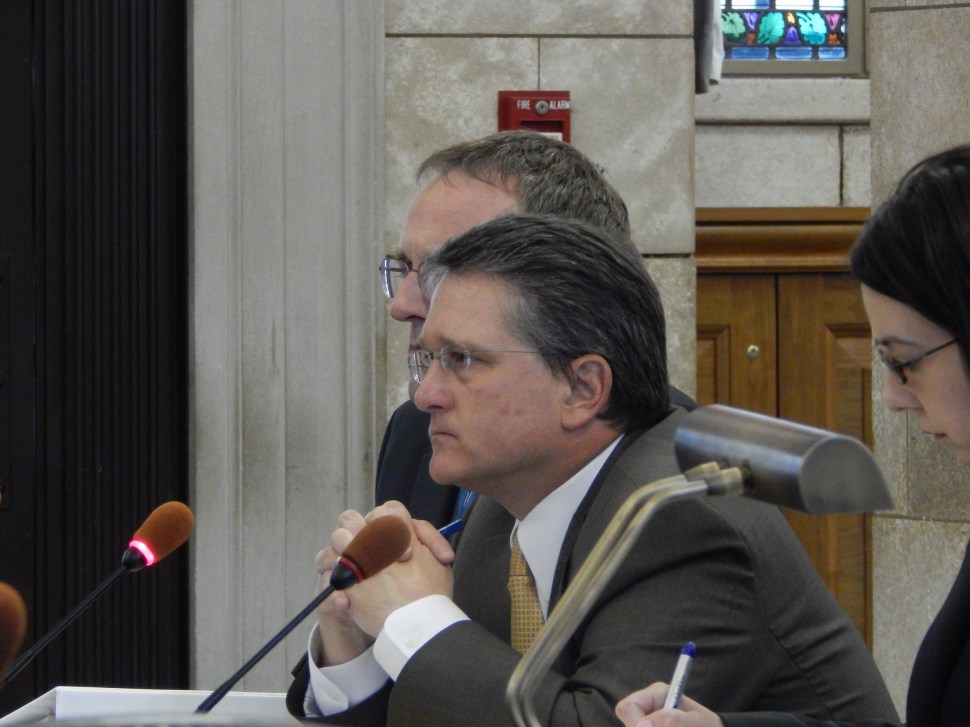 TRENTON — Acting Attorney General John Hoffman expanded on his defense of the state's $225 million settlement with Exxon Mobil over a series of environmental damage lawsuits today, arguing the final figure represents a carefully-litigated medium between what the state's lawyers had estimated the company's liability to be versus what Exxon estimated its liability to be during trial.
During testimony of the Senate Budget and Appropriations Committee, state Senator Peter Barnes (D-) asked Hoffman about the settlement, an issue that has had both Democrats and environmental advocates up in arms over in recent weeks. Hoffman, who initially announced the settlement along with Environmental Protection Commissioner Bob Martin earlier this year, said the finally tally actually favors the state, pointing to Exxon's own valuation of the damages incurred.
"We had an expert, and that expert came up with $8.9 billion dollars. And Exxon said, on top of its remediation obligation, they valued the damages at $1.8 and $3 million dollars. And so if you look at that as a spread, the settlement is, as has been reported, three cents on the dollar of what our expert said," Hoffman said.
Critics of the state's settlement argue that the final figure is unjustifiable given what experts had originally assessed Exxon's damages to be, which is supposed to cover years of pollution at former refineries in Linden and Bayonne as well as dozens of other sites across the state. Sierra Club Director Jeff Tittel has called the issue a "bigger scandal than Bridgegate", and Democratic lawmakers in the legislature passed a resolution recently condemning the settlement and urging the judge scheduled to review it next month to reject it.
Hoffman, as well as Gov. Chris Christie, have defended the settlement, however, calling it the "single largest environmental settlement with a corporate defendant in New Jersey history." They argue that the $225 million comes on top of the cost of remediation and cleanup at the damaged sites, reinforcing Exxon's obligation to the state.
"The settlement is also one dollar on every penny of what Exxon's experts said that they owed on top of remediation," Hoffman emphasized today. "So if we're talking about a relativistic spread based on experts reports, the settlement is one hundred times what Exxon said it owed as damages."
"So that puts the concept of the spread in some point of a relative comparison," he added. "You can't just look at one number, you have to look at both numbers."
Hoffman is the latest official to testify in front of the legislature on the settlement. Yesterday, Martin also fielded questions on the issue during an Assembly Budget Committee hearing — he too largely defended the final $225 figure despite a grilling from at least one Democratic Assemblyman.
Hoffman today said he understands it might seem "crazy" that the state's assessment of the damages turned out so drastically different that the company's, but argued that "it happens. It's litigation."