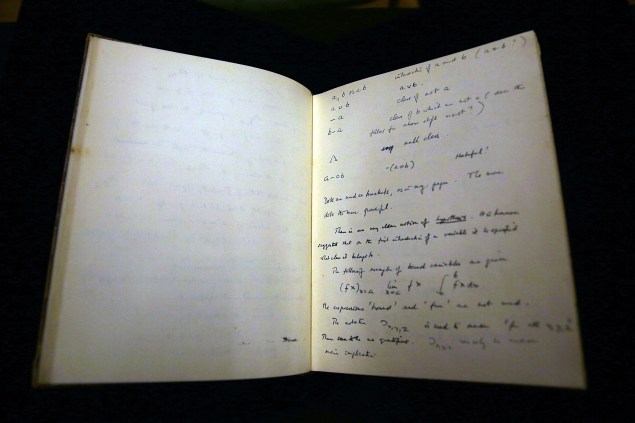 A handwritten notebook once belonging to Alan Turing, the famed mathematician and codebreaker immortalized by Benedict Cumberbatch in the Imitation Game, has sold for $1,025,000 at Bonhams auction house. The buyer is, at least so far, private.
Thought to have been purchased in a Cambridge stationary shop around 1942, the 56-page manuscript contains handwritten mathematical notations by Turing, dating back to the time he spent at Bletchley Park cracking the German's infamous Enigma code. It is believed he shortened World War II by two years.
"This is a wonderful result and a fitting testament to Alan Turing's impact and legacy," Cassanda Hatton, senior specialist in Fine Books and Manuscripts at Bonhams, said in a statement. "It has been a great privilege to have been involved in this sale and we are immensely pleased that all the people who bid for this unique item and indeed the wider public have recognized Turing's importance and place in history."
According to the Telegraph, the notebook, still preserved in its original cloth-backed covers, last changed hands at a private sale at Christie's in London last year. And while the rest of Turing's legacy remains in the Turing Archive, Cambridge, concerns have been raised over the rare manuscript disappearing into private hands for good.
Sir Dermot Turing, trustee of the Bletchley Park Trust and Turing's nephew, told the paper, "It would just be a terrible shame if it were just locked in some dark vault, and bona fide researchers never got a chance to review it."
Turing, whose death in 1954 was ruled as suicide, left the notebook to his close friend and student Robin Gandy. The notations on its pages are possibly part of Turing's work towards developing a universal language.
"[It's] a rare glimpse into how he tackled these problems," Ms. Hatton told the Observer of Turing's notes. "What he was planning to work on in the future."