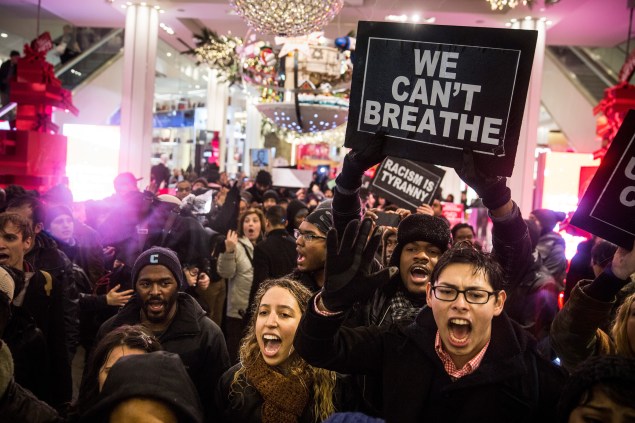 Rejecting complaints from activists and allies that his police force too aggressively cracked down on protests last night, a testy Mayor Bill de Blasio insisted marchers just needed to start following NYPD instructions.
"When police give instruction, you follow the instruction," Mr. de Blasio said at a City Hall press conference today. "We won't tolerate illegality; we won't tolerate disorder."
The liberal Democrat, who tolerated mass protests filling streets and highways in the weeks following a Staten Island grand jury's decision not to indict a white police officer in the Eric Garner case, said the NYPD was not wrong to arrest 143 protesters during solidarity marches throughout Manhattan and denied that police unnecessarily roughed up any civilians. Activists and several elected officials said police wielded billy clubs against unarmed marchers, a departure from the hands off approach they took last year.
The marches last night were held in response to the unexplained death of Freddie Gray in the custody of the Baltimore Police Department. In Baltimore, peaceful protest turned to riots and looting Monday, with order since restored.
Mr. de Blasio said the overall strategy of the police in New York City had not changed—there was simply "flexibility" they took in certain situations, like when dozens of marchers poured into the streets around Union Square after being told not to enter the roadways.
"The tactical reality we have to acknowledge is when we think there is potential for specific violence, it's important to not let that happen," the mayor said. "The strategic approach is exactly the same. We're gonna respect nonviolent protest and we're gonna accommodate it in all types of flexible ways."
Police Commissioner Bill Bratton, too, argued the city's response had changed little from prior demonstrations—but then went on to say the force would be "more assertive" at future demonstrations.
"I didn't see much different last night from what I saw in December," Mr. Bratton told reporters today, according to Capital New York. "But we are going to be much more assertive dealing with efforts to close down tunnels, close down bridges, and will be much faster to make arrests if in fact they attempt to move in that direction."
Mr. de Blasio claimed that smaller groups of protesters would be prevented from entering the street, while it would be impractical to keep tens of thousands of people on a sidewalk. (Mr. Bratton, too, said large groups were permitted in the streets, but were not permitted to block traffic, according to the New York Times.)
The mayor also chastised reporters for focusing on what he viewed as isolated incidents, and bemoaned the lack of attention to his long-term accomplishments, like the reduction of stops made by police.
"I would like to add up all the column inches and minutes that are going to go into one incident in Union Square versus the huge structural changes that are happening in our policing strategy," he said.
While Mr. de Blasio insisted that New Yorkers protesting needed to obey the NYPD's orders, he argued his own arrest during a 2013 protest of plans to close a Brooklyn hospital was an entirely different matter.
"I'm astounded at that question," Mr. de Blasio told the Wall Street Journal's Michael Howard Saul. "I would think you knew a little bit more about the history of nonviolent civil protests. The civil rights movement, maybe you've heard of it?"
He went on to say he'd like to "school" Mr. Saul on history—saying his arrest was different, because the disobedience was "choreographed" with police who knew he would disobey their orders to disperse. It's unclear whether protesters who are not high-profile candidates for mayor enjoy the same ability to coordinate with police—particularly when it is police they are protesting about.
"You plan with the police what's going to happen. I don't know if you were there that day in 2013, it was the most choreographed thing on earth in terms of how the police wanted to handle it. We didn't make it up. We said, 'we're protesting the closure of a hospital, this is our intention, people will get arrested because we're protesting,'" Mr. de Blasio said.
It was the most tense press conference for the mayor since Mr. de Blasio scolded reporters for "dividing" the city following the protests in December. In addition to promising to "school" the press, he repeatedly accused reporters of editorializing or sensationalizing the arrest of nearly 150 people. He repeatedly took issue with the idea that police had taken a "harder line" or more "assertive" approach.
"If you guys want to sensationalize, if you think that's your contribution to society, feel free. I'm giving you lots of quotes. Maybe you can borrow from one of these quotes: same strategy, some flexibility in terms of tactics, to address some situations we've seen, that we think have to be addressed," he said.
Jillian Jorgensen contributed to this story.