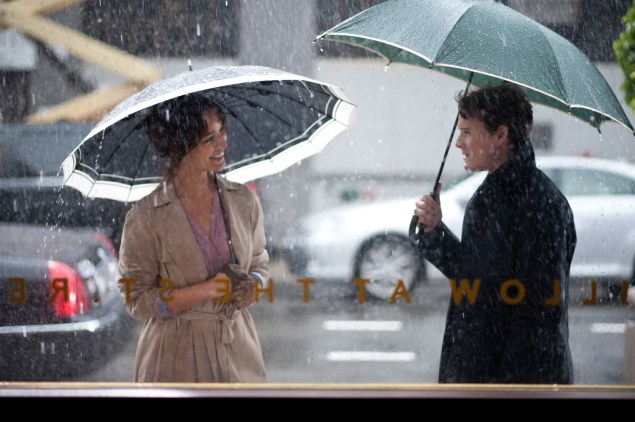 I've always liked the premise that "in New York you're never more than 20 feet away from someone you know—or someone you're meant to know." In an inconsequential but sweet and completely ingratiating little romantic comedy called 5 to 7, that idea extends to a lad named Brian (Anton Yelchin), a struggling writer who lives in an apartment on East 30th Street, where the walls are decorated with rejection letters from magazines in 12 countries and 47 states. (Apt. 3B in case you want to check him out for yourself, and believe me, Mr. Yelchin is so charming you probably will.)
---

5 TO 7 ★★★
(3/4 stars)

Written and directed by: Victor Levin
Starring: Anton Yelchin, Bérénice Marlohe and Olivia Thirlby
Running time: 95 min.

---
The story, also equally charming, is about a 24-year-old wannabe who becomes infatuated with a beautiful but unconventional 33-year-old French woman with a husband and two children, who is only available from the hours of 5 to 7 p.m., which are the hours no French husband ever questions the whereabouts of a wife. From this less than enchanting excuse for a feature-length movie comes 5 to 7, featuring delicious performances, extremely witty dialogue without the customary Hollywood television punch lines, a convincing believability quotient, and some beautiful cameos, especially by Glenn Close and Frank Langella as Mr. Yelchin's disapproving but modern, adaptable parents.
Mr. Yelchin grows from kid actor into a sexy puppy-dog 20-something. He's likeable, sincere and smart. So is Bérénice Marlohe, as Arielle, the wise but hormonally over-endowed older woman who seduces him. The getting-to-know-you montages are so fresh and enjoyable that it's not long before Arielle insists he meet her handsome, debonair husband Valery (Lambert Wilson), who has a mistress of his own, an editor named Jane (Olivia Thirlby). Jane bonds with Brian wondering if what they've got themselves into will ever end up beyond the hours of 5 to 7. Could Brian end up with Jane? Your move.
Writer-director Victor Levin, making his feature-film debut after numerous polished TV movies and series episodes, including Mad Men, has an admirable way of pruning away the clutter. He also makes New York a glittering star again after so many recent ugly crime pictures, shooting key scenes in the Carlyle and the Guggenheim, as well as some funny business at a Sherry-Lehmann wine tasting so unusual for youthful characters that it hastens to add sophistication to Brian and his sophisticated girlfriend Arielle. The characters are all worth knowing, including Brian's parents Arlene and Sam. She resigns herself to the fact that this is "not an ideal situation, but how can you be a sensible parent and not feel warmly toward someone who adores your child?" Sam hates the French in principle, declaring any trip to Paris "a festival of rudeness."
Nothing turns out the way you expect it. Everyone has an F.A.O. Schwarz gift box full of surprises before 5 to 7 smoothly sails into its final sunset over the Manhattan skyline, and so will you.