Mi Ju is a master of visualizing the smallest inhabitants of the largest worlds. It has taken her nearly two years to produce all the paintings and drawings for her new show, "Nest," which runs through May 16 at Freight + Volume Gallery in Chelsea. But that's an impressively short amount of time considering just how meticulously detailed her pieces are. Look closely, and you'll discover an entire ecosystem in a square inch.
The artist currently maintains a studio in Long Island City. She's had shows at the Lodge Gallery (New York), Gallery Poulsen (Copenhagen), and Joshua Liner Gallery (New York), in addition to participating in art fairs like Miami Project, artMRKT Hamptons, Pulse (Miami and New York), and Berliner-Liste. The artist's last solo show with the gallery happened to overlap with Hurricane Sandy, and even though the gallery faced flooding, her works survived intact.
Viewers will experience Mi's work on two scales: from big (viewing from afar) to small (to try and take in every detail you'll have to get extremely close). Even in the smallest works—paintings that measure 8-by-6 inches where food is the primary subject—vegetables, sea creatures, and humanoids, are rendered with care on the scale of Earth's smallest inhabitants. A dolphin is about the size of a seed, a carrot no longer than a beetle, and a friendly face measures the length of a grain of rice. Pieces in the show range in price from $20,000 to $1,500, from big to small.
"Most of the imagery is recurring in some form or another," she told the Observer. "With each painting I'm drawing on all the fragmented pieces of everything that I think about and look at. This is my own attempt to create a universe through my own subconscious."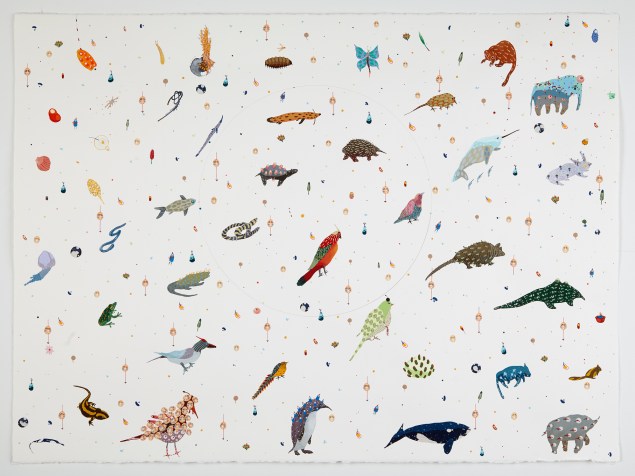 Miniature elements in the paintings, done in acrylic on panel, are completed in layers, with some sections painted on top of shaped paper cutouts that create a stepped relief on the surface of the canvas. Freight + Volume assistant director Ashley Dillman points out tiny, round colorful swirls that float over parts of the paintings. They are sections of Mi's color palette that she's removed and inserted into the picture. And when her colorful characters combine, completely new forms emerge. In Danish Croissant (2014), berries, fish, and leaves form eyes and lashes, and two icy glaciers make ears. From afar, the smaller elements form the portrait of a beaked bird.
The same world building effect occurs in the larger paintings, but on a grander scale. This is where you might get lost searching the terrain for hours, dive into a sinkhole along with the characters in Shadow (2015) or end up trapped in a giant pileup underneath fruit falling from the sky in Sweating Hamster (2014).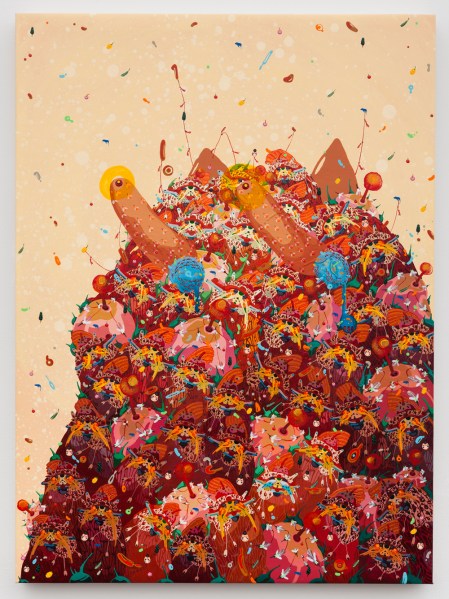 Her works on paper, however, break the world's down into an organized taxonomy of every miniature character featured. Nest #4 (2014), recalls Ernst Haeckel's studies of sea creatures from his famous book Art Forms from the Ocean. Mi painstakingly documents birds, frogs, and aardvarks in watercolor, pen, and pencil. In other paper works she has categorized her subjects into a grid of repeating forms, changing them ever so slightly from one version to the next.
"In the end there's so much there that context and meaning constantly shifts," she told us. "There is often no line between the micro and the macro."