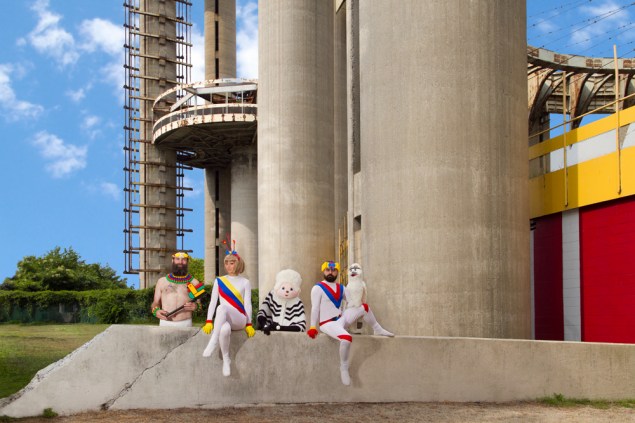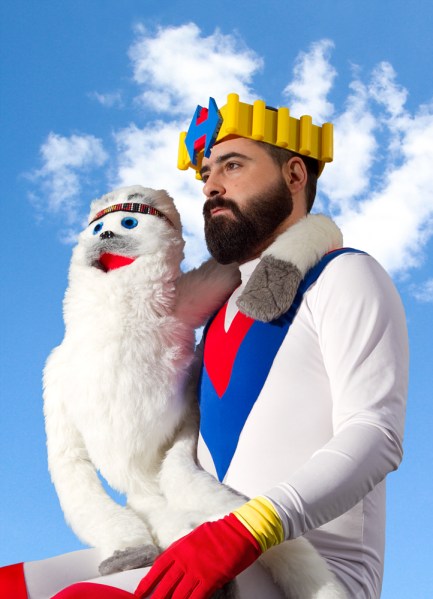 The art of Spanish-born artist Bubi Canal is just plain fun. And that's the point. Mr. Canal's custom-made toys are a rainbow of bold primary and secondary colors, condensed and unfettered joy in its simplest form. You don't have to be a child to appreciate the playful aesthetic of Mr. Canal's artwork.
"Magic Garden" is the title of the artist's second solo show with Lower East Side Munch Gallery, open through April 19. It features a set of five of his small plastic toy sculptures, a brand new large-scale plastic and knitted toy work that stands like a totem at the back of the gallery (working large is new for the artist), large color photographs of Mr. Canal and friends in a toy-filled, blue skied world, and a looping dance video titled Hologram (2015) with a chiming soundtrack that fills the gallery with carousel music. The price range for the work is between $1,200 and $7,000.
"I don't mind the songs, in fact I really like it," said gallery director Lillan Munch to the Observer. "I love being around the work everyday, it just makes me feel really—good."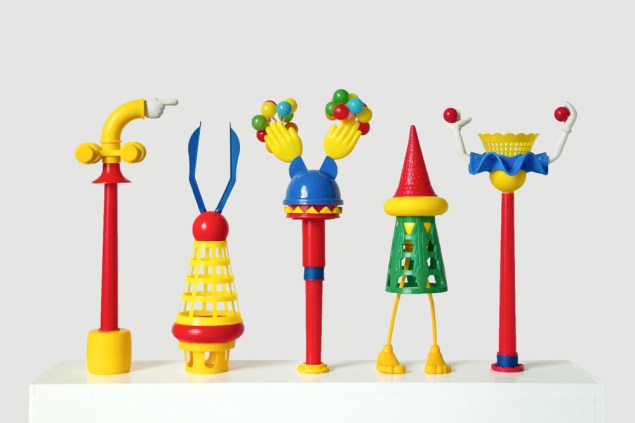 Mr. Canal's work is intentionally upbeat. It's meant to spread positivity, an artistic goal he's passionate about. He even created a manifesto of sorts called MANUAL, a visual guidebook filled produced with Spanish artzine RV.PAPERS that features black and white images of geometric forms and hopeful, motivating messages like "Create a New Future" and "Make it Last Forever." Copies of MANUAL have already sold out at the gallery, but it's available online for $15.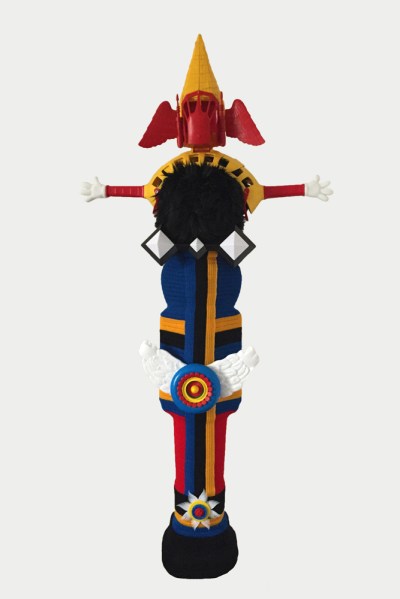 "He's just a magical person," said Ms. Munch. The work really can't be separated from its creator; much of it is inspired by Disney films and Japanese television series the artist watched growing up, and a majority is handmade with care in his small New York studio.
Mr. Canal appears in Hologram, and in the seated photo portrait Harmony (2015), posed with a furry white puppet of his own creation. But Beautiful Mystery (2015), a c-print at the front of the gallery featuring a seated figure surrounded by three tubular sculptures on thick carpet, set against a wood-paneled wall isn't just another friendly character made of found objects in Mr. Canal's universe. It's a self-portrait, according to Ms. Munch.
This is Bubi Canal's world, his aspirational fantasies, and his vision for adulthood, on display for all to enjoy. And enjoy you will.