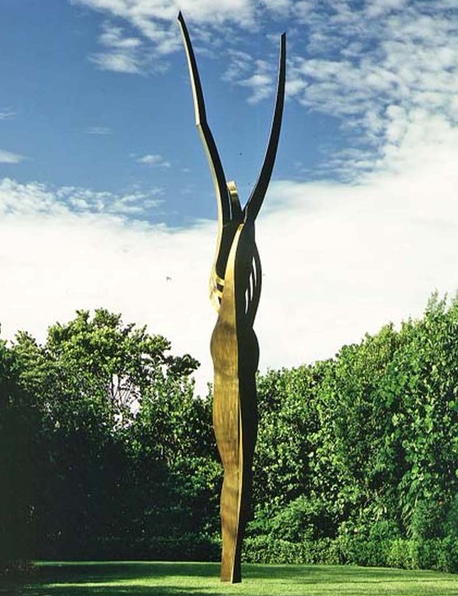 In some you-break-it-you-buy-it news, sculptor John Raimondi filed suit April 6 in Palm Beach County alleging that the Palm Beach Opera destroyed his 39-foot-high sculpture titled Spirit Ascending and sold it for scrap metal.
According to the Sun Sentinel, Mr. Raimondi found out about the destruction second-hand—and that always hurts more, right?—while having lunch with a friend, who revealed that the opera destroyed his piece (which he had believed to be in storage) and sold the parts like it was a beaten-up Hyundai.
Mr. Raimondi is seeking the maximum of $150,000 in damages by invoking the federal Visual Artists Rights Act, which states that artists generally have the right to "prevent any intentional distortion, mutilation, or other modification of that work which would be prejudicial to his or her honor or reputation."
The sculpture, which stood on land intended for a new opera house, was commissioned by local collector Lois Pope in 1995 and then donated to the Palm Beach Opera in 1999 when she moved out of town, according to the lawsuit. It was installed in 2001 and was removed two years later. The three-acre parcel of land on which it stood is situated in the center of downtown West Palm Beach and was sold by the opera in 2004 to a private developer for $16 million dollars.
Ceci Dadisman, the communications director for the opera, directed our attention to an official statement. "This is an ongoing legal matter," the statement read. "However, we believe Mr. Raimondi is incorrect with respect to the facts and the law."
As writer Daniel Grant explained in this publication last September, the law generally rules against artists when the Visual Artists Rights Act in invoked in regard to the destruction of public art. Not always, but often.
Mr. Raimondi, who studied at the Massachusetts College of Art, is a successful public sculptor who has over 100 large-scale works placed in over 30 states and countries around the world. He currently lives and works in Palm Beach Gardens.
The Palm Beach Opera was founded in 1961 and predominantly performs in the Kravis Center for Performing Arts.