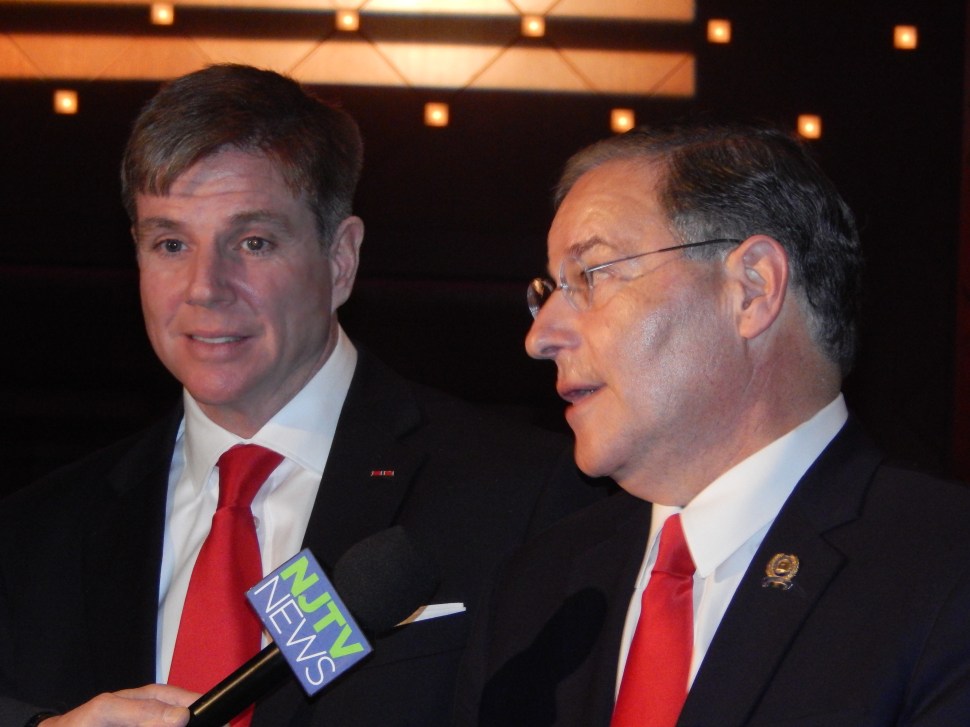 The political arms of the state Assembly's Republican and Democratic caucuses are gearing up for war — drawing battle lines around at least three legislative districts they hope to turn into opportunities this election season.
In South Jersey, that includes the only two districts in the state with split representation, where a Republican holds one seat and a Democrat holds the other. Running with Atlantic County Freeholder Will Pauls, Republican incumbent Assemblyman Chris Brown (R-2) will fight to keep his seat in the second legislative district against Democratic incumbent Assemblyman Vince Mazzeo (D-2) and his runningmate Colin Bell, also an Atlantic County Freeholder.
In a neighboring second legislative district, Cumberland County Freeholder Jim Sauro will likewise join Republican incumbent Assemblyman Sam Fiocchi (R-1) in defending the seat against Democratic incumbent Assemblyman Bob Andrzejczak. He'll run on a ticket with Bruce Land, a Vietnam War veteran a local community activist.
And in North Jersey, Democratic incumbent Assemblymen Tim Eustace and Joe Lagana (D-38) are taking on River Edge Councilman Anthony Cappola and attorney Mark DiPisa.
The three districts have been pegged as early priorities by the Assembly Republican Victory Committee (ARVC) and the Democratic Assembly Campaign Committee (DACC), two political action committees aimed growing the number of their respective party's seats in the legislature's lower house. Both are expected to play large roles in this year's Assembly contests — likely even more so than in previous years, since Assembly candidates will be heading up the ballot alone in November for the first time since 1999.
"We're going to play a very large role in the most competitive races in the state," said Mike Muller, a political strategist for the DACC. "What you'll see is the DACC operation really ramp up over the summer and make sure everyone has the money necessary to get their message out in the districts in a very compelling and substantial way."
In some ways, having the Assembly alone at the ticket could be a drawback in some of the state's most competitive district — there will be no state senate or gubernatorial race coattails to benefit from, and the level of fundraising done by either party statewide will be comparatively less than when members of the legislature's upper house or its top executive are on the ballot. But that drawback could also lend this year's races some extra flavor, as it brings the Assembly — as well as candidate issues — to the fore.
"I think what it does is it focuses the attention on one race as opposed to a senate race and a governor's race," Assembly Minority Leader Jon Bramnick (R-21), co-chair of the ARVC, told PolitickerNJ. "So strategically I think it makes the message more clear: If you approve of the job their doing, vote for them. If not, vote for us."
While the dynamics of this year's races might be different, the strategy for the party PACs, according to Muller but also Bramnick, is the about same: raise the money necessary for candidates to get their message out to voters. On the Republican side, that means bringing to the public's attention the failed leadership Democrats have exhibited over the course of their control of the legislature's lower house, according to Bramnick.
"What I'm going to say over and over again is Democrats have been in charge for more than a decade, and I think if you ask the average person would you give the other team a shot, and you put it in those terms, I think we win hands down," Bramnick said. "And that's the question we want people to know — that the same team has been in charge of Trenton for a decade, and are you happy with the leadership?"
Right now, it looks like Republicans have an edge over their Democratic opponents in terms of fundraising in LD1 and LD2, where an embattled Atlantic City is expected to factor hugely into the contest. According to early candidate filings with the state's Election Law Enforcement Agency, Brown in LD2 is heading toward June's primary election with a war chest topping $257,540 and dwarfing Mazzeo's $16,588 cash-on-hand. In LD1, the gap is less extreme, but Fiocchi still has an advantage over Andrzejczak, who counts $5,050 to Fiocchi's $33,134.
As for the DACC and ARVC themselves, Democrats are only outpacing Republicans slightly, $286776 to $222829.
Muller, however, said it's likely too early to judge either party by the amount of cash in their accounts.
"With 80-85 percent of the money being spent inside of Labor Day on the most competitive races, it really makes it difficult to conclude any trend lines from early finance reports," Muller said. "Additionally, unlike federal races being dominated by independent expenditure entities, state legislative campaigns will rely heavily on a combination of individual candidate fundraising and legislative leadership committee finance support in a very condensed timeframe."
Many of those different ways are already represented on Brown and Mazzeo's expenditure reports — a combination of direct donations, PAC and other committee support, and, in an organized labor-heavy LD2, considerable spending from local unions.
According to Muller, a number of dynamics will likely make this year's Assembly races look different than in previous years, including the impact the lack of up-ballot candidates will have fundraising and voter turnout. Down ballot Republicans were aided by Gov. Chris Christie at the top of the ticket in 2013, for example, and will not have that luxury this time around. The introduction of new candidates will also affect the races — Pauls and Bell are both proven vote-getters in in LD2, and Land and Sauro also have local name recognition in LD1.
In LD38, Republicans hope Cappola and DiPisa can bring renewed vigor to the party, one still reeling from the aftermath of the surprise demise of Bergen County executive Kathe Donovan last year.
But whether those new dynamics change the GOP's strategy this year is yet to be seen, Muller said.
"I think Republicans have a much different environment this time, and we're going to find out where they're going to try and play offense. They played very heavily in a few big races last time, and the question is do the same thing over again," he said.
One place Republicans didn't play as heavily last time, Muller noted, was in LD2, where Democrats were able to oust former Assemblyman John Amadeo and replace him with Mazzeo. That's one of the reasons why Brown is starting out with such a cushion — it's all money transferred from his previous campaign, which the slate didn't use.
"I don't think they saw the aggressive play we were making for the seat last time, and they sat on their money. So he does have the advantage of rolling it over to this campaign, but the truth of the matter is I think they would have much rather spent the money then than have to be staring at a Democrat sitting in the Assembly coming into this cycle," he said.
Still, Bramnick — who will head to LD1 next week to attend a fundraiser for Fiocchi and Sauro at the Hampton Inn in Vineland — said his team's path to victory this year is clear.
"It's going to be a street fight. We don't underestimate the fight, and I don't underestimate that the Democrats are going to come to the table with a lot of money," he said. "But with all the money in the world, I still think the answer to the question is after a decade of Democratic leadership in the state Assembly, it's time to give the other team a shot."