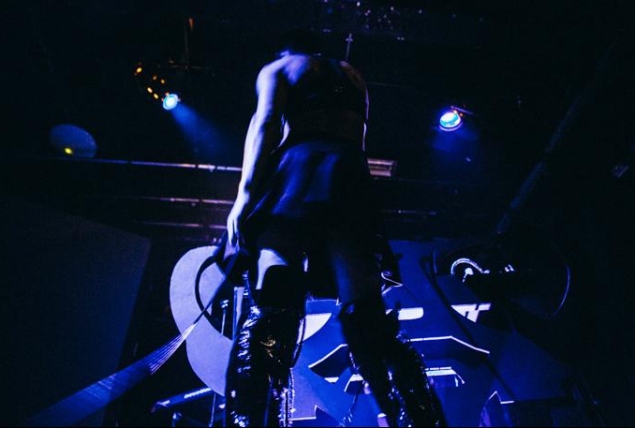 "Arca's sound is tough to label, even with the manifold micro-genres of the fractured electronic music landscape at your disposal. Bass rattles many of the London-based, Venezuelan DJ's compact, sinuous songs. But hip-hop, trip-hop and symphonic interludes relegate much of the young musician's sonic identity to the so-called "experimental" corner.
That accessible otherness has led the young upstart (real name Alejandro Ghersi) to production credits on notable left-field pop like Kanye West's Yeezus, FKA twigs' LP1 and Bjork's Vulnicura. With industry friends like that, Arca may soon graduate from mid-sized rooms like the Bowery Ballroom, where he laid down a live set to a sold-out crowd Wednesday night with the essential aid of visual artist and frequent collaborator Jesse Kanda.
---

Arca's Accessible otherness has led the young upstart to production credits on notable left-field pop like Kanye West's Yeezus, FKA Twigs' LP1 and Bjork's Vulnicura.


---
Scantily dressed in a black ensemble that only a fashion student could pin down, Arca ceded most of the stage to a projection screen. Kanda's clips gave the diffuse set list a vague sense of coherence and a focal point for the audience bereft of danceable "dance music" or traditional four-minute song structure to hum along to.
By no means did Arca cower in the minimally lit shadows. (He politely told the camera-wielding crowd, "Jesse says no flashes.") He stripped down to little else but assless chaps early into the show and brought his exposed rear to the front of the house during a rousing Spanish rap.
The audience cooed as he mimicked Kanda's projection of an extraterrestrial's slow-mo sultry dance during "Sad Bitch," his and the creature's taut backs to mercifully hushed fans. More benign astral visions complemented "Now You Know," with strobe lights doing their disorienting work during more club-ready numbers like "Bullet Chained" and a favela rap.
Tracks off of Arca's 2014 debut LP Xen deviated little from the recordings. And the venue seemed a bit off its acoustic game. But sonic fumbles and set disjointedness didn't hamper the musician and filmmaker's well-paired dark flamboyance.
[soundcloud url="https://api.soundcloud.com/tracks/185853144″]