"It's definitely an indulgence, but I work very hard so I don't apologize," fashion designer Josie Natori tells me about her walk-in closet, straight out of Sex and the City. Ms. Natori and her husband gradually bought up an entire floor of the Upper East Side apartment building where they have lived since 1975. The apartment spans about 5,000 square feet with two bedrooms, a living room, a dining room, five bathrooms, a breakfast room, sitting room, den and a music room with two grand pianos.
Design throughout the spacious home embodies the exotic feel of the iconic Natori brand, which favors bold shapes constructed from whimsical embroidered or textured fabrics. Natori designed the home with architect Calvin Tsao, who has become a dear friend. White roses are displayed next to burning Natori candles on every table, while soft lighting works throughout to give an intimate feeling. From the brass light fixture Tsao designed in the dining room to the light dimmers in the music room, no detail was overlooked. Ms. Natori has played piano since the age of 4 and designed the acoustics of her music room to replicate those of a concert hall.
From being a leading fashion designer to designing homes in Paris, Florida and upstate New York, Ms. Natori can even say she's performed at Carnegie Hall; this is a woman of many accomplishments and time zones. But at the end of the day, Ms. Natori still considers New York to be her home: "The energy in New York is something that I need, but I go to Paris for my soul."
---

'It's wonderful to collaborate with someone who gets my vision and we've kind of been addicted to each other since we started.'

---
I know your roots in the East and life in the West inspire you. How did you apply that to designing your New York home? My son lives in this building with his two children. After all this time, we decided to create the home I've always wanted. Our aim was to reflect my sensibility and the DNA of the Natori brand, which mixes the comfort and modernity of the West with the serenity and exoticness of the East. From the shapes of the furniture to the textiles, Calvin Tsao and I really created a dream home.
How did you first decide to work with architect Calvin Tsao? I interviewed many architects before deciding to work with Calvin. He understands the Asian culture. It's hard to explain, because you either have it or you don't. It's wonderful to collaborate with someone who gets my vision and we've kind of been addicted to each other since we started. We even finish each other's sentences! We have worked on three of my homes since, plus our showrooms. Working with someone who you totally trust is key, but we were also very open. We have learned from one another.
How long have you been playing and what sparked your interest in piano? The music room is my favorite; it was built to have amazing acoustics. I've played piano since I was 4. I really wanted to bring the richness of the sound you hear on stage to my home. It's not exactly the same, but there is that feeling that comes back when I play in this room.
Can you tell us the story behind the 16th century Buddha art piece in your dining room? It's absolutely my favorite piece of artwork because of the details. They embroidered each of the Buddhas and put the tapestry all together. Each one is different than the next and it's quite unique. I have such an appreciation of ancient, intricate work. I think it develpped in Paris on one of my zillion flea market jaunts around the world.
I know you love the Paris Flea Market. What other cities inspire you? I love Kyoto, Istanbul, Marrakech and New York City. I'm always drawn to everything that's rich and full of history. I am lucky to have collected so many things with beautiful craftsmanship when I did because most of these things are virtually impossible to find these days.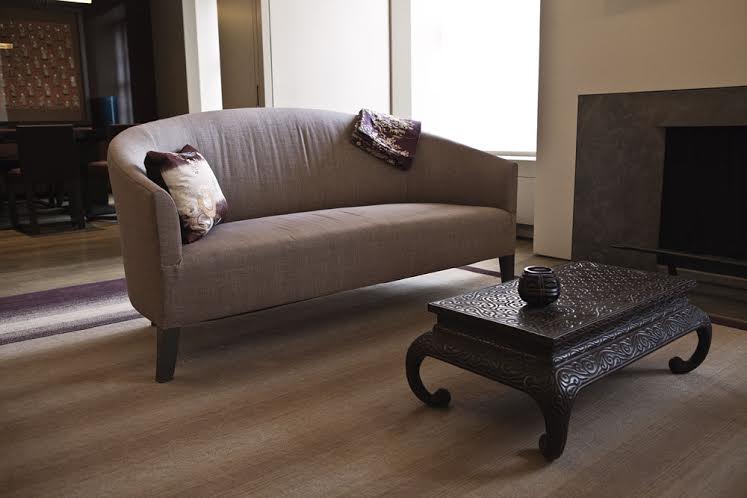 You have a silk carpet in your bedroom and the most impressive closet I've ever seen. The silk carpet was totally Calvin's suggestion. He said that my feet deserve walking on nothing less in our bedroom. My husband said I deserved to walk on silk at the end of the day. I also love my walk-in closet. It's an indulgence, but I feel very lucky to have it. I feel very at peace in our home, it is the refuge I wanted it to be and I could stay indoors for days and be content!