"My design has to be functional first and then form comes into play," stated interior designer Noa Santos on a Monday morning in his one-bedroom high rise in Midtown Manhattan.
Mr. Santos hails from the North Shore of Oahu, Hawaii, but calls New York City home. He shares the modern space with his longtime boyfriend. Their home features Japanese-inspired copper chairs from Blue Dot and a cute, vintage lamp with a velvet shade purchased from  Chelsea Flea Market. The book More is More by Tony Duquette sits on an ottoman from the company Bryght.
After visiting the McQueen exhibition at the Met, Mr. Santos discovered a deep appreciation for the designer. One can find pages from McQueen's book framed in the powder room alongside framed jewelry and paintings by Mr. Santos. He gathers a great deal of inspiration from the fashion industry, saying that trends happen faster in fashion. The head of a Mouflon, an animal native to Hawaii, hangs above the fireplace.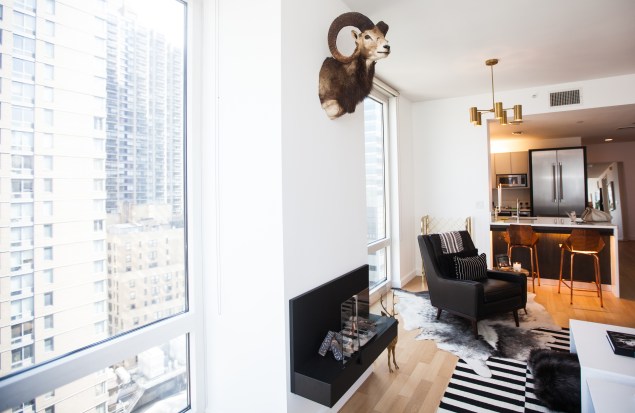 This apartment is a skillful combination of moments, how intentional was that? A lot of people think interior design is about a set of rules, but it's all about having the space you live in reflect who you are right now.
How long have you lived in New York? I moved to NYC after I graduated from Stanford in 2010. In Hawaii, interior design isn't really that big of a thing, it's not pretentious. Design should be functional and something that allows you to live your life in a better way.
What made you want to go into interior design? I studied business and architecture at Stanford but didn't want to become an architect. In New York, I was lucky enough to land a job at a high-end residential interior design firm. I fell in love with the profession and the impact a bespoke home could have on someone's quality of life.
How did you choose to decorate your home? I live with my boyfriend of almost five years, so it was important  that our home reflect the two of us. On the one hand, I spend my entire life surrounded by professional ideas for interiors so I wanted my home to feel like a respite, neutral but still warm. My boyfriend is a successful publicist in the spirits world and loves to throw a good cocktail party, so we had to have a place that made a bold statement while still being functional enough to host a slew of friends.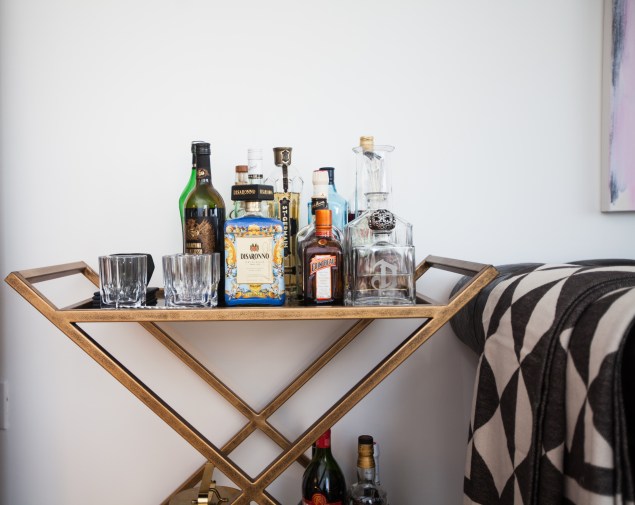 What is your design aesthetic when designing a client's home? At my company Homepolish we believe great design is a reflection of where you are in your life but that your home should also be able to grow as you do. So for me, in the few projects I take on these days, I really work to understand my clients. When I'm designing my own home, however, my style walks the line between a clean minimalism and warmth.  I add warmth by layering in a lot of texture—fur, knits, velvets, etc.—and natural materials like marble, wood and brass. I like materials to retain a certain authenticity so keeping them as raw as possible is something I love to explore.
Why did you choose this neighborhood and how long have you been here? I chose Hell's Kitchen because I like the energy. I've only been in NYC for a few years and I'm not ready to move away from the action. Sometimes it's a little much and I think, why not somewhere quieter, but I have plenty of time for that.
Where do you gather inspiration? From people, mostly. I spend most of my time meeting wonderfully interesting people from all walks of life and seeing what they wear, how they live and work, where they eat—those things inspire me. This city provides an endless stream of inspiring people.
What is your advice for aspiring interior designers? Besides to apply to Homepolish? Get out there and meet people, especially if you live in NYC. Never stop talking about design and what you love and where you want to go. You never know when the right person will hear you and it's the only way to make yourself available to luck.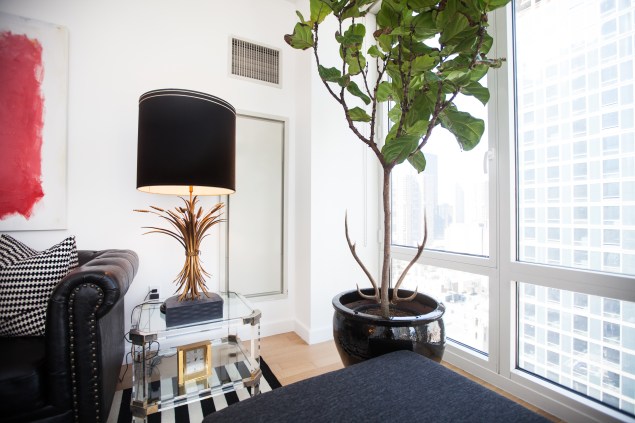 If you could be anything else besides an interior designer, what would you want to be? A food critic? Eating is the only other thing I like to do.
Can you tell me about your upcoming and current projects? Yes! I'm doing the home of the Sweetgreen founders, Zac Posen's new atelier, and the Chelsea pad of the new editor in chief of Maxim magazine. Those are just my personal projects.