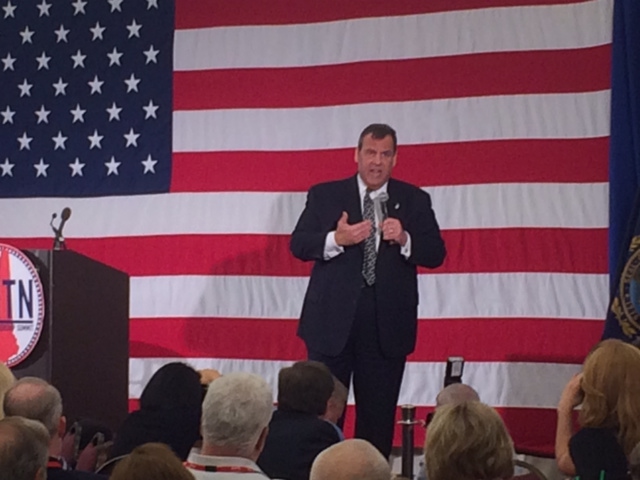 NASHUA, N.H. – Speaking at the First in the Nation Republican Leadership Summit on Friday, New Jersey Governor and potential 2016 Republican presidential candidate Chris Christie talked about topics that he has brought to the forefront during his visit to the key primary state, as well as issues that followed him from home.
Calling the leadership of Democratic President Barack Obama "absolutely feckless," Christie specifically targeted Obama about federal entitlement program reform, an issue the New Jersey governor addressed in a speech at the New Hampshire Institute of Politics at nearby Saint Anselm College on Tuesday.
'You'll notice that the president hasn't talked about this in eight years. The reason is because there's not some short pithy answer that he can read off a prompter," Christie said. "All he cares about is the two Ls – his legacy and library. I didn't run for governor of New Jersey to be elected prom king. I'm not looking to be the most popular guy in the world. I'm looking to be the most respected one. And the way you do that is to put forward real ideas."
Talking questions from the more than 300 people packed into a hotel ballroom in Nashua, New Hampshire, Christie was at one point asked to defend his economic policy record hours after he reacted to New Jersey's credit rating once again having been downgraded.
"I've been able to persuade my Democratic Legislature to do lots of things – cap property taxes, reform pensions and benefits, reform teacher tenure, to be able to pass six balanced budgets in a row without raising taxes. The one thing I haven't been able to do is to convince them to cut individual taxes," Christie said. "You will see that the states that are growing are the ones that cut taxes, and the ones that are not growing are the ones that haven't cut taxes.
"As governor of New Jersey, I would love just for maybe a week to either have a Republican legislature, or be the emperor," Christie added to the crowd's applause. "If I was, we would cut taxes, and we would grow even further and faster than we're growing now."
Christie was also asked whether the governor's "frankness," a character trait well-known to New Jerseyans, will ultimately help him advance toward the White House.
Christie hinted that he would continue down what could be an increasingly well-trod campaign trail.
"I don't know, but if I run we're sure at heck going to find out, because I'm not changing," Christie said, followed by the crowd's laughter. "I'm a Republican in New Jersey. Come and try that for a couple of days. We haven't elected a Republican to the United States Senate in 42 years, the longest streak in any state in America. So if people are waiting for me to be the nicest, most subtle guy in the room, I wouldn't be in this room. This could wind up being a really grand experiment, but it's one given the condition the country is in right now that might just be worth taking."