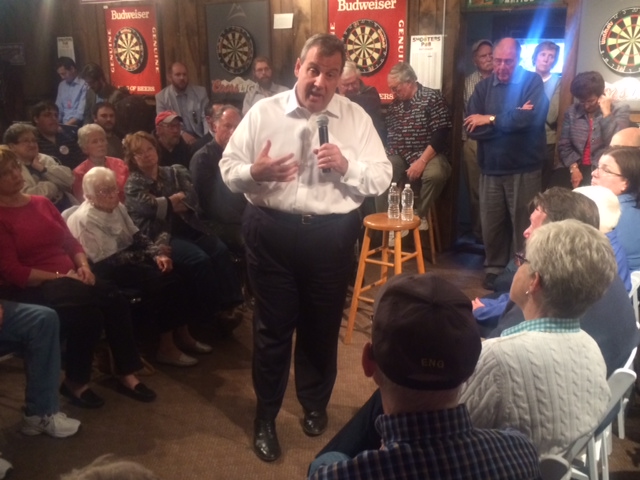 EXETER, N.H. – During his second town hall meeting in New Hampshire this week, New Jersey Governor and potential 2016 Republican presidential candidate Chris Christie engaged in some robust give-and-take exchanges with crowd members while staying the course toward a possible White House bid.
Known for his contentious responses to New Jersey residents' questions during his more than 100 town hall meetings back in the Garden State, Christie faced off against a packed crowd of more than 100 people jammed inside of Shooters Sports Pub in Exeter, New Hampshire, some of whom seemed less than receptive to his message.
One notable exchange occurred when New Hampshire resident George Zeiter challenged Christie about a policy issue that the Garden State governor hawked all week in the Granite Stage: the reform of federal entitlement programs.
"We're now spending twice, twice, what we take in. That can't continue," Christie said under the Friday night media lights, ringed by residents in the wood-paneled pub with Boston Celtics pennants and dartboards on the wall.
With that Zeiter took aim at Christie.
"But Governor, we have all of these people coming up looking for something," Zeiter said. "We all paid into this. It's not an entitlement."
"You absolutely did, but it is an entitlement," Christie replied. "Let's deal with the facts – people are now living 15 to 20 years longer than these programs were designed to take care of. I'm saying that if you make between $80,000 at $200,000 a year, you're still getting Social Security. This has to end at some point."
Later, Zeiter, 62, elaborated on his exchange with Christie.
"I like him, but now here in New Hampshire, we're hearing lots of things from all of the candidates," said Zeiter of Kensington, New Hampshire, a retired engineer. "They've got to get a little more in touch with what everybody is doing everyday. They've got to give us straight talk."
For more than an hour, Christie continued his spirited banter with the crowd on issues ranging from foreign policy, same sex marriage and his record in New Jersey as he described his battles with New Jersey's Democratic-led Legislature.
"I have a Senate President in New Jersey who says that I'm his friend and that he really likes me. Then another day, he says he wants to punch me in the head," said Christie in reference to Democrat Steve Sweeney, a potential successor to Christie after the 2017 New Jersey gubernatorial campaign. "But maybe he had a bad day. I have bad days. But the only things that gets it done is open minds and open ears."
At the end of a week of heavy campaigning in New Hampshire, Christie seemed ready to roll with the political punches, hinting that he was ready to continue pushing toward a 2016 White House run.
"A town hall at a pub worked out generally OK," said Christie to applause. "Nobody walked out. Nobody threw beer at me. Listen – I will come back to New Hampshire. And we'll come back in exactly the same way I've come here this time. I will be myself. And if I do run for President, that's exactly what I'll do, as often as I can, right here in New Hampshire."