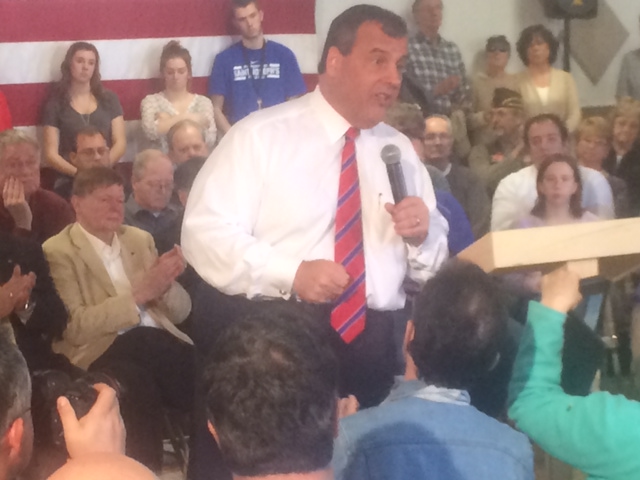 LONDONDERRY, N.H. – Before more than 250 people at a town hall meeting at the Londonderry, New Hampshire Lions Club, New Jersey Governor and potential 2016 presidential candidate Chris Christie spoke about his New Jersey roots and the importance of being yourself, then proceeded to be himself when discussing a range of issues with an assembly of potential primary voters.
During the course of the more than 90 minute meeting, Christie went back and forth with audience members about various of his domestic and foreign policy positions.
One exchange with Ann Chiampa, president of the Londonderry Historical Society, centered on a key domestic issue that Christie has emphasized during his trip to the Live Free or Die state this week: his proposal to reform federal entitlement programs such as Social Security, Medicaid and Medicare.
During his Tuesday morning speech at the New Hampshire Institute of Politics at nearby Saint Anselm College, Christie discussed raising the age for Social Security to 69, gradually implementing the proposed change starting in 2022 and increasing the retirement age by two months each year until it reaches 69.
Christie also suggested raising the eligibility age for Medicare at a pace of one month per year, so that by 2040 it would be 67 years old, and by 2064 would be 69 years old, stating that this move would encourage seniors to remain in the work force. Christie added that seniors with an $85,000 a year retirement income should pay 40% of premium costs, increasing it to 90% for seniors with above $196,000 a year in retirement income.
Chiampa asked Christie what he was trying to ultimately do with his federal entitlement program reform proposal.
"My goal with Social Security and Medicare is to make sure that it's there for the people who need it," Christie said. "We have to bend to the realities of medical science and that people are living longer lives. If you're someone who has the means to take less of a subsidy, you should take less of a subsidy, so the subsidy is there for those people who really do need it. The system won't survive any other way."
Peg Connell, a retired federal employee who lives in Londonderry, asked if Christie, were he to be elected President, would drop all sanctions if Iran signs a proposed nuclear accord.
"No, I wouldn't," said Christie to applause. "Iran is the largest state sponsor of terrorism in the word. Iran regularly calls for death to America and the destruction of Israel. That doesn't mean that you can't have conversations with these people. But what it means is that everything that they promise needs to be irretrievably verified. They have no basis to have earned our trust.The lifting of sanctions would be acknowledging that everything they agree that they are going to do, we believe they are going to do."
Christie also notably changed an earlier position on vaccinations, telling one audience member that she "can't count on me" to support any voluntary vaccination policy.
"My wife and I had our children vaccinated," Christie said. "I would err on the side of protecting public health through vaccine unless that vaccine has proven to be harmful to the public."
While there was a liberal sprinkling of former New Jersey residents in the town hall meeting crowd on Wednesday who seemed to welcome the Garden State governor, there was a group of about a dozen protesters outside who were not true believers in Christie's vision for America.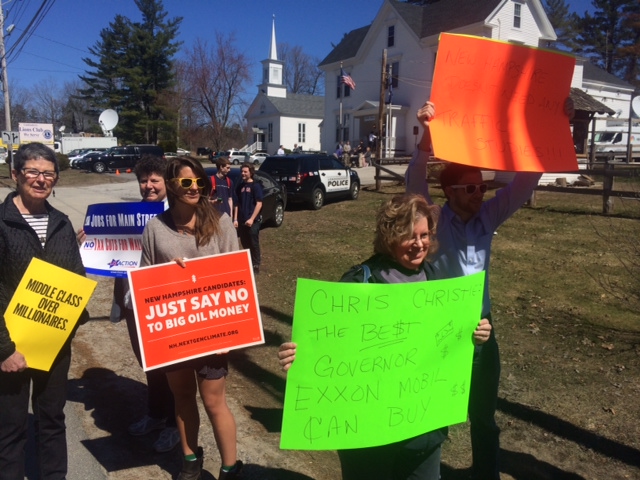 "If Chris Christie wants to save Social Security, he should raise the income cap," said Jerry Conner, 66, of Londonderry, a retired union laborer. "This affects me and my kids, too. I think raising the retirement age to 69 years old is ridiculous. It's a step in the wrong direction."
"This is classic Chris Christie – the answer is to cut the benefits, and not even discuss raising revenue. After what he's done to New Jersey's pensions, the idea of putting him in charge of Social Security is terrifying," said Ann Vardeman, of Highland Park, New Jersey, program director for the New Jersey Citizen Action advocacy group. "He's hanging all of his hopes on New Hampshire. We want the people of New Hampshire to know that he doesn't stand with them, but that he stands with the billionaires and the giant corporations."
But back inside the Lions Club event, Christie continued to rhetorically rouse a mostly appreciative crowd, dissing the protesters for "not following the black Suburbans" when they hoped to confront him. Taking a poke at President Barack Obama, the man who still acts like he wants his job spoke to what leadership means to him.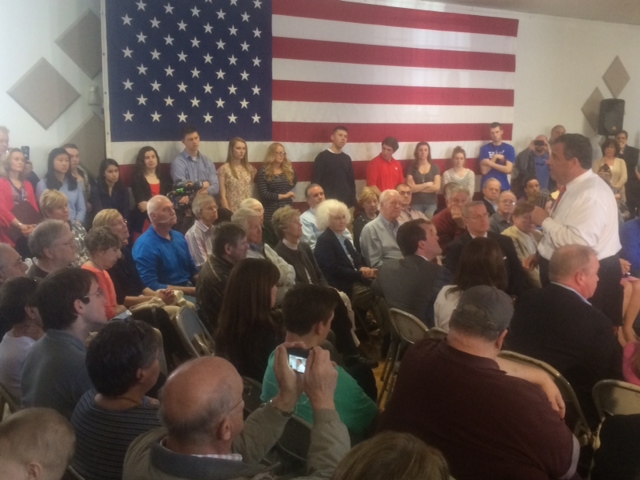 "What the people are starving for is a president who is strong, and who will lead," Christie said. "People don't agree with a lot of things that I do or say, yet 61 percent of them voted to reelect me [in New Jersey] a year and a half ago. We have a president who believes he's so smart that he has all the answers. A strong, confident leader says 'I know what I am, and I know where I have to go,' and every once in a while it won't be a straight line."