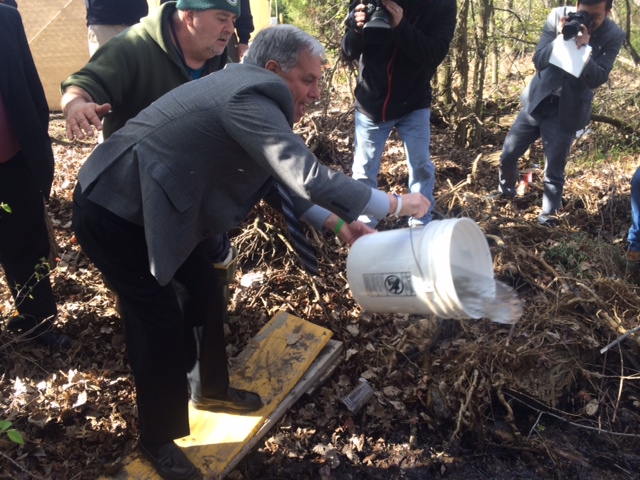 PARAMUS – "The breeding has started. We're going to get them at the larval stage. You've got 63 species of mosquitoes in New Jersey alone," said Pete Rendine, chief inspector for Bergen County's mosquito control department, on Tuesday moments before he handed a bucket full of bug-eating Gambusia fish to Bergen County Executive Jim Tedesco to pour into a Paramus swamp to help minimize the mosquito population. "It takes them a day or two to get used to the environment. Then they start eating like piranhas."
Bergen County is at the edge of another swamp where the law of nature demands that one eat, or be eaten alive: the 2015 election cycle.
The county Board of Chosen Freeholders, where the Democrats hold a 5-2 edge, will see three seats up for grabs in November. Incumbent Democrats Tom Sullivan, of Montvale, Tracy Zur, of Franklin Lakes, and Freeholder Vice-Chair Steve Tanelli, of North Arlington, will face off against Republican challengers Daisy Ortiz-Berger, of River Edge, Ramsey Councilman Ken Tyburczy and former Freeholder John Mitchell.
Mitchell and Tyburczy are running for full terms against Tanelli and Zur; Sullivan will go head-to-head against Ortiz-Berger to fill the unexpired term of Tedesco, who left his freeholder seat vacant after being sworn in as county executive in January.
One of the few competitive state Assembly races will also center on Bergen County, New Jersey's most populous county, which is often seen as the bellwether in statewide elections.
In the 38th Legislative District, which is mostly made up of Bergen County municipalities, Democratic incumbent Assemblymen Tim Eustace and Joseph Lagana will face off against Republican challengers Anthony Cappola and Mark DiPisa in the fall.
With a lot on the line, several Bergen political players told PolitickerNJ how the latest survival-of-the-fittest fracas is shaping up.
State Assemblywoman Holly Schepisi (R-39) saw the upcoming contests as "a unique opportunity to be able to pick up multiple seats in Bergen County."
"You'll have a low turnout year, where you could have as little as 25 percent of the populace coming out to vote. And you have a growing awareness in Bergen County of the disproportionate treatment of the county as to the rest of the state with respect to basic funding, including municipal and school aid," Schepisi said. "Major corporations are leaving Bergen County because the cost of living has become so high because of the policies of the Democratic Legislature. A person living in southern Bergen, Hackensack and Englewood can understand that comparable-sized communities throughout the state are receiving far more funding and attention than we are and that these Democratic policies are causing their financial struggle."
But Matt Bonasia, the executive director of the Bergen County Democratic Committee, pointed to Democratic voter numbers in places like Hackensack and Englewood as proof that Bergen Democratic gains in recent years, capped off by Tedesco's victory last year over Republican former Bergen County Executive Kathleen Donovan, will hold.
"In a low turnout election, more than ever it 's going to come down to a strong field program that motivates your base and turns your voters out," Bonasia said. "We are going to work every waking minute to make sure that our base knows how important it is to keep up the momentum that we've built up. Our get-out-the-vote operations have always been stronger than the Republicans, and we're going to rely on that. With Bergen County Democratic Chairman Lou Stellato at the helm, I'm very confident we'll get all our people in."
But according to Bergen County Republican Organization (BCRO) Chairman Bob Yudin, the Bergen GOP will not only have "resources in place" to fight the Democrats' vaunted ground game, led by Stellato during last year's victories, but that a different take of numerical superiority will help his team.
"When you have the entire county apparatus controlled by the Democrats, you have a situation like what happened with [former Bergen County Democratic Chairman Joseph] Ferriero pop up its head," said Yudin, referring to Ferriero's conviction on federal bribery, fraud and racketeering charges earlier this month. "That's the risk of the Democrats feeling omnipotent and that they can do what they want. The way to avoid that kind of corruption is to have a balance."
When asked if the Bergen Republicans, riven by rifts recently stemming from controversy over Donovan's time as county executive, will stand united this election season, Yudin said that any post-2014 election hangover has been cured.
"There is never going to be a situation where 100 percent of the people in an organization are on board, but what a few insiders say won't affect the campaign," Yudin said. "Our party is more unified now than it's ever been. Everybody understands what we have to do to be victorious in November."
Minutes after he released fish primed to furiously feast on mosquitoes in Bergen County this spring, Tedesco hungrily smiled as he looked to the fall.
"We're going to be like piranhas out there, eating away just like the fish are here," Tedesco said. "We have a team concept, not an individual star concept. We make sure that everybody has a seat at the table so we maintain unity. We're going to keep control. We'll let the people decide on who's the biggest fish."