When the bass music began playing during Michael Kors' 1991 fashion show in an empty loft space, the ceiling began to crumble, dropping lumps of plaster onto models and show-goers alike. When the dust cleared, Anna Wintour was spotted picking out pieces of plaster from Suzy Menkes' famous bouffant. But no one left: Kors and his team turned down the volume and the show went on. This moment impacted the New York fashion scene in a significant way, as it was the impetus for Fern Mallis and the C.F.D.A. to create one centralized location for American designers to show their collections. Recently, with the announcement of its move to two Skylight locations – Moynihan Station and Clarkson Square – New York Fashion Week will undergo yet another change in an attempt to solve the problem of it being forced out of the tents of Lincoln Square plaza.
For many years, American designers showed their collections in the tents at Bryant Park. But after the bi-annual event outgrew the space and due to increasing pressure to relocate to Los Angeles, Mayor Bloomberg in conjunction with the C.F.D.A and IMG moved the "tents of fashion week" to the much larger Lincoln Center plaza in 2010. But the move was controversial, with park activists complaining about fashion week's intrusion on nearby Damrosch Park. After a lawsuit filed by New York City park and environmental activists to restore public use of Damrosch Park was settled in December 2014, IMG announced that after the fall 2015 shows, they would no longer host fashion week at Lincoln Center. Around the same time, it was announced that after eight years as a title sponsor, Mercedes Benz would no longer be affiliated with fashion week. Homeless and without a major sponsor, the future of fashion week was in peril.
But two days ago, it was announced that Skylight – an event venue development and management firm – would host future New York Fashion Weeks at two of their unique event spaces: Moynihan Station and Clarkson Square. Skylight's venues were chosen because, according to Catherine Bennett, SVP and Managing Director at IMG Fashion, "we knew we wanted to find spaces unique to the city. Skylight at Moynihan Station and Skylight Clarkson Square [are]…show spaces with flexibility so designers can tailor them to meet their needs, housed in buildings grounded in the history of New York." In addition, the move will allow for greater efficiency in moving between show venues.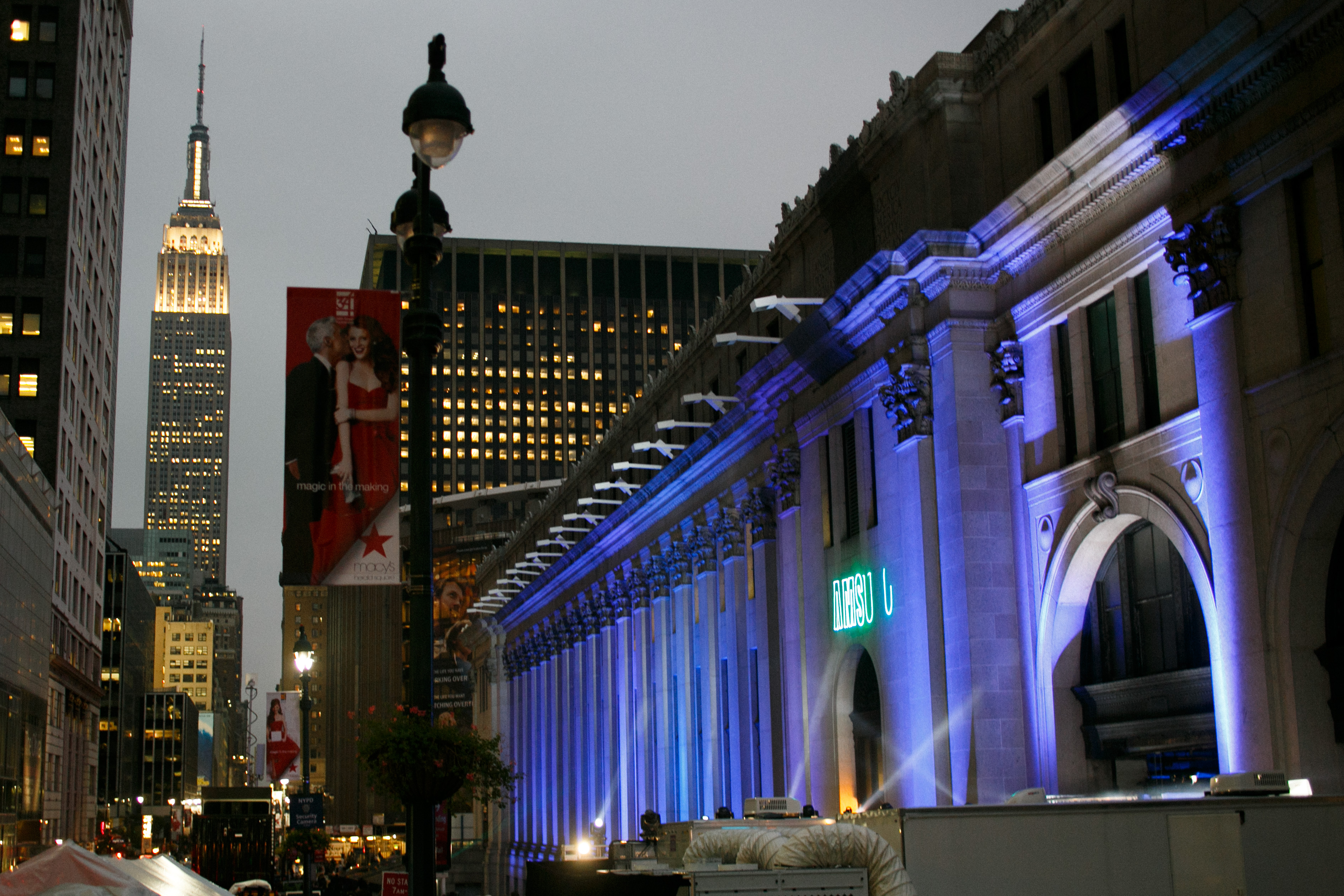 Skylight Group specializes in finding esoteric and off-the beaten path buildings with a long, storied history. According to Jennifer Blumin, CEO and Founder of Skylight Group, she started her company because "I've always had a fascination with reclaiming historic buildings in the city, and with all of the development that we have seen in the last decade, this idea that these beautiful buildings are just sitting there empty while we build another glass tower seems kind of offensive to the history of the city. So [we] try to find underutilized real estate treasures and refurbish and renovate them…to allow for high production events."
The event production company works primarily with technology companies to host product launches. Their biggest clients include Nike and Google. But they have always had a stake in fashion. Ralph Lauren is also a major client and will continue to be a client separate from the IMG deal. They have also worked with other designers over the years including Proenza Schouler, Philip Lim and Tommy Hilfiger.
Skylight looks for buildings whose raw interior allows for unlimited production options. This versatility is important as the traditional runway structure – simple, raised platform, rows of seats that at each level are progressively higher, spare décor – is increasingly being tossed aside by designers in favor of splashy productions that range from the re-creation of a football field (as with Tommy Hilfiger for his fall 2015 collection) to the white, modernist "trees" sprouting from the floor at Delpozo's fall 2015 show. The new homes of fashion week – Moynihan Station and Clarkson Square – both have raw, empty interiors that have the ability to transform, limited only by the imaginations of designers who will show there.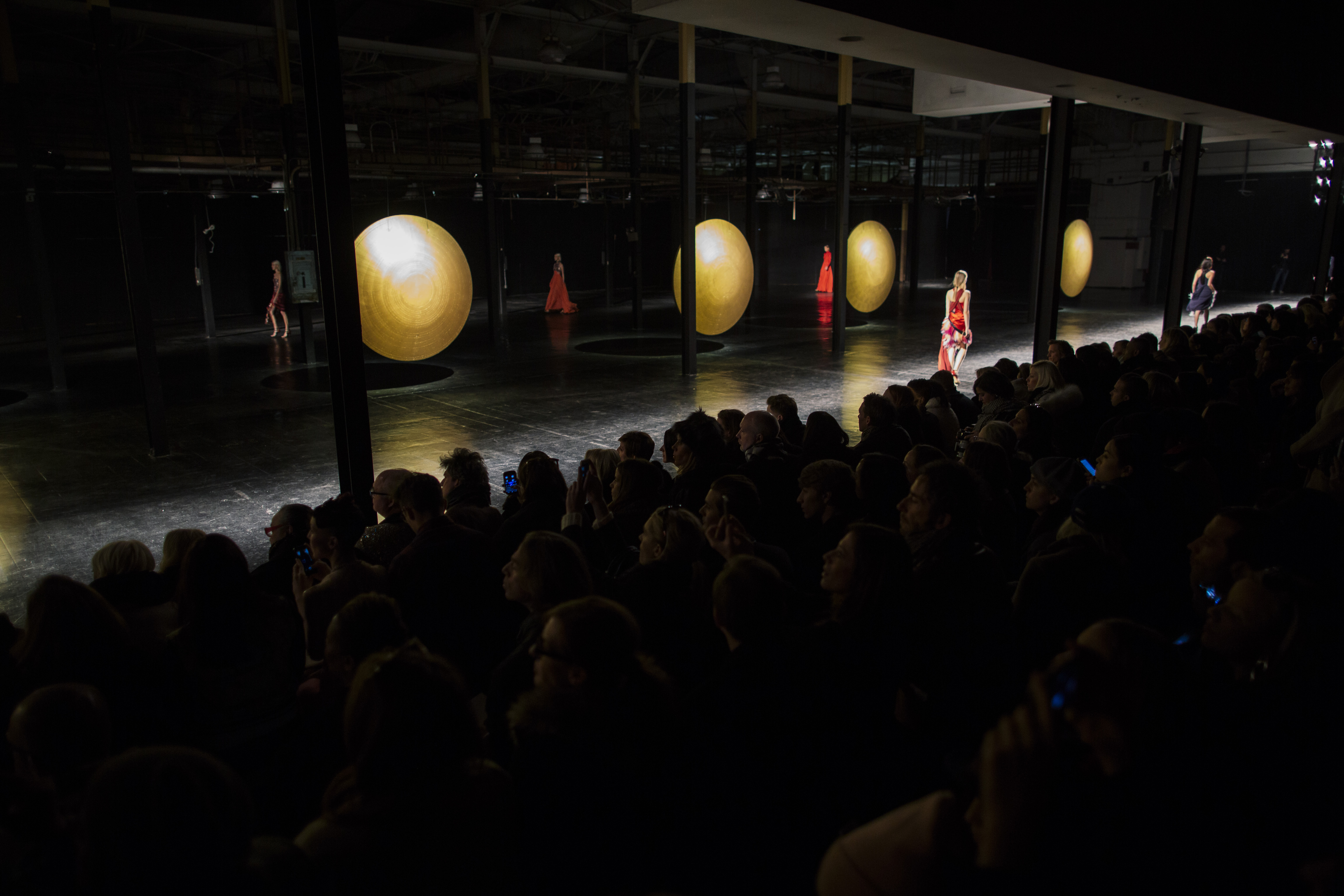 Moynihan Station and Clarkson Square, although different in size and design, both share an important element: an empty, industrial space. On 33rd street, close to Penn Station, Moynihan Station occupies two full city blocks. Its Greco-Roman façade features decorative Corinthian columns that belie a gritty, industrial interior. It consists of two main spaces: the mail sorting room and the postal dock. The mail sorting room has 41,000 square feet of space, has a forty-seven foot domed ceiling, a modern black tile floor. The postal dock is 30,000 square feet and has an industrial steel and glass skylight ceiling. It also has beautiful terraced areas that provide a big, beautiful courtyard between Moynihan Station and the sidewalk, a feature that will allow the street style scene to continue to thrive.
Clarkson Square is on Washington Street and has five open-plan studio spaces in 60,000 square feet of space. The salient feature is its white space – white walls, white floors, white furnishings; a combination that allows for maximum customization, a boon to designers who want the freedom to create a show that defies traditional runway conventions. In addition, Clarkson Square is only one of two buildings on the block, the other being a huge factory-like UPS. The street is low-trafficked and quiet – a diametrically different experience to the chaos and busy streets by Lincoln Center. Says Blumin, "I think anything will be better than what we saw at Lincoln Center, especially with the physical layout."
This move also signals the end of tents at fashion week. Although tents allow for customization by virtue of its blank canvas, it is also characterless, a temporary structure whose value is implied by the glamour of the event inside, not the structure in of itself. New York City is known for its skyscrapers and historic buildings that have shaped the character of the city and the people who live there. By relocating to historic city landmarks, Blumin explains, "It becomes much more fluid and about the city, where a tent could never do that. I just see it springing from this very creative city, it's past, present and future…For me, what I hope is just that it'll ground fashion week a little bit more in the roots that are the city." To Blumin, the essence of New York City does not necessarily lie within it green spaces, but within its storied architecture.
In that vein, Skylight's venues add permanence and meaning to an event many Americans still see as superficial. They make New York fashion week a culturally significant bi-annual occurrence. And, most significantly, they will hopefully bring back many designers who have opted out of "the tents" in favor of more obscure and hip locations.