From Amazon to eBay to Etsy, websites and apps abound to simplify the online shopping experience. What we hear of less, perhaps, is technology that enhances our experience of real-life shopping in brick-and-mortar stores.
Shopkick, now five years old as a company, has an app that is ideal for those who appreciate trying on shoes on our actual feet, or running the fabric of a shirt through our fingers—you know, people who enjoy actually walking into stores. The app helps you discover items that match your style in major retail stores near you. It also gives you rewards—not just for purchasing items, but for simply walking into the stores, too.
Once you accumulate a certain number of rewards—or "kicks," as the app calls them—you can exchange them for gift certificates to major stores of your choice, like Target, Sephora or Macy's. The options are extensive.
Shira Gasarch, Shopkick's Product Manager, gave a demo of the app at American Eagle's massive, teen-filled store in Times Square. Typically, she pointed out, the Shopkick experience actually starts before a shopper arrives at the store; from home, users can browse stores' merchandise and "like" various items.
"It's like being on Pinterest," she said.
Later, when a user is walking past a store, the app will generate a notification that an item they previously "liked" is nearby. Should they enter the store, the app will list their "liked" items.
"We've essentially created a shopping list for you," Ms. Gasarch said.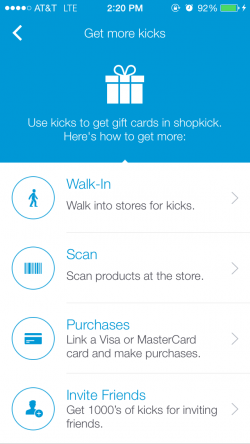 Inside the store, the app recognized we were inside American Eagle, and generated a greeting message. And then the kicks started flooding in: some for merely entering the store; some for scanning the barcodes of featured products. We would earn more, Ms. Gasarch explained, if we purchased items. Each influx of kicks was inexplicably satisfying—like the way it feels to earn a star on the Starbucks app.
"When people walk in the door and hear that noise [of the kicks], they have a smile on their face," Ms. Gasarch said. "That's what got this to stick in the very beginning."
Okay—it is no secret that Shopkick encourages you to enter a store—and perhaps, ultimately, spend your money—when you otherwise might not have. But then again, if you are going to be visiting stores anyway, why not collect rewards that count toward free stuff? And keep in mind, you do not necessarily have to make purchases to earn rewards; all we had to do in American Eagle was scan the barcode of some vaguely beach-scented body spray, and we earned kicks that could eventually be converted into a gift card of our choice.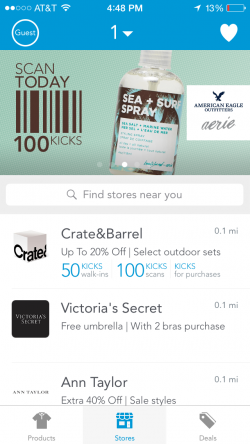 With 13 million users, Shopkick is the fifth-largest shopping app behind eBay, Amazon, Groupon and Starbucks, Ms. Gasarch said. And Shopkick ranks first in terms of user engagement, with the average user spending two hours in the app per month.
Sites like Amazon and eBay have revolutionized online shopping by aggregating items from different stores all in one place, making it easier for you to navigate your purchasing options.
"We're bringing that same kind of ease to the physical world," Ms. Gasarch said. "That's a space where nobody else has been playing."