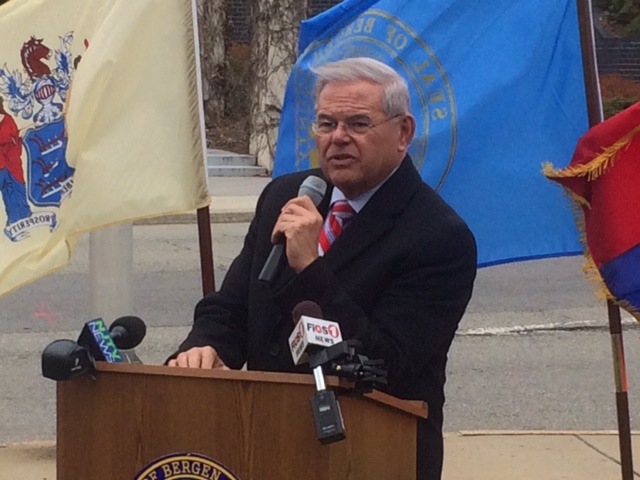 HACKENSACK – Braced against the federal corruption charges filed against him, U.S. Senator Bob Menendez (D-N.J.) stood up to a bracing breeze at the Bergen County commemoration of the 100th anniversary of the Armenian genocide and criticized President Barack Obama's handling of the issue.
Menendez spoke on Friday in front of the Bergen County Courthouse in Hackensack before about 100 people calling for recognition of the deaths of an estimated 1.5 million Armenians, beginning in 1915 in what is now Turkey, at the hands of Ottoman Empire forces as a genocide.
President Obama has not used the term "genocide" in connection with the massacres since coming to office in 2009. Menendez, who some political observers feel might have been indicted by the Obama administration in part as retribution for foreign policy differences pertaining to Cuba and Iran, took the opportunity to lay into Obama over another foreign affairs concern.
"I am proud to be the sponsor of the United States Senate resolution, on a bipartisan basis, that called for the United States to officially recognize that what began in 1915, and the loss of 1.5 million lives of men, women and children, was genocide and nothing but genocide, the first genocide of that century," said Menendez, who took a hiatus from the powerful Senate Foreign Relations Committee following his indictment earlier this month.
"I am deeply disturbed that our country cannot recognize a historical fact as documented by U.S. diplomats at the time," added Menendez in reference to the lack of American appellation of what happened to the Armenians as genocide because of U.S. relations with Turkey, an important NATO ally in the geostrategically critical Middle East region. Turkey denies responsibility for the killings. "It seems to me that the United States, who should be a leader of human rights and democracy, in the world, should be able to join the European Union, 11 NATO allies and his Holiness Pope Francis [in saying] that what happened in 1915 was in fact a genocide. It was the Armenian genocide.
"I believe that when the President was Senator Obama, he had the right view, that this should be recognized by our country as genocide. It would have been my hope that as President Obama, he would've finally brought our country into line with the historical reality of that time," Menendez added. "I recall when Adolf Hitler, at the time that he was going to pursue the Jewish people, was asked 'Don't you think that will be a problem?' and he said "Well, who remembers the Armenians?' We are here today to say we remember the Armenians. We will never, never forget."