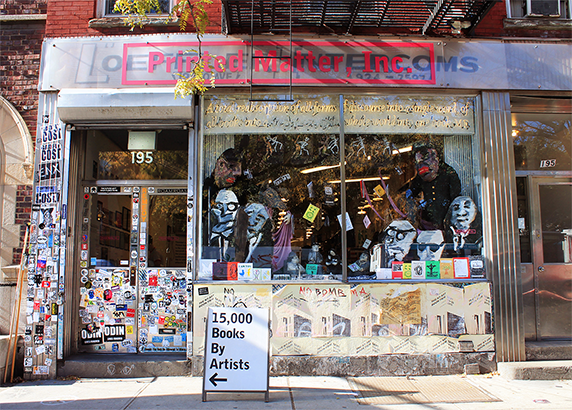 Printed Matter, Inc. is moving to a new, bigger, and more flood-safe Chelsea home. Founded in 1976 by artists Sol Lewitt, Lucy Lippard, and friends, the New York-based non-profit specializes in artists' books and publications. It's had several homes over the years, from Lispenard Street in Tribeca to Wooster Street in SoHo, and more recently 195 10th Avenue in Chelsea. But the fast-growing organization has outgrown its current home, and is gearing up to make a move to a two-floor location at 231 11th Avenue in September 2015.
"The staff has doubled in the past year, and we have just completely outgrown the current," Printed Matter, Inc. acting executive director Max Schumann told the Observer. The organization now oversees two annual art book fairs (the NY and the LA Art Book Fairs), hosts on and off-site programming with exhibitions and performances, and has a full time staff of ten employees.
After nearly 3 years of searching, the organization's lease is up and it's the perfect time to grow. The new space will have double the square-footage of the current location, with a dedicated flexible space for exhibitions and public programs, an upper level wrap-around balcony and reading room accessible by staircase, and an expanded office area. The space is being designed pro bono by Handel Architects, but Printed Matter has kicked off an $850,000 capital campaign to cover moving expenses. So far, it has raised 40 percent of its goal.
The bookstore suffered several hundred thousand dollars in loses in 2012 after flooding from Hurricane Sandy destroyed much of the 9,000 books and artworks stored in their basement space.
"The new space will be much more flood-safe," said Mr. Schumann. "The reason we were hit so hard during Sandy is because we stored a huge amount of inventory in the basement, but we had no other options there. There's no basement storage here, and it wasn't breached during the flood even though its further west."
Mr. Schumann said they would be adding more vertical overstock space into the new designs, as well as off-site storage.