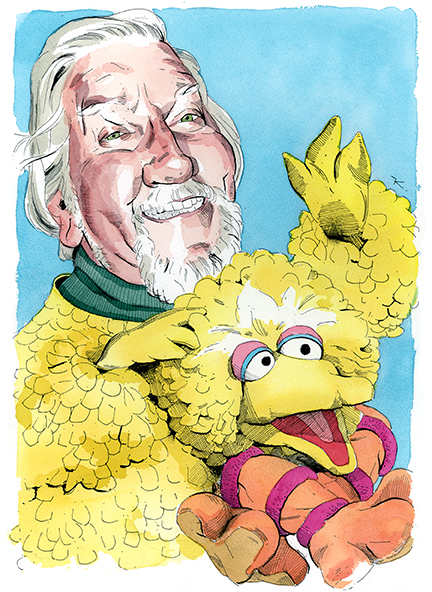 I met Caroll Spinney—the voice and body of both Big Bird and Oscar the Grouch since 1969—at an outdoor cafe in Lincoln Center, weeks before the May 6 premiere of I Am Big Bird: The Caroll Spinney Story. Or at least, I tried to. Mr. Carroll was midway through a story about a dispute he had with an ad man concerning an Oscar the Grouch alarm clock—Mr. Spinney wanted it to say "Rotten day," the executive wanted it to say "Grouchy day"—when the rain clouds overhead opened up on us.
Mr. Spinney, 81, showing the overwhelming warmness toward those younger than him he has exuded for decades, insisted I ride in his personal car with him to get out of the rain.
"You see! This isn't a 'grouchy day,' " he told me, pointing to the downpour and seamlessly transitioning to the voice of Oscar. "This is just a rotten day."
So what ever happened with the alarm clock? He said, "You can't say a word like rotten, this is for children!" I told him, if you really want them to sell, you have Oscar pop out and say, "Wake up or I'll kill ya." That could be the college-aged version. In the end we went with grouchy. I don't think it was a big seller.
After decades of holding your arm above your head in the Big Bird costume, is your right shoulder just so much stronger than your left? There was an urban legend going around in the early days that my right arm was twice the size of my left. I went to a wine and cheese gathering where I met Dr. Seuss on the roof of the Sesame Street headquarters. I had to convince this group of people it wasn't true. They said to me, "how would you know?" I told them "I guarantee you, it's the same size."
What's the strangest place you ever had to wear the orange legs? Me, Jim [Henson] and Frank [Oz] were guests on the Dick Cavett Show. They made me these black shorts, where the orange legs stuck out the bottom. My first line was supposed to be "these legs were always a problem, until I got this job." And Dick Cavett stole my line. He introduced me: "Caroll Spinney, those legs must have been a problem until you got this job." Mental note for you, "Don't work with Dick Cavett."
Do people ever recognize you solely based on your voice? Not so much adults, but I have had babies get excited when I spoke, because Bird's voice isn't too different than mine. I just go a bit higher. [Switches to Big Bird voice] Like this. Sometimes it comes out much cuter than I want. We don't want to be too cute. We don't want to be one of those shows where they say, "Hi, boys and girls" in that voice that makes you want to run out of the room.
You speak a lot about being bullied at a young age in the film? If you could say anything to your bullies now what would it be? I actually met one of them at a high school reunion. And he said to me, "I was an idiot. I shouldn't have done that." I would just hope somebody would say something like that, if I told them they were one of the instigators of my misery. I wanted to change schools but we had no money, and I couldn't tell my mother why. That wouldn't have flown in my house.
You also mention in the film you almost quit Sesame Street very early on. When I got to New York I had no place to sleep. The pay from Sesame Street wasn't enough to rent an apartment. I was staying on people's couches. I stayed in the dressing room until they found out. I stayed with Jim Henson and his family for a week, and I wanted to do that permanently. I didn't dare ask, though.
You worked with so many guest stars on Sesame Street. Does one stick out in your mind as your favorite? What about least favorite, was anyone a diva to Big Bird? Favorite? It has to be Waylon Jennings. We met on the set of the film Follow That Bird, and were really close friends until he died at 63. As for least favorite, well…I probably shouldn't say.
In your opinion, what area of New York City is most like Sesame Street? I'd still say the Upper West Side. There are still some little nooks and corners of it that are friendly and nice. A nice mix of people. There aren't any cows walking around, though. Or any particularly big birds, from what I've seen.