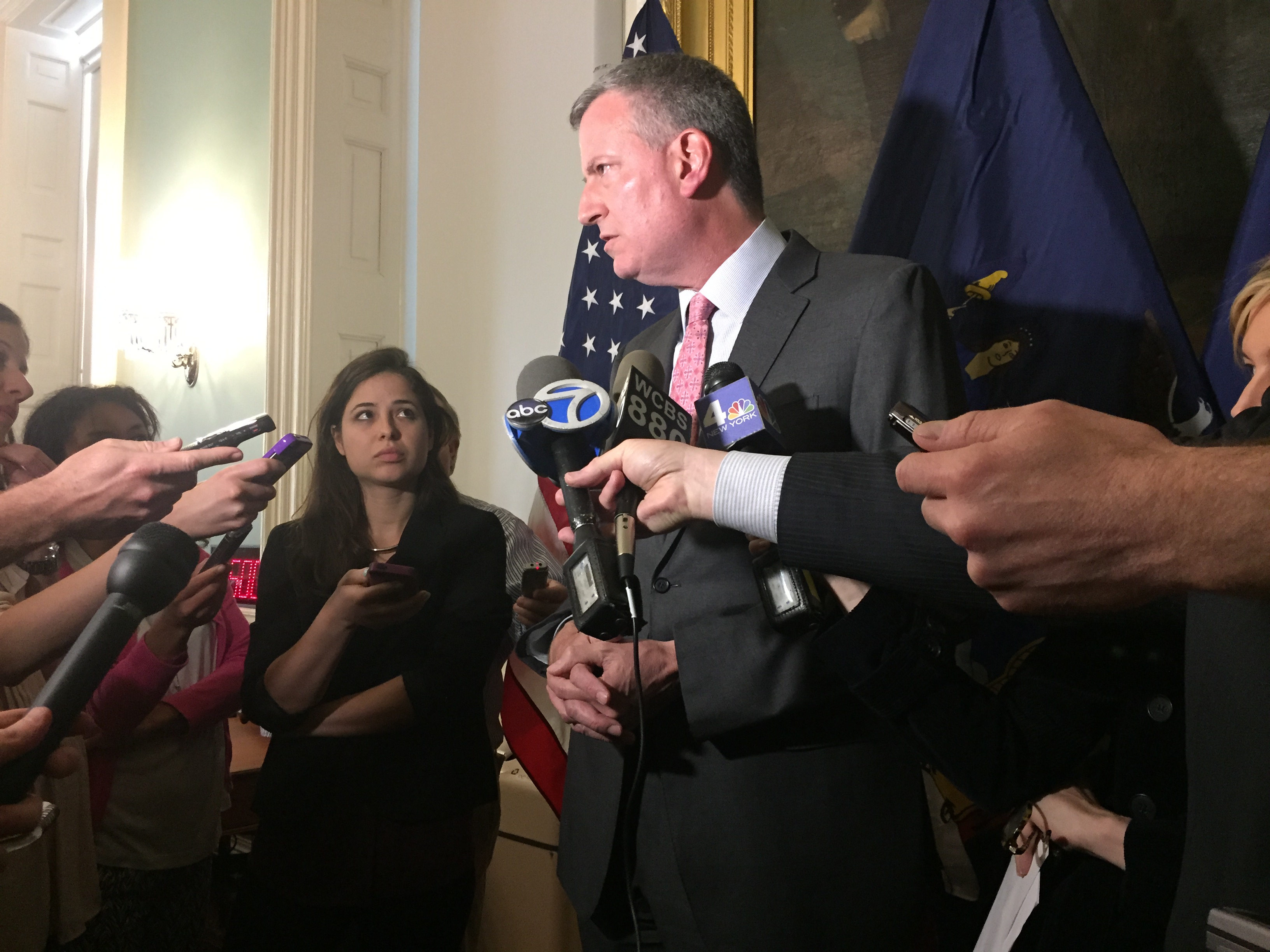 Mayor Bill de Blasio defended Assembly Speaker Carl Heastie following reports he may have benefited financially from crimes his mother committed before he took office.
Mr. Heastie was quickly elevated to the powerful leadership role following the departure of former Speaker Sheldon Silver after he was hit with corruption charges. But the New York Times reported last week that Mr. Heastie might have his own ethics problems—alleging he had enjoyed a significant windfall thanks to an embezzlement scheme to which his mother had pleaded guilty.
The story outlined how Mr. Heastie's mother, Helene Heastie, had used money she had embezzled from a nonprofit she worked for in order to purchase a home. To stay out of jail, she agreed to sell the home, which she at that point co-owned with Mr. Heastie. But Ms. Heastie died shortly after being sentenced, and Mr. Heastie stopped trying to sell the home—waiting six years and reaping a $200,000 profit.
While a judge had said in court nobody should profit from Ms. Heastie's ill-gotten investment, Mr. Heastie's spokesman told the Times that his lawyer said his mother's death ended his obligation to sell the house, and the a legal judgement against Ms. Heastie was never filed in court, making it difficult for the court to pursue the money. (The Times notes that the court clerk's office is closely tied to the Bronx Democratic Party, where Mr. Heastie held sway.)
Mr. Heastie's office told the Times he'd behaved with integrity—and Mr. de Blasio said today he believed the new speaker.
"What I've heard in terms of Speaker Heastie's experience and his view of the situation it makes it very clear to me that he did everything that was asked of him, and he followed the advice he got from his lawyer, and followed through in every way that was appropriate. So I know him to be a very decent man and I take him at his word that he handled this properly," Mr. de Blasio told the Observer during a press scrum this afternoon at City Hall.
Mr. de Blasio has also defended Mr. Silver—who unlike Mr. Heastie faces actual criminal charges—calling him a "man of integrity."
The mayor is closely aligned with the State Assembly, which is led by Democrats and more often backs his agenda than the Republican-led State Senate, or even his fellow Democrat Gov. Andrew Cuomo.
Yet another powerful member of the state government in Albany is also under scrutiny—State Senate Leader Dean Skelos, a Republican, who is reportedly being investigated by U.S. Attorney Preet Bharara.