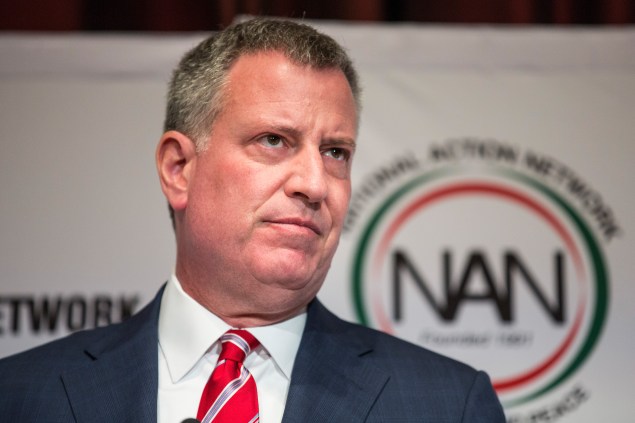 Mayor Bill de Blasio will attend an event today for his nonprofit fund, the Campaign for One New York, according to his public schedule.
That's about all the public is permitted to know about the event, likely a fundraiser, for a type of campaign fund that has drawn scrutinity from good government groups.
A spokesman for Mr. de Blasio, Dan Levitan, would not say where the Campaign for One New York event will be held or who will be attending. Mr. Levitan, a vice president with the firm BerlinRosen, did not reveal the purpose of the event.
But Mr. de Blasio, a Democrat, is reportedly laying the groundwork for an extensive advertising and social media campaign to promote his progressive agenda and push back against potentially well-heeled opponents. To do this, Mr. de Blasio is soliciting donations to the nonprofit fund, operated by political consultants with close ties to him. The nonprofit also helped pay for a portion of his travel expenses to Iowa and Nebraska last week.
For the mayor, there are several advantages to using a nonprofit instead of his own campaign cash, especially in a post Citizens United world that allows for unregulated outside spending. The fund can accept far larger donations than what would be allowed under strict New York City Campaign Finance Board regulations and only has to report its donors twice a year. Last year, the nonprofit extensively promoted Mr. de Blasio's universal pre-kindergarten initiative.
Good government groups like Common Cause New York have criticized Mr. de Blasio in the past because the nonprofit allows donors to curry favor with the mayor by funneling unusually large donations and sidestepping the CFB system.
A previous filing showed that Mr. de Blasio's allies in organized labor, along with real estate and the taxi industry, flooded the nonprofit's coffers.
Under state rules, donations given this calender year will be disclosed in July.