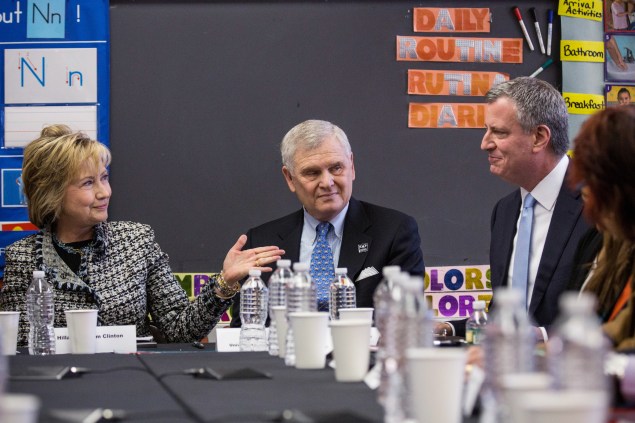 In the summer of 2001, a City Council candidate in Brooklyn needed to distinguish himself from a pack of like-minded and well-connected progressives. Naturally, he turned to one of the most famous women in America.
Bill de Blasio clung close to his mentor, Hillary Clinton, even as the former first lady, then New York's first female senator, declined to endorse in the race. When Ms. Clinton appeared in Park Slope to thank voters for her victory the previous fall, Mr. de Blasio, a relatively unknown Democratic operative and school board member, made sure every last person at the Park Slope Jewish Center knew he was the campaign manager behind Ms. Clinton's historic win.
"This is an event that I put together," Mr. de Blasio gushed, according to the Daily News. "I'm very proud to be associated with her."
Even if Ms. Clinton only delivered a "canned stump speech," as the newspaper reported that day, Mr. de Blasio was determined to be known as Hillary's candidate–in campaign literature, door-to-door schmoozing and elsewhere. Ms. Clinton was happy to let Mr. de Blasio run as the Clinton-approved Democrat, even though other candidates, including the husband of a sitting congresswoman, could boast of their own Washington ties.
Times have changed.
Mr. de Blasio, now the mayor of New York City, declined on Sunday to endorse Hillary Clinton, now running for president for the second time. Clinton loyalists were apoplectic, at least publicly. One veteran of the Bill Clinton administration, Congressman Sean Patrick Maloney, said that Mr. de Blasio needed to get his "head examined." Former Gov. David Paterson called Mr. de Blasio's decision a "distraction."
How could Mr. de Blasio, a high-ranking staffer in Mr. Clinton's Department of Housing and Urban Development, forsake the woman who jump-started his political career? Even more importantly, why rankle a future president of the United States?
"At the end of the day, this will all play itself out. A lot of people will come away saying, 'Oh that was smart move by all parties,'" said Christopher Lehane, a veteran Democratic strategist. "In the NFL, you get four downs. Sometimes the first play you call sets up the third down which is to score the touchdown."
While many observers have been quick to declare the de Blasio-Clinton relationship damaged, particularly with the Clintonian penchant for exacting revenge, the delayed endorsement could end up a boon for the mayor and his mentor.
In progressive circles, particularly within those pushing for a liberal alternative to Ms. Clinton like Massachusetts Senator Elizabeth Warren, Mr. de Blasio's Clinton snub made a lot of sense. For Mr. de Blasio, it was a chance to show that he was steadfastly committed to the campaign platform that got him elected in 2013. The mayor insisted on NBC's Meet the Press that he wanted to "see a clear bold vision for progressive economic change."
At an unrelated press conference today, Mr. de Blasio was even more blunt: he declared that he will use his "bully pulpit" to make the presidential race about his pet issue, income inequality, and nudge the candidates leftward as much as possible.
He claimed Ms. Clinton's team knew what he was going to say before he went on Meet the Press. A source close to Ms. Clinton's campaign confirmed they had been briefed.
By making himself the lone prominent New York Democrat to not reflexively endorse Ms. Clinton–Senators Charles Schumer, Kirsten Gillibrand and Gov. Andrew Cuomo all did–Mr. de Blasio is inhabiting a space that was long unoccupied in the Empire State. The state's biggest political personalities have recently been Republicans, like Michael Bloomberg and Rudolph Giuliani, or moderates that shun ideological appeals, like Mr. Schumer.
"What the mayor is attempting to do is carve out an important niche and be a spokesperson for that part of the party, the urban spokesman," said David Caputo, president emeritus and professor of political science at Pace University.
Mr. de Blasio tapped into some of the grassroots frustration with Ms. Clinton, who has irked liberals because of her husband's centrism and her own closeness to Wall Street. While Ms. Warren still ranks as the A-list star in the realm of the unabashed left, Mr. de Blasio can now stake his own claim to standing up to the triangulating forces that have dominated the Democratic establishment for a couple of decades.
"It's a brilliant move," said Bill Samuels, a left-leaning Democratic activist and fundraiser in New York. "I think it went from being Mayor Bloomberg and 'Who's the new guy' to really establishing him nationally."
"Unlike Cuomo and Schumer, Bill de Blasio is committed to social change as a clear position," he added.
Advisers to Mr. de Blasio insist he is just being ideologically consistent, and not calculating. He has already declared his intention to create a counter-vision to Republican Newt Gingrich's "Contract with America." After the 2014 midterms, he chided moderates in a Huffington Post op-ed for not being progressive enough.
"It's consistent with what he's been saying. He's been talking about income inequality for years," a de Blasio ally argued. "It would have been inconsistent for him to not say that he would ask the same of the [Clinton] campaign."
The labor community, from the Working Families Party to the American Federation of Labor and Congress of Industrial Organizations (AFL-CIO), was widely supportive of Mr. de Blasio. So was the upstart Progressive Change Campaign Committee.
Snubbing Ms. Clinton will pay dividends for Mr. de Blasio as he seeks re-election in 2017 because it will be difficult for a grassroots liberal, like Zephyr Teachout, to make the case that Mr. de Blasio is selling out his base at the expense of party power brokers. Mr. de Blasio angered some activists with his full-throated endorsement of Mr. Cuomo a year ago at the expense of Ms. Teachout, a law professor aligned with Mr. de Blasio on virtually every issue.
"Given that Bill de Blasio enthusiastically endorsed Gov. Andrew Cuomo for re-election … he can hardly claim to speak for progressives when it comes to the presidential race," said David Nir, the political director of the Daily Kos, a prominent liberal blog.
For Ms. Clinton, the lack of an endorsement is a minor embarrassment that will likely be forgotten in the months to come, and mean little to her electoral fortunes. In battlegrounds like Iowa and New Hampshire, big city mayors are like invasive species.
Eventually, Mr. de Blasio is expected back Ms. Clinton because there are no viable alternatives in the Democratic primary. The kerfuffle over Mr. de Blasio's belated endorsement may well be buried under months of juicier campaign stories.
Mr. de Blasio has created an expectation that Ms. Clinton, already retooling her campaign to fit the reality of resurgent populism, can eventually meet. When his endorsement comes, it will have additional heft for both Democrats. When disgruntled activists see Mr. de Blasio give Ms. Clinton the thumbs up, it will mean the former first lady has the imprimatur of a real, true-believing liberal.
That won't hurt.
"It's not a question of 'if,' but 'when,'" Mr. Lehane said. "It will be a significant moment when he does endorse."