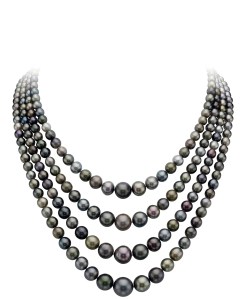 The Black Pearls of Fifth Avenue sounds like a racy romance novel, but the $5,093,000 this necklace just brought at auction is no fiction.
Christie's New York auction house is hosting a sale all day of "Magnificent Jewels," (window shoppers can watch it live here without registering) and, while there are many expensive items on the block, the prize is this four-strand natural colored saltwater pearl necklace. Black pearls are quite rare, and only a couple of other necklaces this daunting have come up for auction in recent decades.
According to the company, white pearls were the preference of buyers for centuries, but, in the second half of the nineteen century, Empress Eugénie, wife of Napoleon III, developed a taste for the exotic gems, spurring their popularity.
The buyer of this necklace, so far at least, is not public.
This kind of sale is nothing new for Christie's jewelry department, which reached an unprecedented $754.7 million in sales last year, according to the company (Yes, three-quarters of a billion dollars worldwide.) The entire auction is expected to rake in an additional $40 million.  
Other items in the sale's catalogue include a pair of D-color diamond ear pendants by Harry Winston estimated for $1.5M, still to be sold; a sapphire and diamond necklace by Graff that brought above expectations at $377,000; and a pair of emerald, diamond, and colored diamond ear clips by JAR with an estimated price of $250,000-$350,000. Other featured jewelers include Bulgari, Cartier, Tiffany and Van Cleef & Arpels.