Oh, the agony of it all. Wolves howl. Snow falls. Grenades explode. Guns blare. Vodka flows. Bodies fall. Marching boots stomp. Depressed and dying lovers search the Russian steppes for each other in vain, mournfully moaning lyrics that make no sense. Cue the violins, sawing away on atonal melodies nobody can remember. And somewhere, between one world war, one revolution, one civil war, one Red Army, one White Army, the fall of the Germans and the arrival of the Communists, an ambitious saga of tedium unfolds on the stage of the Broadway Theatre called Doctor Zhivago. You can hardly hear it for the snoring. After just under three hours, a verdict is reached. It's a colossal bore.
Although nothing happens, there's plenty to look at. Vast rooms with high ceilings and crown moldings divided by partitions and separated by Doric columns. Student dissidents fighting for and against the czar (sometimes spelled tsar, depending on whether you're reading a book or a Playbill). Armies advancing and retreating. One window that opens to reveal sunrises, sunsets, peasants planting seeds and harvesting wheat before they are beheaded. An empire overthrown and a royal family murdered. And staggering through the smoke, there is Yuri Andreyevich Zhivago, the doctor-poet torn between his brave wife Tonia, his fiery revolutionary lover Lara, and Lara's husband Pasha Antipov, who does a Cossack dance before he turns from a student activist into the bloodthirsty Bolshevik dictator Strelnikov, raping the people and destroying their land.
One minute we get him singing, "On through wind, rain and cold/No more fearsome sight to behold/Than a steadfast hussar/With a sharp scimitar…Marching forward for the Czar!" A minute later, we get Zhivago, standing up for his moral values: "A man is defined…By the strength of his mind…By his moral foundation…In the face of temptation!" Lara gets gag-worthy lyrics like "Didn't know why I was waiting…But now in your arms I do/You can look but you don't find love…Love finds you!" With dreck like that, no wonder they dragged in "Lara's Theme" from the sumptuous, sprawling 1965 film by David Lean. You gotta have something to hum.
The musical, clumsily directed by Des McAnuff from a book by Michael Weller and a score by Michael Korie, Amy Powers and Lucy Simon, also sprawls, in all the wrong directions. Zhivago, imported from London, is somebody called Tam Mutu, who sports a strong voice like a bus-and-truck Alfred Drake, and with zero charisma. He's no Omar Sharif, but one hardly expects him to disappear into the scenery. He leaves the details of stealing the show to Paul Alexander Nolan, who plays a villain with a handsome, lethal bravado that makes you understand why Lara fell for him in the first place. As Lara, Kelli Barrett is no Julie Christie. To make things worse, she sounds exactly like the miscast Lora Lee Gayer, who plays Zhivago's wife Tonia. When they finally sing a duet, you can't tell where one leaves off and the other begins. They all strive feverishly to bring the corpse to life, but what can you do with dialogue like "Where can I find Viktor Komarovsky?" "In the corner, playing cards with Prosecutor Kornakov."
It all ends badly, of course. Cue the Stalin posters. I left, worn to a frazzle, remembering Ira Gershwin's famous lyrics to "But Not for Me":  "I've found more clouds of gray/Than any Russian play/can guarantee."
People searched their watches, but Lara was still standing, in the middle of a cemetery, singing, "Nations rise and fall…Tyrants come and go…I know when life is through…My love will live in a distant chime…On the edge of time…With you."
That was not the sound of applause that rocked the joint in time for the final curtain. It was the sound of Boris Pasternak, turning over in his grave.
***
Siam fares much better this week than Russia. The splendid new production of The King and I, Rodgers and Hammerstein's classic musical, is everything you could want from a professionally polished production of a masterwork that might seem worn from over-exposure in less manicured hands—lavishly designed, meticulously directed by Bartlett Sher, and magnificently performed by a heaven-sent cast of perfectionists who blend and collate like a family in love. I've seen many great productions of one of the most exceptional classics in the legerdemain of Broadway musical theatre history, but this is one I will never forget.
This is the timeless true story of Mrs. Anna Leonowens, the prim and patrician widowed British schoolteacher who went to the exotic but primitive part of Thailand that was then called Siam to teach the king the sophisticated ways of Western society while she educated his 14 wives and 67 children (by Act Two, he has 77), and learned a few things herself. Mr. Sher, who has never made one mistake as a director in all of his plays and musicals I've seen, starting with Light in the Piazza, continues his reign of tasteful supremacy by wasting no time dazzling you. The first thing you see is an actual life-size paddleboat as it glides through the mist into the audience. Onto the bow glides Kelli O'Hara, Mr. Sher's muse in Piazza and South Pacific, to "Whistle a Happy Tune" that hides her nervous trepidation as the docks come to life teeming with the curious, industrious citizens of Siam, and for the next two hours plus, there is never a single sagging minute of wasted time and proscenium as the magical narrative unfolds.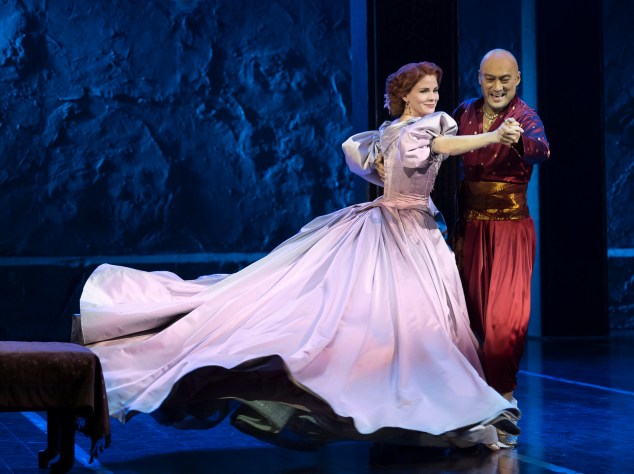 Kelli O'Hara is an entrancing Mrs. Anna, moving like a ray of light in her hoop skirts or lying on the floor, arms stretched out to honor the king. Her words of early feminism are honest, poignant and wise, and she backs them up with lyrical versions of feelings in song that are never less than vibrant and tender. Her "Hello, Young Lovers" is as pure and thrilling as I have ever heard. And she has a perfect counterpart in Ken Watanabe, the Japanese movie actor from Clint Eastwood's Letters From Iwo Jima who is making his New York stage debut. He's handsome, imposing, regal, virile, exasperating, capable of shocking cruelty and surprising tenderness, and he's very, very funny. When I saw him in an early preview, he was still struggling with English enunciation, but he was still the best King since Yul Brynner. On "Shall We Dance" he captures every nuance of a proud king with two left feet. 
The huge supporting cast, including wives and servants and children of all sizes and shapes, could not be more captivating. Ruthie Ann Miles is especially good as the king's oldest and wisest wife, and her arrangement of the haunting ballad "Something Wonderful" is fittingly extravagant. Ashley Park has her own moments of power as the tragic slave girl Tuptim, singing both "My Lord and Master" and "I Have Dreamed" with a bruised longing that haunts me still. Christopher Gattelli's recreation of Jerome Robbins' original choreography enhances the pictorial heartbreak of "The Small House of Uncle Thomas," a ballet performed by the royal court as a tribute to Harriet Beecher Stowe's Uncle Tom's Cabin, with priceless humor. Michael Yeargan's elegant décor, Catherine Zuber's exquisite costumes and Ted Sperling's musical direction of Robert Russell Bennett's glorious orchestrations will all leave you spinning with delight.
As I said, when it comes to The King and I, this ain't my first time at the rodeo. But it is the first time I never wanted to see it end.