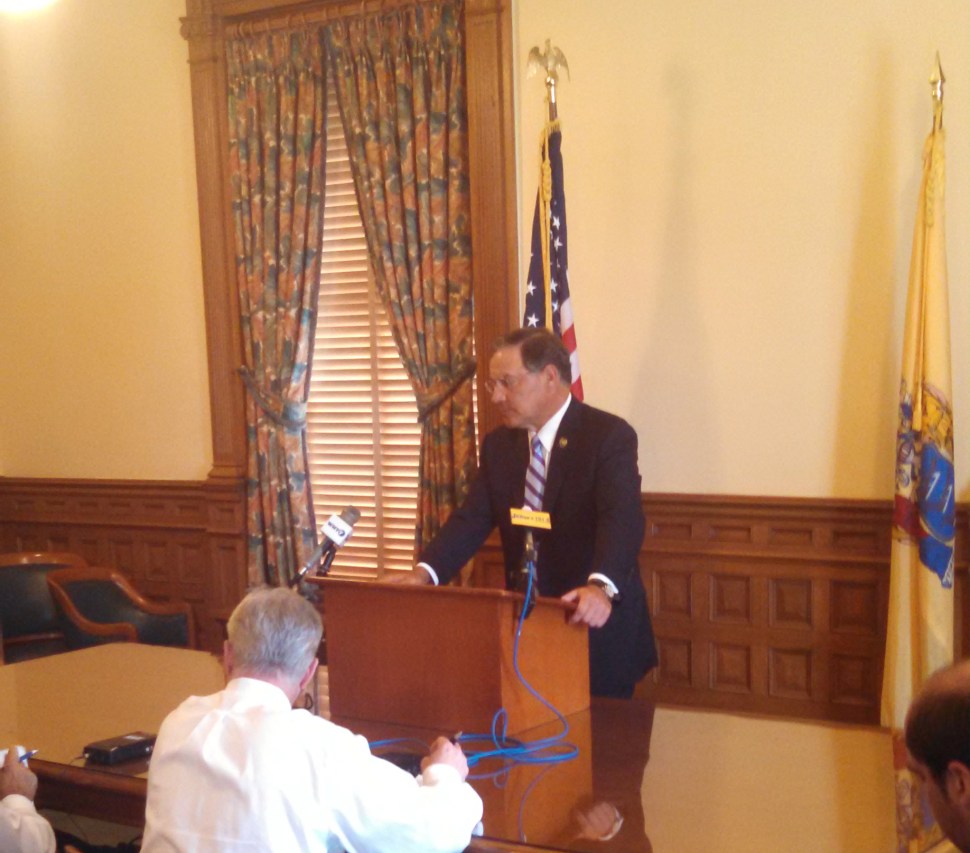 UNION — Assembly Minority Leader Jon Bramnick (R-21) said today that he is puzzled by the legislature's Democratic leadership's decision to submit an amicus brief with the Mercer County Superior Court in support of public unions in their legal battle over the state's failure to fund its pension and benefit system, asking why they haven't offered up a plan themselves to solve the problem in Trenton.
"My understanding is the Democratic leadership is going to the courts for the courts to order the Democratic leadership to make the payments," Bramnick said during a short press conference at Kean University. "Why not simply put forward a plan, the Democrats are in control in both houses of the legislature, they have a plan, pass a resolution?"
Senate President Steve Sweeney (D-3) and Assembly Speaker Vinnie Prieto (D-32) announced their intention to submit the brief yesterday, hoping the court during its case next month would uphold the pension reform overhaul lawmakers singed in 2016 to ensure the state makes its scheduled payments. They argued that if Gov. Chris Christie had followed the funding timetable as required by that statute, the state would be "well on the way to restoring the financial strength of the pension system."
"Show us where the money is and present it to the governor," Bramnick said today. "I think it's simple — I just don't think we need a court to order the payment of the money. We need the Democratic leader in the legislature to present that plan for $1.6 billion in funding for a fiscal year that has two months left in it. But to go to the courts and order the legislature to make the payment, to me, doesn't make any sense."
Bramnick contended that Republicans, in getting behind Christie's proposed $33.8 billion budget this year, which would cut by more than half a scheduled pension payment in order to address more immediate fiscal needs, have proposed a working solution to the problem, and are waiting on Democrats to respond. He said the party should "come up with a plan, show the public what taxes you're going to raise, and put it on the governor's desk."
But Democrats say they've already came up with that plan — it's the one they proposed last year, a $34.1 billion budget that would have made a full payment to the public-worker pension fund and increase taxes on businesses and millionaires to plug a major revenue shortfall. Christie vetoed that budget, and many wonder whether there's anything to keep him from doing it again this year.
In his own statement, Assembly Speaker Vincent Prieto (D-32) defended his caucuses' leadership on the issue, saying it's "easy to resort to hyperbole and partisan attacks in difficult times."
"Anyone who voted for the pension and benefits reform bill and touted it as a major accomplishment cannot today claim it didn't create a contractual obligation for the state," Prieto said. "Anyone making such a claim is being disingenuous. And that's putting it kindly. All legislators, no matter their party, should stand squarely behind the constitutionality of the laws for which they voted. If they do otherwise, I can only presume they're doing it for political expediency and attention."
Prieto said the legislature is still looking at their options.
"It's easy to resort to hyperbole and partisan attacks in difficult times," he added. "But Democrats have instead chosen to lead responsibly, presenting the governor last year with a balanced budget that met the state's obligations, only to see it vetoed, burying the state deeper into fiscal crisis. We're still in the beginning of this year's budget process, and we will again be working to provide a balanced budget that meets the state's obligations, all while protecting the middle-class and the poor."