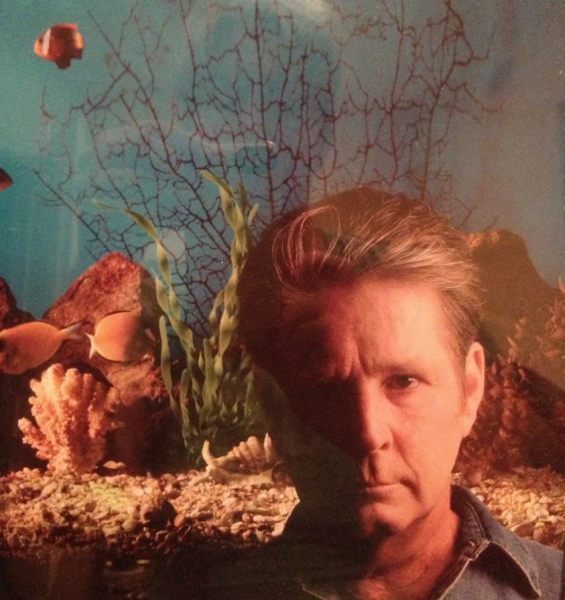 Some older artists are capable of reaching into their soul and re-creating the kind of transcendence that carved their fame in the first place: Scott Walker (age 72) and Hans Joachim Roedelius (81) regularly produce music that summons (and even exceeds) the gravity and grace of their youthful work; Neil Young, Paul McCartney and Bob Dylan hang in their pretty well, too. But no one expects the Rolling Stones, for instance, to make a record that is genuinely worthwhile on its own terms, and we shouldn't expect Brian Wilson to, either. Wilson's last solo album of original material—2008's Lucky Old Sun—was awkward and unsatisfying, and showed that all the best intentions can't shoehorn Brian into making SMiLE, Pet Sounds, or even "Mount Vernon and Fairway" again.
Brian Wilson's new album, No Pier Pressure, is edgeless, bloodless, occasionally gorgeous, sometimes moving, and far from essential. For better or worse, it picks up on the over-automated old-guy-in-a-Lexus vibe of 2012's That's Why God Made The Radio, The Beach Boys' almost hysterically anti-climatic rattle of a career footnote. Pressure is a superior work in every regard, but that's saying very, very little.
On this new collection, Wilson is wrapped fairly comfortably in a cool, adult vibe—I haven't heard a baritone sax sigh so un-menacingly on an album in at least 25 years—and this velour-gloved studio sedation almost works for him; I prefer this approach to the forced quirks and sly Americana-isms of That Lucky Old Sun. On Pressure, Brian doesn't sound like he's suffering under the weight of our expectations.
Pressure begins promisingly with a gorgeous prelude, but it immediately devolves, collapsing under the weight of the mostly nonsensical collaborations that comprise nearly half the record. Did this album start life as a duets record, and they changed their mind halfway through? A few of these forced-assignations are truly dreadful: "Runaway Dancer" (featuring Capital Cities' Sebu Simonian) sounds like an over-recorded lesser Beach Boys Love You track, and the Kacy Musgrave cut is one of the worst things Brian Wilson has ever released, and reaches below Rebecca Black-levels of inanity (was she not available?).
---

No Pier Pressure is a superior work in every regard to the last Beach Boys record, but that's saying very, very little.


---
But that's the bottom of the barrel, thankfully, and two of the collaborations work pretty well: As much as I'd prefer to hear Zooey Deschanel sing with Goatwhore or Watain, the She & Him track on Pressure, "On the Island" is a charming bit of faux-Ipanema fluff; and the guest-star bit that really succeeds is "Saturday Night," a Lindsay Buckingham-ish pop rollick featuring Nate Reuss (the guy from Fun.—can I say I'd rather lick Gabe Pressman's balls than stick that silly fucking period at the end of that band name?).
Apart from the guest turns, No Pier Pressure settles semi-comfortably into a mid-rangey, bubble-bath-and-Mateus vibe reminiscent of the mainstream pop that haunted me in high school. Much of the enterprise brings to mind George Michael imitating the Association (which is not a bad thing at all), and occasionally it really works: the shimmering, barely-there instrumental "Half Moon Bay" is exquisite, even if it's wrapped in the kind of production I'd expect to hear in an elevator taking me to a penthouse where Peter Cetera and Kenny G are getting married.
Still, there are places where the Cetera-isms get in the way: the deliberately nostalgic "Sail Away" is a damn strong song—probably the best and most ambitious composition on the album—but the production chokes it of any life. Likewise, "One Kind of Love" and the nearly splendid "The Last Song" evidence that Wilson can still throw one hell of a melody out there, but with production that sounds like the "demo" function on a Yamaha keyboard, there's not much hope here. Shit, just add some more real instruments next time.
There's been some criticism of the obvious use of auto tune on Wilson's vocals on Pressure, but to tell you the truth, it works. Not only does the tweaking suit the tushy-tight production style, but also I really don't mind Brian not sounding like Dr. Steve Brule. No matter how much you love Wilson, it's always been difficult to hear him sounding vaguely damaged, and it's a pleasure to listen to his voice and his melodies without thinking to yourself, "Why is he singing like a deaf guy?"
No Pier Pressure also confirms that Wilson's ability to compose vibrant, vigorous and magical melodies is undimmed by time, age and one of the most complicated musical psych-histories extant; these powers are sometimes assisted (and occasionally neutered) by the blinding beige of Pressure's studio sheen. Oh, and "Half Moon Bay"—and possibly that too-brief album opener, "This Beautiful Day"—deserve a place on any Wilson/Beach Boys greatest-hits mixtape (though admittedly a spot pretty deep on the second side).
So, to sum up, what do we have here? You're sitting in a domed stadium that was state-of-the-art in 1984, and Brian Wilson comes to the plate. He hits a weak but well-targeted grounder that almost gets through the infield.
[youtube https://www.youtube.com/watch?v=xzoSrruy6mw&w=560&h=315]