We've seen plenty of drones used for medical and military purposes. But if a fascinating Indiegogo campaign is successful, we might see them used to save elephants and rhinos in Africa from extinction.
The project is called Air Shepherds, and its mission is to use drones to track down poachers who kill elephants and rhinos for their tusks and horns. If all goes according to plan, the drones will use infrared cameras and other advanced tracking technology to seek out poachers and alert park rangers to their location.
Spearheaded by the Lindbergh Foundation, a U.S. organization that seeks to balance technology and the environment, the campaign has raised nearly half of its $500,000 goal.
Poaching poses a massive threat to Africa's elephant and rhino populations. According to a 2014 study, 100,000 African elephants had been illegally killed by ivory-seeking poachers in the three years prior. Rhinos are in trouble, too; a record number—1,215—were reportedly killed by poachers in South Africa in 2014. The current poaching rates mean the animals could be extinct within 10 years, the Air Shepherds campaign says.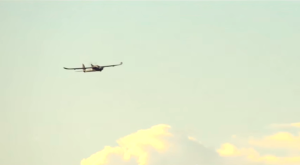 The Linbergh Foundation has a long history fighting poachers in Africa, chairman John Petersen explained in a phone call with the Observer. For years, they worked with the Kenya Wildlife Service, helping them acquire airplanes and night-vision goggles so they could better spot their targets. Poachers, we learned, tend to operate shortly after nightfall, between 6:30 p.m. and 9 p.m.
But there were problems with flying airplanes to catch poachers.
"It's really hard to fly at night in one of those little planes over the bush where there are no navigation aids—no visual cues to tell you where you are," Mr. Petersen said. Plus, the loud noise of the planes' engines didn't exactly help them operate stealthily.
Mr. Petersen set to work figuring out how to track poachers more effectively, and for less money.
"It occurred to me that drones would be cheaper to not only acquire and to maintain," Mr. Petersen said, "but also they have infrared cameras on them, so they could see at night—see the thermal signatures of the animals and cars and humans."
The Lindbergh Foundation teamed up with the University of Maryland Institute for Advanced Computer Studies, which had developed technology that could predict, with around 90 percent accuracy, where animals and poachers were going to be on any given night. After all, "if you have a game park the size of Connecticut," Mr. Petersen said, and you only have one little drone, "you've got no idea where in the world to fly. You're still at a disadvantage."
"But if you knew where the poachers were likely to be, small drones could become extremely effective."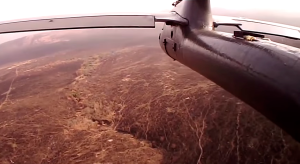 Armed with its poacher-tracking technology, the project teamed up with the Peace Parks Foundation, an organization that establishes conservation areas in southern Africa, and UAV & Drone Solutions, a South African drone company. UAV & Drone Solutions had already tested its drones for use against poachers, with great success—and things will only get better with the addition of new tracking technology.
"It works," Mr. Petersen said of the drone trials. "Flying in one area where as many as 19 rhinos were killed each month, there have been no deaths for six months. None at all."
Meanwhile, the University of Maryland has independently tested their technology, "and we know that works as well," he continued. "So what we're doing is bringing those two powerful capabilities together."
Eventually, the drones will provide enough information about poachers that park rangers can take more proactive measures.
"[If] you know where the poaching is likely to be, you can pre-position the rangers," Mr. Petersen said, "hide them next to the road where the poachers are almost certain to come in."
Mr. Petersen sincerely asked for people to donate in the 10 remaining days of the campaign.
"This is literally talking about the potential extinction of these big animals, and we can stop all of that," he said. "You can be a part of really keeping elephants and rhinos on this planet."
Here's a video documenting Air Shepherds's mission:
https://www.youtube.com/watch?v=jDAt-kZDlaA