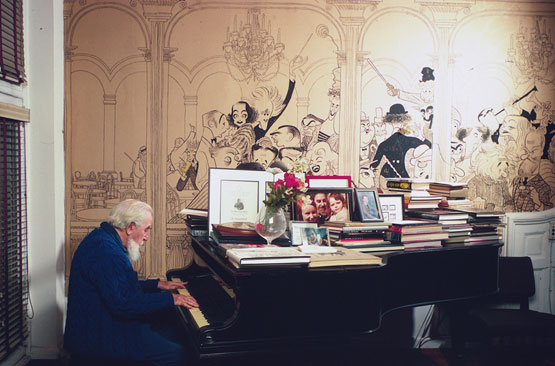 Iconic New York cartoonist Al Hirschfeld spent many years living on the Upper East Side of Manhattan in a pink townhouse. The artist, who is renowned for his caricatures of Broadway and Hollywood actors and the drawings he produced for the New York Times, died in 2003 and left behind an unforgettable legacy and an eight-foot-long, hand-painted mural in the townhouse's parlor. Now, the house is up for sale for $9.2 million with realtors Massey Knakal.
According to Curbed NY, the house on East 95th Street where Hirschfeld worked for close to 60 years—his studio was on the fourth floor—was first put on the market in 2011 and bought by Paul and Denise Lachman for $5.3 million. At the time, other decorative elements by the artist could be found, such as painted tiles around the fireplace. But a striking mural painted 50 years ago that features stars like Frank Sinatra, Marilyn Monroe, Charlie Chaplin, the Marx Brothers, and more, is the real treasure.
Now the house is back on the market, and the four-bedroom home has been renovated, and comes complete with a roof deck, terrace, and garden. It is also still very, very pink.
Hirschfeld will be the subject of a career-spanning retrospective at the New-York Historical Society this spring. "The Hirschfeld Century: The Art of Al Hirschfeld," will run May 22 through October 12, and include over 100 drawings by the artist, including his 1928 likeness of Lauren and Hardy and Rudy Keeler in her late role in No, No Nanette (1971). The exhibition is organized by Louise Kerz Hirschfeld and will be guest curated by David Leopold of the Al Hirschfeld Foundation.