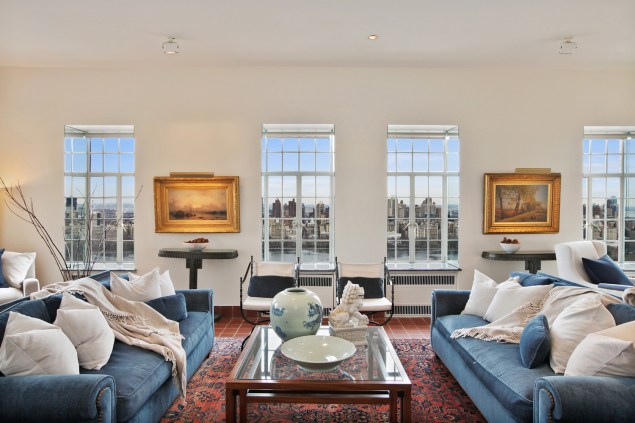 For decades, the 29th-floor penthouse in the north tower of the Eldorado led a divided life, with a one-bedroom chunk excised from the original floor-through layout. And though the penthouse did not suffer in any real way—the loss had been more than compensated for by the annexation of the 30th floor (the building's former ballroom with a 62-foot expanse fronting Central Park and a terrace set into each corner)—the missing piece continued to smart.
Until a few years back, that is, when the longtime owners snapped up the one-bedroom, which they used as a conjoined, but not reintegrated, office and guest suite, presenting the possibility of a glorious double floor-through duplex.
"It could be rejoined. It should be rejoined," insisted Linda Reiner, the Warburg broker who shares the $29 million listing with her colleague Lisa Tarnopol Deslauries.
It was hard to disagree (it's not everyday that the opportunity for a duplex tower floor-though presents itself), though the next owners will be more than comfortable if they decide to leave the configuration as-is. Even without the one-bedroom apartment, there are still four full bedrooms, all with en-suite baths, and on the second level, a living room/library and dining room overlooking Central Park. As the Eldorado is the northernmost of the iconic, double-towered Art Deco buildings on Central Park West, the space's windows look out directly over the reservoir.
Outside, a fierce March wind whipped around the tower's top floor, but the apartment itself was cozy, its original terracotta floors warmed by the sunlight that, with four exposures, fills the space from dawn to dusk. For those uninclined to brave a blustery terrace, there is also a solarium, which was at one time exposed to the elements, with a wall adorned in the building's exterior Art Deco architectural detail to prove it.
"The owners really use the space—they have a glass of wine here before dinner," said Ms. Reiner, who also lives in the building. The space was dotted with delightful signs of occupancy: books scattered about, a telescope stationed by a window, blooming orchids. Ms. Reiner said that she'd even witnessed the owners scooping artisanal marshmallows from the glass jars in the kitchen, which we had taken to be purely decorative.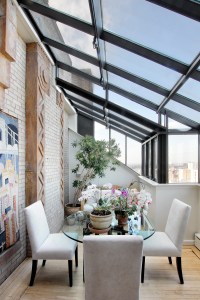 She cautioned us against snacking, though—with a vacation house and work that frequently keeps them in the Bay Area, the couple is rarely around to replenish their treats, which cuts to the essence of why they're selling.
But wouldn't they miss an apartment like this?
Oh no, Ms. Reiner assured us, the sellers weren't going far. In fact, they weren't even leaving the tower, having just recently purchased the 23rd floor.