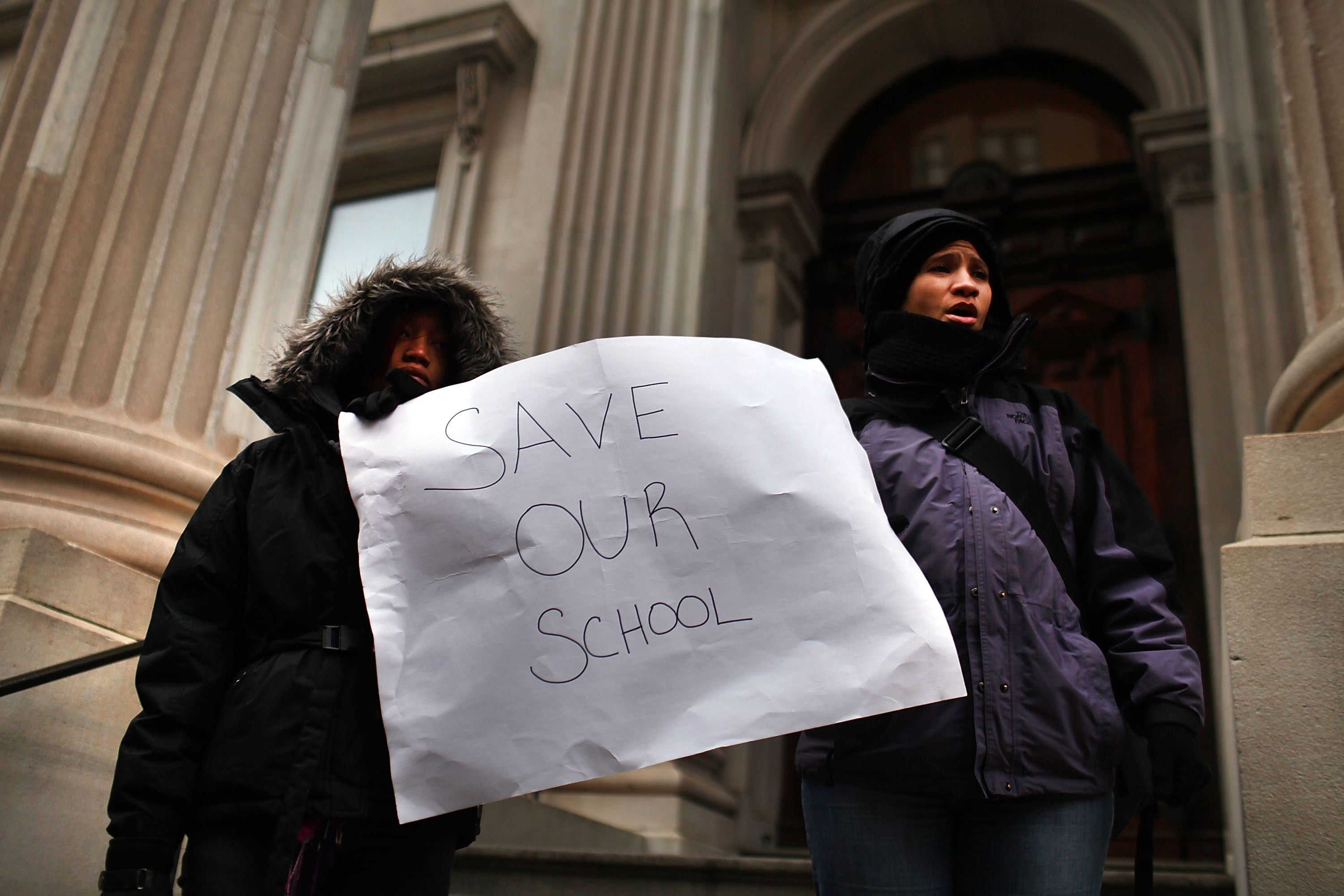 Members of a charter school advocacy group today rallied outside City Hall, brandishing a report claiming that the privately-operated, publicly-funded learning institutions have failed to fill the seats of students who leave during the year—which they said paints a false picture of the schools' success rates.
The Democracy Builders, which bills itself as a pro-parents organization, said it had used testing statistics from the city Department of Education website to show that 2,500 students had dropped out of 150 charter schools between 2013 and 2015, and that the schools had failed to replace the departing kids with children from the nearly 50,000-strong wait list of applicants. Charter school students generally perform better than children in regular public schools on standardized tests, but public school advocates and teachers unions—which are closely linked to Mayor Bill de Blasio—have criticized their recruiting and instruction practices.
"We're saying, 'if students are leaving, you should be held to put students in those spots,'" said Princess Lyles, executive director of Democracy Builders. "If charters chose to voluntarily backfill empty seats in K through 12, they would expand choice and voice for thousands of families that are desperate for the type of education these high-quality schools provide without new legislation or regulation."
Nonetheless, Ms. Lyles called for the passage of a bill sponsored by members of the pro-teachers union Progressive Council that would require charters and gifted and talented programs to disclose more information on their attrition rates. Foes of charter schools argue they perform better on standardized tests in part because they push out the poorest performing students, and do not replace them.
The Democracy Builders report asserts that the Department of Education over-emphasizes a school's "percent proficiency"—that is, the ratio students performing well to the total student body—which disincentivizes charter schools from filling seats emptied during the school year. The report cited a study by the conservative Manhattan Institute that found the students most likely to leave a school mid-year are often the most troubled—immigrant children, those with special needs and the homeless.
"Schools who lose students and gain percentage points give parents the false impression
that a schools' absolute number of proficient students is increasing each year. It isn't," the report reads. "The reality is that the charter sector is losing proficient and non-proficient students each year."
Ms. Lyles argued that this makes charters look unfairly "attractive" compared to other schools.
"What happens is you change the denominator. And so the number of proficient students remains the same, but the total number of students goes down. And so the proficiency rate goes up," she said.
Democracy Builders' founder, Seth Andrew, is also the founder of the Democracy Prep chain of charter schools. The two organizations are legally separate entities, though Democracy Prep hires Democracy Builders to inform parents about enrollment opportunities at its schools.
The report did not highlight statistics from Democracy Prep schools, even though it included statistics showing declining numbers of students enrolled at the other major charter chains, including Success Academies, Uncommon Schools and KIPP. It also favorably quotes and cites one charter school, St. HOPE Leadership Academy, which has at least one employee of Democracy Prep on its board of directors.
Ms. Lyles characterized the organization as unabashedly pro-charter, even though it is pushing for more regulation on the industry.
"Just because we're a pro-charter organization doesn't mean we can't also be critical of the sector, and we represent parents first," she said. "What we're saying is, when you look at the communities we're talking about—South Bronx, Harlem, central Brooklyn—every seat counts."