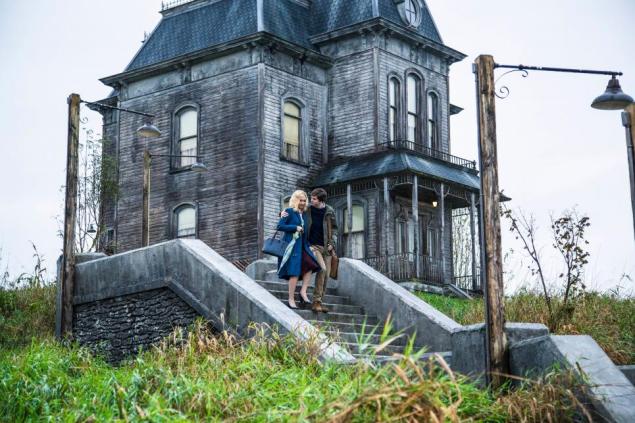 As the sun set on a gloomy evening, high on a hillside loomed one of Hollywood's most recognizable houses. Below it, in a conglomeration of faded hues appearing to have layers of dust, were the familiar looking rooms of an old motel. Illuminating the property was a large neon sign that screamed "Bates Motel!"
While this set, on the Universal lot in Hollywood, Calif., is the one that was used for the iconic movie Psycho, it's quite a distance from the location where the A & E prequel series Bates Motel is actually shot. The sets for the series reside in Vancouver, British Columbia.
"It's a bit chilly and overcast here right now," concedes series star Vera Farmiga (Norma Bates) as she stands just under that omnipresent sign, "but this is really pleasant compared to some of the Canadian weather that we've had to endure."
In this moment, it's hard to believe that Ms. Farmiga is the same woman who plays the oft-crazed Norma. She looks glowing in a simple wrap dress with a smoothly coiffed dark bob. She admits that off screen in the course of her 'normal' life she isn't often recognized. "I think it's because I'm a blond on the show and it really freaks people out. I mean when I'm on the street sometimes people will ask me like, 'what show are you on?' And I say, Bates Motel. And they say, 'Who do you play,' which makes me laugh a little. I'm sort of incognito when I'm just being me."
About that weather, series Creator Carlton Cuse says that "You know, I think the physical environment plays a big part of the show. I feel very strongly that the sort of bleaker, more monochromatic winter look is narratively appropriate for the story that we're telling."
Mr. Cuse has been adamant that the series will conclude after five seasons. The "close-ended run" is a technique that he first employed with his mega-hit Lost.
"The storytelling really dictates it," explains Mr. Cuse, "this isn't a story that can just continue on and on. We're watching a progression here. It's the story of a mother who desperately loves her son and is trying to prevent him from becoming this guy that's he inevitably going to become and you just can't drag that out indefinitely."
Cuse goes on to say that this season is one of significant transition for Norman, adding, "He's really starting to slide much more significantly toward the persona that we know he'll become. He's becoming less and less able to be self-aware about his decline."
In fact, Cuse hints that by the end of the season Norman moves into a state where he can no longer decipher if he's 'Norman' or if he's slipped into his 'Norma' persona.
Cuse insists that while this signals a significant point in Norman's journey that many fans have been waiting patiently for, this descent couldn't have happened any sooner or it wouldn't have been believable. "We needed people to really care about Norman before we could show him this way," explained Cuse, "otherwise what happens to him doesn't carry any weight with the viewers. If you jump into the story without laying the groundwork, he just seems completely out of it and it's easy to just say, 'oh, he's crazy,' and then write him off and not try to understand him. But, when you see all of the things that have happened to him that have led him to be like this, then you start to feel like you understand him a bit and you aren't so quick to just label him in one way or another."
Cuse's Co-EP Kerry Ehrin, jumps in to say that while viewers might think they know where things are going, they should stay for the ride. "Yes, we all know what happens in Psycho and yes, that's the destination we have to arrive at when we wrap up the show, but how we get there will be in a different way than what you might be expecting."
At this point Mr. Cuse admits that it's necessary to just appeal directly to viewers to tune into the show because of the currently crowded television landscape. "There's just so much content out there now. And, so much of it is just amazing. We're not oblivious to that, so in addition to working to make the best show we can make it, we just have to keep asking people to watch it and reassuring them that it's worth their time. I wouldn't say it if I didn't feel that wholeheartedly. This show is really is worth the investment."
The image of the famous house has drawn plenty of people in, especially those who aren't expecting to see it in Vancouver, laughs Cuse. "You should see the skid marks on the road out front!  Clearly, people are driving along and they see the motel, or the house, or maybe just the sign, and they just slam on their brakes. I'm sure if you don't know it's there and you happen upon it, it's quite a sight to see."
Now, darkness has taken over here on the set in Hollywood, and the creepiness factor has risen exponentially—as expected. Strong feelings evoked merely by the sight of a structure seem so unlikely, and yet that's exactly what's happening here. Surely it's not just the configuration of these buildings but the knowledge of what transpired within the walls and behind the closed doors of these rooms that continues to intrigue the masses. Who would have thought that the ongoing exploration into the psyche of characters created over half a century ago would still be so compelling? Maybe Hitchcock knew something none of the rest of us knows about the appeal of watching someone descend into madness.
Whatever the reason, the only way to assess the journey is to simply check into Bates Motel, and go along for the ride.
Bates Motel airs Monday nights at 9 p.m. EST