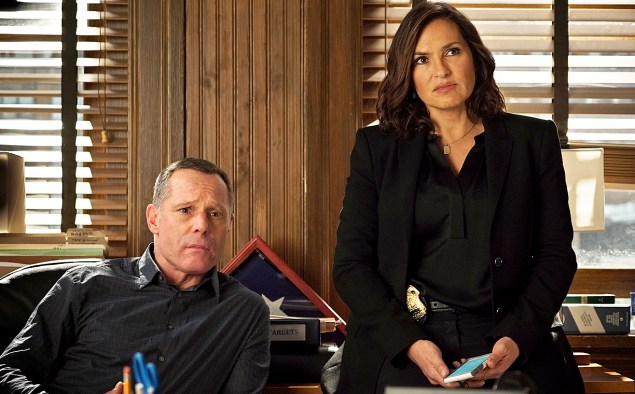 Dick Wolf and his squad are kicking it up again with an epic storyline that threads through three shows: Chicago Fire, Chicago PD and Law & Order: SVU.
Matt Olmstead, Executive Producer of CF and CPD and Warren Leight, Executive Producer of SVU, explained how the three squads will work together to solve one central mystery.
"At SVU we've been kicking an idea around for a long time about a serial rapist/murderer who in the mode of a Ted Bundy kind of guy—incredibly charming, incredibly manipulative, able to get away with these crimes for a very, very long time across multiple jurisdictions," reveals Mr. Leight. "And when the idea of a crossover came up, Dick [Wolf] suggested I donate that idea to the crossover. I knew it was a good template because we knew that this guy's spree, capture, escape and that kind of thing, that there was enough with a guy like that to merit a task force of both of these squads."
This is the third go around for Messrs. Leight and Olmstead in the crossover game. Each experience creating such an integrated story has helped shape the next, says Mr. Olmstead.  "I think that we both learned from the first one was that it would be good to kind of get in the same room, so Warren and I sat in the room for two days, which was really beneficial. [During that time] I could give a little more background on certain characters, as could he, and we just had a concentrated two days to really break this. And when I left we really had a handle on it."
Aside from the getting the actual plot points down pat, Mr. Leight admits that the difference in narrative on the two series presented a bit of a challenge as well. "The storytelling on the two shows is very different. It's two styles of writing to show how each squad works. I wanted the squads to really play to their strengths this time. The CPD guys are more action and physical and our guys work a case more procedurally. And, I wanted to make sure our guys weren't doing hunts and chase scenes and their guys weren't doing the psychologically profiling. In Chicago there's more vigilantism and our SVU guys have the extra keys in sex crimes area and are more worried about the legalities of things—if there's going to be legal in a crossover that has to be us. The path to find a common story telling language is a little daunting, but we got there."
When it comes to blending the squads, one of the things that these execs clearly love is actually bringing the characters together. "I love the interaction between Voight and Benson," Says Mr. Olmstead. "From our point of view they're strangely enough cut from the same cloth in that they want justice more than anything. They respect each other and they know they can't game the other. And there's I think a certain fondness and also a certain protectiveness one for the other, especially Voight towards Benson. I think that it's reciprocated from her to him as well. She knows how to wrangle him because one of the things that comes up in this crossover is the case has a personal connection to her and she lets it known to Voight—she says, 'do me one favor, you can't screw this up in case it ever goes to trial,' and he accepts that—maybe not normally what he would do, but he accepts that because she's important to him. The case is important to him and so he will defer to her as a colleague. So that's absolutely something that we play into the different methodologies between the two shows."
Mr. Leight is quick to add it's not only the Benson and Voight that tangle a bit this time out. "In SVU we have District Attorney Rafael Barba there which is the legal component to our show. CPD doesn't deal as much with the legal process or the trial process, so not only do we have Olivia telling Voight, 'let's not cut any corners here, we want this guy,' but there are a couple of tense moments between Barba and Voight as well. It's just – it's more of a harness I guess I could say than Voight isn't used to wearing and he bristles a bit with it. It's kind of fun to watch the conflict manifest itself."
While there was conflict among the characters on the show, Mr. Leight reveals that there was no such drama among the actors. "It's fun watching the two teams, the two squads size each other up as characters and as actors, and get adjusted to two different sets. It's a remarkable thing, when regulars on one show have to go to another city, and they're in the same character but it's not their squad room and it's not the team that they're used to around them. I give all the actors a lot of credit for taking their characters with them across the interstate borders and figuring out how to deal with a whole new group of people. It's quite a challenge for them."
Mr. Olmstead agrees that the inter-squad respect is necessary to make it all work, adding, "It's funny because based on the last crossover, when the actors on our end knew that the crossover was coming, everybody raised their hand and wanted to be in on it because they love it when the actors from SVU come over. And they love going over there. There's just something invigorating about it because this adds a huge dimension to the show. They very much like the actors who come over and if it was the opposite and they didn't get along, this would be a very tough thing to pull off. But the fact that they do really like the other actors and really want to do these crossovers—though taxing—it really helps out a lot."
While having all of the regulars up their game is important to the integrity of this event, the role of the villain is just as important, says Mr. Leight. "Dallas Roberts (The Waking Dead, The Good Wife) turns in a sensational performance across both PD into the SVU episode as a very likely suspect in all that's going on. Watching him test both squads to their max—just push them to their brink emotionally and really just avoiding them for as long as he does—it's a remarkable performance. That's something that we seldom get to do in one hour. To watch this guy across the two hours, I mean he helps unify the two episodes as well."
Working together did make Mr. Leight a bit jealous of something that Mr. Olmstead has on his show that Mr. Leight does not. "I envy that you have all those [uniformed officers] downstairs. We don't have that. SVU doesn't get use our unis in the same way. I would love to have a sort of another tier of characters who aren't detectives, but are engaged in police work in the floor below. I think they mine that to great effect on CPD."
In the end, all of the effort appears to have been worth it for all of the squads involved "We worked really to up our game for the viewers," says Mr. Leight. "The CF squad is very involved—there's a great scene with Bowen and Benson and Voight—and the CPD/SVU part is just this really fast, seamless piece—it's a two-hour movie. There are no credits in-between the two shows so it all flows and I really think once you're in watching this, you'll be in until the very end."
The crossover kicks off with Chicago Fire on Tuesday, April 28 at 10 p.m. and continues with Chicago PD at a special time on Wednesday, April 29 at 9 p.m. The big event concludes with Law & Order: SVU at 10 p.m. on Wednesday, April 29. The Chicago Fire episode will replay at 8 p.m. on Wednesday as well.