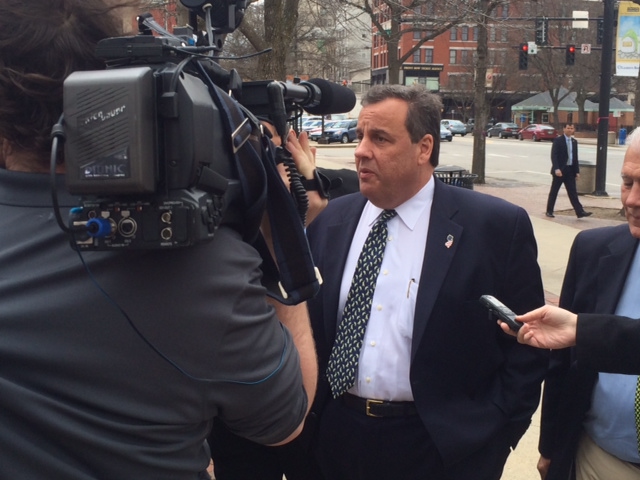 MANCHESTER, N.H. – New Jersey Governor Chris Christie reacted after Moody's Investor Service downgraded New Jersey's credit rating on Thursday with a view that the rating agency had essentially concurred with his own conclusions.
"My reaction is that I'm glad that Moody's agrees with me," said Christie, a potential 2016 Republican presidential candidate, as he left the "Made in New Hampshire" Expo in downtown Manchester on Friday morning. "If you look at [the Moody's report], what it says is that if we fix the pension problem, the problem would be fixed."
Moody's moved the state's bond grading down a step, from A1 to A2, pointing to chronic budget shortfalls and an ongoing public pension and benefit crisis. It's the ninth time the state's rating has been downgraded since Christie took office in 2010, and underscores the precarious economic situation the New Jersey finds itself in as lawmakers and the Christie administration work to craft this year's budget.
Christie has proposed a $33.8 billion spending plan that would make a $1.3 billion contribution to the pension system, a payment less than half of what is legally required under the pension reform law he signed back in 2011. Democrats, for the most part, have rejected the Republican governor's proposal, arguing that it short-changes public workers.
Christie, on his way to more appearances in New Hampshire, stuck to his viewpoint on the latest Moody's credit rating report.
"From my perspective, it just backs up everything I've been saying in the town hall meetings across the state since I presented the budget," Christie said. "I hope that the Legislature is listening to that. I hope the public sector unions are listening to it. Let's all work together, and then New Jersey's fiscal situation will be significantly improved because of all of the other work that we've done over the last five and had years. You're never happy about this kind of stuff, but I'm glad that the basis for why they made their decision confirms the argument that we've been making across the state."