CEDAR GROVE – At his 136th town hall meeting, New Jersey Governor Chris Christie spoke about a familiar theme with an added edge: his plan to further overhaul the state's pension and benefit system and a lawsuit focused on the controversial issue.
"There is one, big exceptional problem that we have to fix to be able to be fiscally sound for the long term, and that is dealing with the issue of pensions for public sector workers," said Christie before about 200 people at the Essex County College Public Safety Academy in Cedar Grove on Thursday. "The average pension per public worker in New Jersey is $39,000 a year, $13,000 more than the average for the 49 other states. You're going to have to get an investment return of over 11 percent a year just to stay even, and of course we're not. We know where we're headed."
The determination of the future of the state pension and benefit program is headed to a New Jersey Supreme Court hearing on May 6, where arguments will be heard regarding the state's decision to cut $1.6 billion from this year's slated payment for the public pension and benefit system. Oral arguments for the case, in which the state and more than a dozen union litigants are involved, are set to be heard on May 12 before Mary Jacobson, a superior court judge in Mercer County.
Unions supporting a lawsuit against the state maintain that New Jersey Gov. Chris Christie is violating state law by not making promised payments in the state's upcoming budget and underfunding the pensions by $1.8 billion. Christie has previously stated that New Jersey's ongoing budget problems have made full pension payments impossible over the past two years.
Senate President Steve Sweeney (D-3) and Assembly Speaker Vinny Prieto (D-32) announced recently that they plan to officially inform Jacobson, via an amicus brief, of their disapproval of the state's failure to make the payment.
Christie tackled his detractors' method of moving against him on the pension and benefit plan issue.
"Don't file a paper in court that's essentially leaving the bill to all of you," Christie said. "It's not right, especially when it comes to solutions that we've come to in order to fix the problem."
Christie answered the almost de rigueur question he answers at most of his town hall meetings in recent months – whether or not he will seek the 2016 Republican prudential nomination. As he has before, Christie said that he will tell the public his plans sometime in late May or early June.
Christie's support in New Jersey has been sinking in recent polls, and he has suffered defections from once-close allies such as state Senator Joe Kyrillos (R-13) to potential GOP primary rival Jeb Bush, with more apparently to come at a Bush fundraiser in New Jersey reportedly being organized for June.
But on Thursday in Essex County, one of his well-known allies expressed his continued support.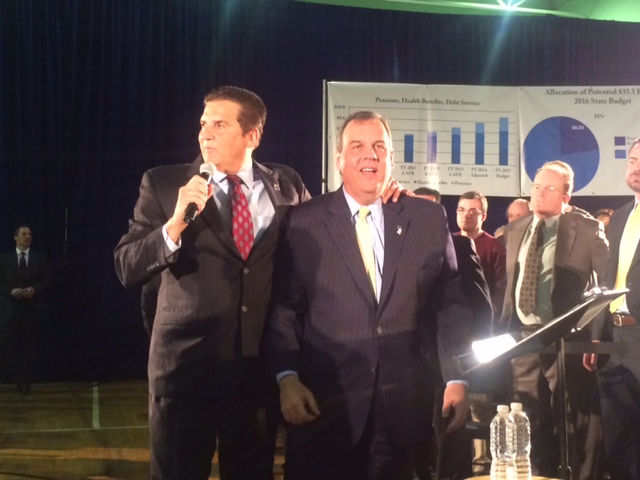 "My supporting the governor was for a reason," said Essex County Executive Joe DiVincenzo, a Democrat, who backed Christie's 2013 reelection bid. "He's bipartisan, and he's willing to take on tough issues. But he can't do it by himself. He needs to have the Democrats work collectively together him."