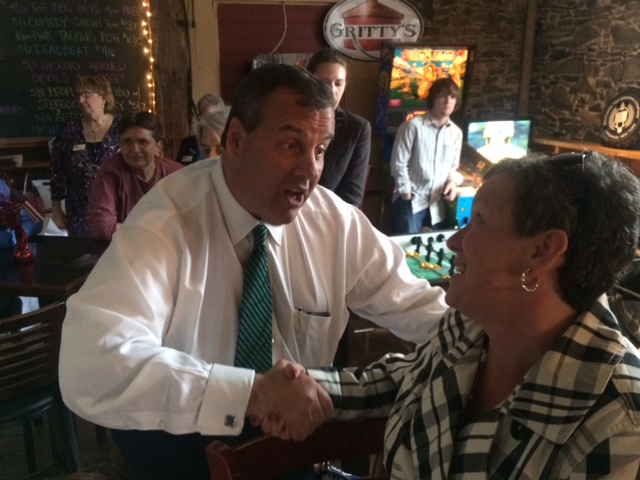 NEWMARKET, N.H. – New Jersey Governor and potential 2016 Republican presidential candidate Chris Christie mixed in some retail politics after a policy speech and a pizzeria stop on Tuesday among a New Hampshire crowd with mixed political views.
"[President Barack Obama] appears like a man in a dark room, struggling and feeling along the wall for the light switch of leadership," said Christie to a crowd of about 75 people at the Stone Church Meeting House Tavern in Newmarket, New Hampshire. "He hasn't found it for six and a half years now, and he's not going to find it, I suspect, in the next year and a half.
"Some days I will say some things that will make you shake your head. I know it happens in New Jersey all the time," Christie said. "But you will never have to worry about whether you know what I think, and how I feel, because being a real leader is about telling people what you think and explaining to them how you feel."
In a short speech, Christie assailed Obama for a myriad of perceived policy failures, including his administration's foreign policy stances on Russia, Iran and ISIS. But if all politics are local, then it's up to residents of New Hampshire, a key presidential primary state, to decide whether Christie's presidential hopes will ultimately be lit up or dimmed.
While Christie did not have a direct question-and-answer session with members of the crowd or the media in Newmarket, he did talk one-one-one with members of the assembled crowd.
Morey Stettner, a consultant from Portsmouth, asked Christie a question about something that has been a source of controversy in New Jersey in recent weeks: the state's proposed $225 million settlement pertaining to lawsuits first brought by the state against Exxon in 2004 for natural resource damages at Linden, Bayonne and other New Jersey oil refineries and sites. The settlement number is far short of the original target goal of $8.9 billion in environmental damages.
The governor has pointed out the lack of a cap on the cleanup payment amount, as well as that the proposed $225 million settlement is the largest national resource damages payment by a single corporate defendant in New Jersey history.
But Stettner, a registered independent, didn't seem satisfied.
"His argument to me just now is that it was the largest environmental settlement that the state has ever had. But my concern as somebody in New Hampshire who cares about the environment is that it was a very paltry settlement, and it really let Exxon off way too easy," Stettner, 50, said. "I'm not looking for historical perspective. All I know is that the state was speculatively looking for $8.9 billion in damages for polluting the environment."
Heather Durant, of Newmarket, shared a close conversation about her small flooring business with Christie at the bar.
"I grew up here, and I was born here," said Durant, 46, a registered independent, who said that she voted for Obama twice but is unsure about any of the potential 2016 presidential candidates. "New Hampshire needs somebody who doesn't pull any punches. That's who we are. Don't fluff it up. Just tell us the truth. This was my first political function ever, and I think he was real today."
Michael Whitney, who also lives in Newmarket, has been a Republican all his life. Watching the sometimes surreal scene of prospective presidential campaign swirl through his local bar, Whitney noted what the New Jersey native Christie will need in order to make a real appeal to New Hampshire Republican presidential primary voters.
"Time will tell, but he's intriguing," Whitney, a distant relative of Eli Whitney, inventor of the cotton gin, said. "I think he's a really down to earth guy. He has problems. He has issues. But he hits it, and I respect that. This is not his first time in New Hampshire. He has my interest."