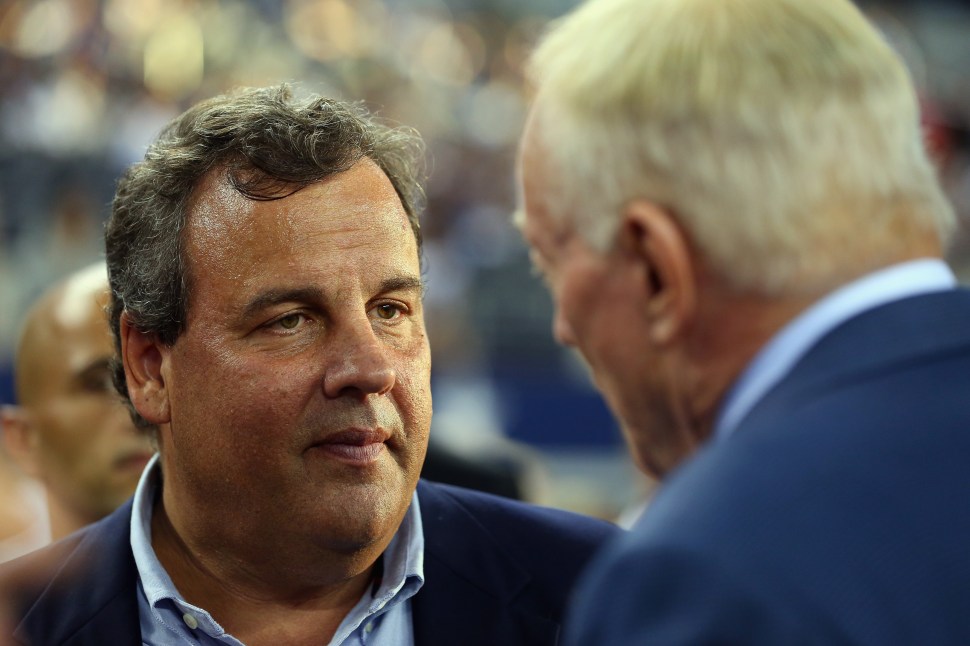 This story has been updated to include comment from the NJGOP.
As the Star-Ledger reported this morning, the NJGOP spent nearly a quarter million dollars on private jets in January, "accounting for half of the money it spent in the last three months," according to ELEC reports. PolitickerNJ can now report that Gov. Christie was sufficiently worried about this eyebrow-raising figure that he warned the GOP chairmen that the number was coming.
Last Thursday at the governor's mansion, Chris Christie gathered nearly all of the state's 21 GOP county chairs for an early breakfast. According to published reports, he asked for the kind of unity that's become quaint in this age. The governor urged all GOP chairs would endorse one presidential candidate together, just as they had in 2012 in rallying as one behind Christie's pick, the eventual nominee Mitt Romney. Apparently, everyone is on board, reflecting a unity nearly as enthusiastic as that of four years ago, even as many well-known NJ donors have defected to other candidates like Jeb Bush and even Scott Walker.
But there was another part of the meeting, which has to this point gone undisclosed, and it wasn't quite as warm and fuzzy.
According to one source who was at the meeting and another who heard about it directly after the meeting from another source, Governor Christie warned the chairmen that the upcoming State Party financial reports will include "many private airplane trips to Dallas Texas."
It's no secret that the governor had been making trips to Texas, which is the home state of his finance chair and a hotbed of financial support for the presidential hopeful. The PAC was formed early this year at the end of January. It's already been confirmed in published reports that a December trip to Texas was funded by NJGOP in December, and the famous trip to the Cowboys game was paid for by team owner Jerry Jones.
The state party has been helping foot the bill for travel costs for Christie to help raise money for the state party and other political activities such as appearing at inaugurations of governors who Christie helped elect in his former role as chairman of the Republican Governors Association. Those trips have surely helped raise the governor's national profile, which presumably benefits Leadership Matters for America, whose donors include Texans such as Al Hill Jr. A spokeswoman for the State GOP, Nicole Sizemore was emphatic in stating that travel paid for by the the state party has benefited the state party: "The State Party has routinely paid for the Governor's political travel and we continue to see a positive return on our investment as the NJGOP has been able to raise nearly $21 million since he was elected Governor – millions of which have been raised out of state due to his national profile, benefitting New Jersey Republicans."
A spokeswoman for LMFA noted to PolitickerNJ that "we are not a campaign, we are a leadership PAC" and that "The PAC has to file twice a year. Closing is end of June and filing by July 15." Specifically addressing the high cost of the Dallas trip that the state party paid for, Ms. Sizemore told PolitickerNJ, "The NJGOP paid for the Dallas trip, just as it has in the past for the Governor's political travel as the head of our party."
No one has suggested that there's anything improper about state party funds being used to cover travel costs for the leader of its party—that's a legitimate (if expensive) use of funds.
But spending half the party's haul on private air craft has gotten some tongues wagging. The travel news comes amid grumbling among party chairs that Christie, a formidable fundraiser when he sets his mind to it, has done less to fill state party coffers than he has to help LMFA, which has been raising money at an impressive clip.
None of the GOP chairmen contacted for this story would speak on the record about the governor, and support for his presidential ambitions seems to be solid among them, at least for the time being. But one person present did describe an exchange at the breakfast in which Christie said "I want to accelerate our PAC fundraising, so I can offset the transportation costs." He then turned to Amanda De Palma, the state party's executive director, and said, "How much did we raise last year?"
She replied "$2 million."
He replied, "And we'll do even better this year."
That was interpreted by one source as the governor suggesting that $2 million was an impressive figure for the state party to have raised, but this chairman groused to PNJ that it really wasn't all that much.
In fact, as PNJ reported earlier this year, 2014 represented the most anemic totals since 2007. According to ELEC, the state GOP raised $1,663,324 in 2014 and the state Democratic Party, without the benefit of the governor's office, raised $ 1,502,577. Compare that to 2010, a comparable year (Congressional elections in the year after gubernatorial). In 2010, the GOP raised $652,652 more in 2010 than they did in 2014. That's a 22% fall from 2010 to 2014. The Democrats raised $655,045 more in 2010 than they managed in 2014 – a 20% decline.
These drops in spending might seem contrary to the perception that money is only growing in politics. But what's occurring here is a reflection of the increased power of PACs. Last year's Newark mayor's race was one of the most expensive in state history and PACs played a major role in that spending. So it's not as though money is suddenly vanishing from the system—it's just migrating to the less limited, less transparent PACs, on both sides of the aisle. And apparently, sometimes you gotta fly to grab it.
CORRECTION: Due to an editing error, an earlier version of this story was ambiguous and gave the impression that the leadership PAC was the primary beneficiary of travel paid for by the state GOP.