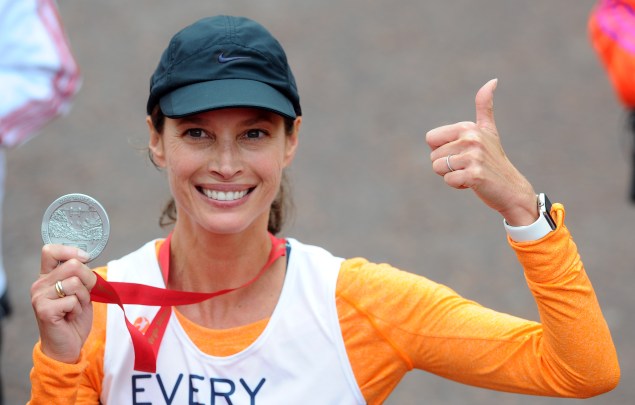 Supermodel Christy Turlington was amongst the nearly 40,000 people who ran the London Marathon this past Sunday.
Ms. Turlington ran the 26.2-mile race to raise funds for her charity, Every Mother Counts, which seeks to make pregnancy and childbirth safe for all mothers.
As if completing a marathon were not, in itself, an impressive feat—and for charity, no less—Ms. Turlington also completed the race in three hours and 46 minutes—her person best time.
"I'm hoping for something around 3:55," she told the BBC before the race.
Ms. Turlington trained a lot for Sunday's race, she told the BBC, including running a half-marathon in Tanzania in March.
Rumors abounded that Ms. Turlington and George Clooney made a bet before the marathon: If Ms. Turlington completed the race in under four hours, Mr. Clooney would run next year's London Marathon.
"Who reported this nonsense about a bet?" the model wrote on Twitter. "The only real thing that happened in London is my PR [Personal Record]."
Ms. Turlington was not the only celebrity partaking in Sunday's marathon. David and Victoria Beckham were on-hand as 12-year-old son Romeo completed the three-mile children's course.