The chiseled yellow-gray profiles of the Independence Towers rear high above the carved archways and quaint balconies of Hasidic Williamsburg in Brooklyn, just a couple blocks and perhaps a million miles away from the international hipster mecca to the north. Walking by, Independence and the neighboring Taylor-Wythe Houses—two of the New York City Housing Authority's 334 developments—for a few moments resemble the kind of mixed-race, mixed-income idyll public housing was once imagined to be: stroller-pushing Orthodox Jewish moms and Latino teens issue out of sterile-looking buildings, black and Hasidic children chase each other around a courtyard, an elderly African-American woman and a rabbi share a park bench.
Then the residents point out the barren, fenced-in lot that was once a playground, before one end of it began sinking into the ground and then two local boys incinerated the slides three years ago, residents say, and NYCHA closed it off entirely and left the children of Independence without a place to play on warm summer evenings. Crime is a primary concern: people describe gunshots at night, drug-dealers in the lobbies, a mysterious stabbing on one of the public sidewalks outside, rampant urination and defecation in the elevators and stairwells.
Then there is the usual litany of tenant complaints against NYCHA—mold, leaks, peeling paint, crumbled walls, backed-up toilets, broken windows, intermittent loss of hot water—all of which take far longer than any reasonable person would expect to get corrected, if the Authority ever mends them at all. Shortly after the playground arson, a gas leak at Independence left residents of 122 units cooking off hot plates for a month.
Some locals will pick out from the sheer 21-story face of one of the towers the apartment where an electrical fire claimed the life of an FDNY lieutenant last July. The window today remains a blackened crater with a sheet of plywood stuck where the glass should be.
Lingering over it all is the afterglow of nostalgia, emanating out of the always brighter past.
"This used to be like a village. People knew each other, kids, family, all races, Spanish, black, white, Jewish, you know what I mean?" said a Hispanic man named Angel, who grew up in the complex when it was new in the late 1960s and early 1970s, and who asked not to give his last name. He pointed to a pair of half-collapsed hoop-less basketball backboards on a court between two buildings. "We all used to play out here. With the new people here, it's crazy. One day, you come out here, and this is all fallen down."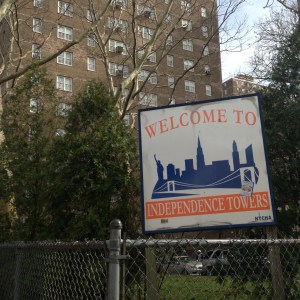 He blamed the loss of civic values on the gradual attrition of Jewish residents, the direct transfer of people out of the shelter system into the projects and the popularity of gangsta rap among the youth. He suggested that NYCHA require new residents to take a course on how to be part of a community before letting them move in.
None of Angel's ideas are likely to be on the list of problems and proposals Shola Olatoye, Mayor Bill de Blasio's NYCHA chairwoman and chief executive officer, will take on when she unveils the authority's turnaround plan, titled "NextGeneration," in May (in fact, Mr. de Blasio is allowing the homeless to again move into housing projects, after former Mayor Michael Bloomberg forbade them entry to ease the agency's waiting list). NextGeneration will be piloted at three developments—at the Ingersoll and Van Dyke Houses in Brooklyn and at the Millbrook Houses in the Bronx—and was purportedly formulated in cooperation with their residents, though details on it remain scant.
"NextGeneration NYCHA will benefit NYCHA residents through sustainable development; reconnect NYCHA developments with their communities; and contribute rehabilitated, revitalized public housing to Mayor de Blasio's affordable housing plan," a statement by Ms. Olatoye on the NYCHA website reads.
Everybody knows NYCHA, the largest landlord in the city, the largest public housing authority in the country, is in trouble: by its own accounting, tottering under the burden of $762 million in debt, of an annual operating budget deficit projected to bloat to $400 million by 2019 and of some $16 billion in back repairs. Yet the consistent promise from Ms. Olatoye has been that New York will not follow other major cities like Chicago and St. Louis in demolishing its troubled developments.
NYCHA is both an anachronism and a paradox: born during a different ideological paradigm about the role of government in society, crying out for lack of funds, yet sitting atop some 2,500 acres of one of the most valuable commodities in the world—New York City real estate. And what real estate, in today's market.!
From some apartments in Independence Towers, you can see the spire of One World Trade Center and the huddled buildings of the Financial District. Windows of projects on the Upper West Side and in East Harlem gaze out on the pastures of Central Park—in Astoria, Queens, they command a glittering view of Manhattan. On the Lower East Side, public housing "superblocks" vie in the skyline with glassy new luxury condominiums and boutique hotels.
NYCHA seems to embody both Mr. de Blasio's "tale of two cities" campaign slogan and the challenge of converting such lofty liberal rhetoric into policy. How does the city help its poorest residents live in an increasingly expensive environment? Can government provide basic services more effectively than the private market? What is the balance between avoiding overbearing policing and allowing crime to tear the lives of law-abiding citizens apart? And how, how to pay for it all?
To grasp the scope and scale of the problems confronting NYCHA, it is necessary to understand its internal workings, its history, its unusual financial situation and the almost 404,000 people who for decades have made its 2,563 buildings across the five boroughs their home.
NYCHA's Crumbling Foundations
New York City established NYCHA in 1934, during the New Deal-era craze for public authorities founded to design and build public works. In its structure, a public authority is essentially a private corporation with a board of directors and a chairman and chief executive officer appointed by one or more elected officials—in NYCHA's case, the mayor.
There are three real advantages to building public projects through an authority. First, it sidesteps raising taxes on the general public to pay for construction and maintenance, since the authority can instead issue bonds—tax-free bonds, backed by the full faith and credit of the city—then pay the debt off with fees collected from only that part of the public that uses the new facility. Second, an authority is eligible for state and federal monies unavailable to municipalities, even though an authority can exercise public powers like eminent domain that are usually reserved for governments.
Finally, an authority does not answer to the general public or to consumers but only to the official who appoints its executives and to whatever agency supplies its grants. In short, the authority enjoys all the advantages of both a public and private entity, but without the accountability of either.
Most early public authorities existed just long enough to complete a single project, usually a bridge or a tunnel, paid off its bonds and then remanded the new public work to the city and dissolved itself. However, according to Robert Caro's 1974 book The Power Broker, that changed with Robert Moses—the man who birthed the notion of an immortal public works authority and the whole modern concept of public housing.
Moses, the polarizing master builder of 20th century New York, argued that previous governmental efforts to renovate the cramped, tuberculosis-ridden quarters of New York's slums were insufficient, and that the tenements must be wiped away and replaced with huge, hygienic towers planted in park-like expanses of grass. The proposal won broad public support, but then-Mayor Fiorello LaGuardia was wary of his construction coordinator's motives and blocked him from overseeing the newborn authority. Instead, the mayor administered the construction of the aptly-named First Houses on the Lower East Side himself.
As described in Public Housing That Worked, a study of NYCHA by Professor Nicholas Dagen Bloom of the New York Institute of Technology, The First Houses—completed in 1936—reflected LaGuardia's populist values: low-rise, with brass fixtures and hardwood floors.
Moses managed to gain control of the authority under subsequent mayors in the 1940s and 50s, and guided the construction of the bulk of NYCHA's buildings, buildings without "frills"—which according to Mr. Caro meant such luxuries as closets with doors and toilet bowl covers.
His primary purpose, he confessed, was to bulldoze low-income neighborhoods to make way for new highways and parks, efforts often financed by real estate interests, and then to relocate the residents off-site.
"Our private capital slum clearance requires public housing to take care of displaced tenants of the lowest incomes," Mr. Dagen Bloom quotes Moses as saying.
The buildings themselves were designed according to the austere modernist style popular at the time. "Form follows function," the stark dictum of modernism goes, so it is little surprise that most NYCHA developments look exactly like what they were intended to be: towering warehouses to store inconvenient slum dwellers.
It is popular in Albany and City Hall nowadays to blame NYCHA's current deficits on the loss of outlays from the U.S. Department of Housing and Urban Development, but Mr. Dagen Bloom notes that most of the projects built in the boom years of the 40s and 50s went up on money from the city and state, with federal financing only coming in occasional waves depending on changing presidential administrations and congressional priorities. But in the late 1970s, in response to the largesse of the Carter administration, the Authority switched most of the developments that had been subsisting on shrinking local subsidies over to HUD funding streams.
Because of crime and the general exodus of more economically stable residents from NYCHA's bare, impersonal apartments, the authority gained the reputation as a repository for only the most antisocial and impoverished New Yorkers. And so when former Mayor Ed Koch launched his $5.1 billion housing initiative in 1987, Public Housing That Worked notes that he largely excluded NYCHA from the plan, working instead through the Department of Housing Preservation and Development and the New York City Housing Development Corporation.
Former President Ronald Reagan slashed much of the federal allocation for housing authorities during his tenure in the White House and the Republican Congress swept into office in 1994 whittled it back even more. And the city and state were not on hand to make up the difference.
Today, the projects stand as monolithic monuments to the shortsightedness of urban planning, to the inability to foresee a time when governments would not readily put up money for public housing. The authority does not even have a dedicated line in the city budget, with the administration instead determining its outlay year-to-year.
But there are those who want to change that—and who point out NYCHA is not getting all the money it could be, or spending what it has terribly well.
NYCHA By the Numbers
According to the most recent reports of the City Council's Finance Division, NYCHA's single greatest source of revenue, accounting for nearly a third of its operating funding, is rents from public housing residents. Federal law caps these rents at 30 percent of tenant household income and, since—according to a 2014 demographics report—less than half all public housing households report having a working adult present and the average yearly earnings of a NYCHA family come to about $23,000, the mean rent in a public housing unit in January of last year was just $447 a month .
NYCHA simultaneously runs the largest Section 8 program in the nation, acting as a conduit funneling more than $950 million in federal housing vouchers to 29,000 landlords who put up more than 88,000 families in their apartments, families who on average are even poorer than those residing in public housing. These HUD funds make up another 31 percent of the $3 billion-plus operating budget, but go mostly toward private owners, not NYCHA developments.
The authority spends about $1.2 billion of the operating budget on employee salaries and benefits, and almost $600 million on utilities for its tenants. Thanks to several windfalls in the past year, the authority will run a (by its standards) relatively small $98 million operating deficit in 2015. However, that deficit is projected to more than double in 2016, and continue to swell for the foreseeable future.
The authority's separate capital budget, which pays for crucial infrastructure maintenance and repair work, is—as Ms. Olatoye testified before the Council last month—"even bleaker."
Since the authority began running large operating budget deficits in 2001, it has often patched the gaps with funds from the capital budget, as HUD permits public housing authorities to spend as much as a fifth of their federal funding intended for upkeep on day-to-day costs. As a result, a study found that in 2011, 79 percent of all public housing units had at least one "deficiency." Upon assuming the helm at NYCHA in 2014, Ms. Olatoye inherited a $18 billion backlog in brick and roof work, interior renovations, replacement and repair of piping and boilers and recovery and restoration at buildings slammed in Hurricane Sandy.
The authority shaved nearly $2 billion off that burden in her first year. Still, for context, a 2013 HUD document estimated the cost of all repairs at all public housing authorities across the United States to be about $26 billion.
With its poor revenues and reputation, NYCHA told the Observer it has not put out a new bond since 1979. Instead, the authority relies on the city Housing Development Corporation to periodically issue debt and then loan it money for improvement projects. In 2013, NYCHA secured a loan of some $656 million from an HDC bond issuance—but used $232 million of it to pay down a 2005 bond-based loan from the corporation, even though both groups of bonds had similar interest rates.
As security on the loan, NYCHA put up anticipated incoming capital funds from HUD.
"The existing financial model for public housing is unsustainable," as Ms. Olatoye told the Council.
Yet some of NYCHA's expenditures under the existing model have disturbed observers.
Because the authority is technically a private entity, it must pay city agencies for a variety of services out of its operating funds, payments Ms. Olatoye estimated before the Council will come to more than $288 million this year. Since, as she testified, the city puts about $210 million into NYCHA annually, it actually makes money off public housing.
Ever since former Mayor Rudolph Giuliani merged NYCHA's independent police force into the NYPD in 1995, the authority has had to pay the department some $70 million a year for its protection. Yet NYPD statistics show crime has risen steadily in public housing since 2009, and hit an eight-year-high last year amid a rash of shootings.
Mayor Bill de Blasio waived the payment for 2015 and baselined the money for the NYPD into his executive budget, but the Council's Finance Division currently projects for the policing payments to begin again next year.
Most "egregiously"—at least, according to Bronx Councilman Ritchie Torres, chairman of the Committee on Public Housing—the city assesses NYCHA a payment in lieu of property taxes on its buildings that exceeds $30 million each year.
"Developers receive a property tax exemption, Madison Square Garden receives a property tax exemption, hospitals and cultural institutions receive a property tax exemption. And yet the largest provider of affordable housing for the poorest residents in our city receives no exemption at all," Mr. Torres lamented at the March hearing.
More alarming, however, are the findings of City Comptroller Scott Stringer.
A native of Manhattan's Washington Heights, Mr. Stringer grew up close to the Dyckman Houses and recalls the NYCHA of his childhood with a familiar gauzy warmth.
"As kids we were running up and down NYCHA houses and NYCHA elevators," he told the Observer in a phone interview. "Back then there was no difference between living in a NYCHA development and living around the corner."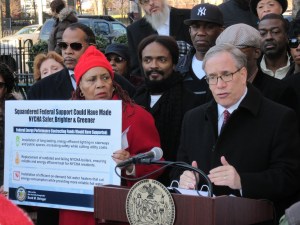 Upon entering office, he vowed a "top-to-bottom" series of audits on the authority. Only a few have been released so far, but they paint a damning picture of NYCHA: of an incompetent bureaucracy staring into a massive divide between top brass and mid-level administrators, and an even greater chasm between management and residents.
As part of a larger study that found the authority had failed to access $692 million in available federal funds, Mr. Stringer's office noted that NYCHA had between 2011 and 2014 foregone some $263 million in potential Section 8 funding for some 5,000 units in its portfolio—money it instead had to cover out of its operating budget. For decades, and most recently about eight years ago, the city and state bequeathed buildings and apartments in independent subsidized housing programs to NYCHA, with the understanding that NYCHA would obtain Section 8 funds to pay for maintenance, utilities and other services.
But putting the units on Section 8 money would require permission from the tenants, and thus would necessitate a coordinated outreach program from NYCHA to the residents. For years, and as recently as 2014, the authority's heads testified to the Council that they had programs in place to "accelerate" conversion of the 5,000 apartments to HUD money. But Mr. Stringer's audit discovered that the employees actually responsible for implementing such initiatives had made no such effort, and that no plans were in place to do so.
"We've found in our audits that funding streams haven't been tapped or funds that they have received have been wasted and mismanaged," Mr. Stringer said.
NYCHA Chief Financial Officer Richard Couch testified to the Council that the failure to convert the units continues to cost NYCHA some $75 million annually.
NYCHA bitterly contested nearly all of the audits' assertions, and brushed aside most of Mr. Stringer's recommendations as age-old policies it had followed for years. However, the comptroller is hardly the only one to charge the authority with severe fiscal mismanagement.
Last year, a HUD audit determined that NYCHA had failed to follow a number of federal regulations in administering its Section 8 program, and recommended that the authority reimburse the government at least $4.3 million. NYCHA responded by disputing nearly all of HUD's findings.
"NYCHA never acknowledges any of our audits. Never acknowledges there's a problem," Mr. Stringer said. "They are an embarrassment to government."
Sources suggested that much of the bureaucratic bumbling might be the result of high turnover among NYCHA's administrators, which leaves new employees regularly having to take over tasks abandoned by predecessors who left for other jobs, leading to loss of both institutional knowledge and a failure to complete important initiatives. This high turnover breeds more mismanagement, which in turn causes greater turnover and even more mismanagement, the insiders said. (Another source told the Observer that, in response to an as-yet unreleased audit by Mr. Stringer, NYCHA is currently revamping the management that oversees the stocking, ordering and disposal of basic supplies).
Mr. Stringer, for his part, indicated that a larger cause of the problem might be a general spirit of discouragement at the authority due to decades of neglect.
"Part of it is the divestment from Washington and and the state in regards to NYCHA, I think some of it is this 'throw up your hands, what are we going to do' model of government," he said.
Part of Mr. Stringer's recommended solution is what he terms an "overhaul and a real call to action" to revive the esprit de corps at NYCHA and eliminate what he described as "legendary" incompetence. But because of NYCHA's power structure, such reforms would have to come from the top down: either from Ms. Olatoye, from Mr. de Blasio or from HUD—and those familiar with NYCHA reported no such revamp has occurred yet.
Mr. Stringer has also laid out several proposals to improve the authority's desperate finances.
In 2008, as Manhattan borough president, Mr. Stringer produced a report entitled "Land Rich, Pocket Poor" that explored potential development opportunities on the large tracts of open ground area in most public housing developments. The study was a reaction to a 2006 NYCHA proposal released under the Bloomberg administration to "infill" the undeveloped land at three or four projects in the borough, by transferring or selling the green space beside NYCHA buildings to developers interested in building there. "Land Rich, Pocket Poor" blasted the Bloomberg plan as a "piecemeal" approach that would merely solve short-term shortages rather than lead to sustainable future budgets.
Instead, the report suggested the authority develop a comprehensive plan for utilizing undeveloped parcels at all NYCHA complexes across the city, and investigate selling air rights to generate immediate cash while renting out—rather than selling off—the lots to private owners to create a permanent revenue stream. The then-borough president even added that the space could be reserved exclusively for affordable housing construction, though he warned that the authority must engage public housing communities before embarking on any development plan.
"NYCHA's development rights are a precious publicly owned resource—perhaps the last large-scale stock of public property in the city that could be leveraged toward meeting New York's affordable housing needs," the report says.
Mr. de Blasio and Ms. Olatoye officially cancelled the Bloomberg administration's infill proposals shortly after taking office, only to again begin selling off small parcels of NYCHA property this year, according to the Daily News.
Since becoming comptroller last year, Mr. Stringer has moved away from infill as a solution, calling the idea "dangerous as currently constituted." Instead, he has proposed siphoning $40 million annually from the surplus the Battery Park City Authority runs each year in operating its lower Manhattan development, and using that money to supplement NYCHA's budget for the next decade.
All it would require, he said, is for himself, the mayor and Gov. Andrew Cuomo to sign off on it.
"This could happen tomorrow," he told the Observer. "It would the first time we have a funding stream."
He has apparently yet to sell Mr. de Blasio and Mr. Cuomo on the proposal. And $40 million would plug less than a fifth of NYCHA's projected operating budget hole for next year, or pay for just one-quarter of one percent of all the necessary capital repairs. Mr. Stringer remains nonetheless undeterred.
"You have to start somewhere," he said. "We have to begin this in a serious way or NYCHA is going to tip in a direction and we're not going to be able to bring it back."
The People of NYCHA
For the first few decades of NYCHA's existence, the projects were integrated but predominantly white. Today, the population of public housing is roughly 45 percent black, 45 percent Hispanic, five percent Asian and just four percent white, which has resulted in a diverse overlay of cultures and concerns. Perhaps no site better embodies this than Independence Towers.
Born into a religious Argentinian Jewish family, Marcos Masri moved into Independence Towers in 1987 at the age of five, and grew up with a foot in both its Hasidic and Hispanic communities. Today a political consultant and member of the progressive New Kings Democrats club, he remains active in the development even after moving out, and people frequently greet him on the street near the projects in Spanish, English and Yiddish.
"Come out and vote! We need to re-open the park here," he told people as he meets them on a recent evening, pointing toward the barricaded playground and inviting them to take part in local Councilman Stephen Levin's participatory budgeting process, which lets locals submit recommendations for city budget allocations. "If you want to get the funding to re-open the park, you need to come out and vote."
The single biggest issue for Mr. Masri is maintenance, having been one of the hundreds of tenants left without cooking gas in 2012 and deprived of hot water over the years due to failures of the overtaxed underground boiler that services his old building.
His main aim now is to act as a bridge between different groups of Independence residents, and get them to collectively push Mr. Levin to get funding to restore the playground—even though he argues it ought to be up to the authority to find the funds for the renovation and new equipment.
"It's something that should not be under participatory budgeting, it's something that should be compensated automatically, have them fix this situation," Mr. Masri said.
Re-opening the children's space by summer is especially important this year since the playground at the adjacent Taylor-Wythe Houses is also closed due to an $11 million exterior repair project underway (Mr. Masri said that Independence has not had brick and mortar work done since he was a teenager, even though the complex is almost a decade older than its neighbor).
Peter Morales, treasurer of Independence's tenant association, was among those who came out for participatory budgeting despite his skepticism that anything in NYCHA will get fixed.
"They don't respond to your calls. They don't respond to your tickets [requesting repairs]. They don't respond to your emergencies. It boils down that they don't respond to you," he told the Observer, describing raucous scenes when the tenants meet with NYCHA management once a month. "Soon as you start saying something, they get up, 'Oh no, this is not right, because the manager, the assistant manager, the superintendent responds to everything.' That's nonsense."
As a result, Mr. Morales, retired at 55 after a career in the U.S. Army, has become his building's unofficial handyman, doing small jobs for his neighbors.
"I do everything. I do plumbing, I do electrical, I do carpentry," he said. "They know me, they know I'm handy, a lot of them call me."
Still, like Angel, he blamed some quality of life problems on tenants. He complained of residents hanging out in hallways smoking marijuana, and of how maintenance porters sometimes have to pour hot water down the
stairwells to flush out human excrement. He worried that crime will spike with the temperature in the months to come, and lamented Mr. Giuliani's decision to eliminate NYCHA's independent police force, which he said had resulted in fewer cops on the beat.
"There was always two officers on the ground. They did their rounds all day, morning, afternoon and night. Now, you don't see that anymore," he said. "Honestly, for the summer time especially, we got to have police."
Have things changed at all under the de Blasio administration?
"Zelbiker zakh, as they say," Mr. Morales said, using the Yiddish phrase for "same thing."
Mr. Masri agreed that the authority's interactions with tenants have changed little with the new regime. But, as a progressive, he seemed to find Mr. de Blasio viewpoints a refreshing and encouraging change from his predecessor's.
"Bloomberg didn't care about NYCHA. De Blasio, because of what he believes, I think he wants to help people, make things better for people," he said.
Neither of them, however, have heard anything about NextGeneration.
A few miles away, at the Ingersoll Houses, tenant association president Anthony Sosa took part in the workshops NYCHA held to engage residents in the planning of NextGeneration. Speaking to the Observer, Mr. Sosa expressed similar concerns as Mr. Masri and Mr. Morales: cockroach and silverfish infestation, building doors that don't lock, playgrounds that have become unsafe for children because of violence and neglect.
But he also described the collateral consequences of living in what has become one of the most desirable areas in the city: new buildings obstructing the sky, new residents crowding public streets and parks. He said the fear of eventual privatization and displacement was especially strong in his complex.
"My neighborhood has really been polarized. We know about all the construction, all the high rises. We feel boxed in," he said. "All the condominiums, there's no cooperation with the community. It's just ugly. Before you didn't want this neighborhood, now they're going crazy here."
Mr. Sosa also complained of NYCHA's "right-sizing" policy, which he said results in NYCHA taking single senior citizens out of family-size apartments where they have lived for decades and placing them in smaller accommodations in other developments. This makes room for new families to move in, but Mr. Sosa argued it damages the integrity of the community and makes it harder to organize the tenants.
"They shuffle the buildings like cards," he said, claiming to be one of the only "originals"—those born and raised at Ingersoll—left.
Yet for all the problems in public housing, few seem to be in a hurry to get out of NYCHA and into the far more costly market for private apartments. The average tenant of the authority has lived in public housing for more than 21 years, and the waiting list for NYCHA units is 275,000 families deep.
The Future of NYCHA
NYCHA responded to most of the Observer's inquiries about how it would address its systemic issues by claiming that all such questions would be answered with the release of NextGeneration in May. It may be possible, though, to glean from the authority's recent actions and from statements by Ms. Olatoye and Mr. Sosa of the Ingersoll Houses, some potential details of the new sustainability plan.
Last year, NYCHA cut a deal to sell a 50 percent stake in six of the buildings it had taken over from the city in the 1980s to two private developers, L&M Development Partners and BFC Partners, which specialize in affordable housing. The authority and the two companies formed a joint limited liability corporation, and split the ownership—allowing the buildings to qualify for an infusion of $465 million tax abatements and loans for badly needed refurbishments, which are currently underway.
To some, it seemed like the fruition of longstanding suspicions. For years, the same rumor seemed to creep through public housing developments, from Coney Island to the Rockaways, from East Harlem to the Lower East Side: NYCHA was planning to sell its buildings to private developers, who would proceed to evict all the tenants.
Ms. Olatoye, however, defended the deal in her interview with the Observer. She noted that the authority held 30 meetings with residents of the six buildings and, while she admitted many expressed fears of being forced from their homes, many more were concerned with basic quality of life matters.
"The initial reaction of the residents was, 'Fix my roof, deal with my elevators, deal with my broken doors, deal with the significant plumbing issues,'" she said, noting that the structures had more than 700 outstanding work orders "with no real promise of getting done," and that an entire floor of one of the buildings had become uninhabitable due to leaky ceilings.
"This is New York City, there is always paying your bill, always concerns any time that you do something new," she added. "We're leading the country in realizing how do you use public dollars towards maximizing private investment to provide housing for people of the lowest income."
The $158 million payment to NYCHA for 50 percent of the ownership of the six buildings also allowed NYCHA to substantially shrink its operating budget deficit for this year.
Testifying about the LLC arrangement at a hearing of Mr. Torres' committee in February, Ms. Olatoye hinted that the authority might be interested in pursuing similar deals in the future to avoid what the councilman called "demolition by neglect," given the thin trickle of federal funds the authority receives each year.
"We have to fully utilize, with diligence and the responsibility that's been entrusted with us, to ensure that, I think to use the chairman's reference, to not let these buildings sort of fall into disrepair just by indecision and neglect," she said. "So we have to take advantage of, whether it's this type of transaction–though it was very unique, because these were the last remaining such properties–or others."
Mr. Torres told the Observer he believed Ms. Olatoye was suggesting NYCHA might apply to participate in HUD's Rental Assistance Demonstration program, which the Obama administration released in January 2013. RAD is a pilot program intended to finance badly needed repairs at authorities across the country, and which will ultimately involve some 60,000 units of public housing nationwide. Authorities chosen after the September 30 application deadline will remove the selected buildings from the unstable annual congressional appropriations, and put them on more dependable 15 to 20-year Section 8 contracts.
This move will permit the authorities to mortgage the properties with private lenders and to obtain an array of tax credits, and use the resulting funds to pay for much-needed upgrades. Tenants of buildings in the program would also be at liberty to leave the projects entirely and obtain a federal housing voucher for the private rental market.
The Bronx lawmaker, himself a child of NYCHA, said he would like to see New York's developments take part in the program—which is seen as a major step toward the privatization of public housing—even though he acknowledged that it is "controversial" among liberal advocates.
It is perhaps worth noting that Ms. Olatoye's previous employer, affordable housing developer Enterprise Community Partners, published a pamphlet promoting RAD shortly after HUD unveiled the program.
Mr. Sosa told the Observer he was "not at liberty" to reveal whether NextGeneration as discussed at his development would involve any kind of privatization. He did say, however, that many residents expressed an interest in infilling some of the grounds at Ingersoll with housing for elderly residents so as to prevent them from being relocated to other developments.
"Basically, we're trying to put something together where the seniors can get their own building," Mr. Sosa said. "They discussed a lot of community issues, a lot of different types of facets like construction for senior housing."
Mr. Morales was generally skeptical of infill, though amenable to senior housing on Independence's premises, and said he was not averse to seeing his development enter the RAD program.
Ideally, though he would like to buy his apartment outright. That not being an option, he plans to instead purchase a home in Florida and sign his NYCHA unit over to his daughter, who is just a few years of college away from becoming a registered nurse.
"I want to know that's there, my apartment, my daughter's apartment, even after I'm not here any more," he said.
Updated to reflect that, after repeated statements by Ms. Olatoye that NextGeneration would be released May 1, the date has been pushed back to an unspecified point next month.