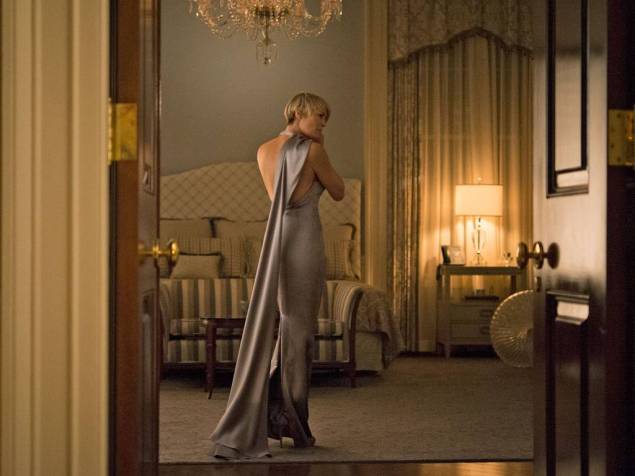 From Jackie O to Michelle Obama, America's first ladies have developed a reputation for being style icons in their own rights. And Claire Underwood, never one to disappoint, maintains the track record as the newly inaugurated FLOTUS in House of Cards.
Season 3 serves as a pivot point for Claire, whose infamous ice queen facade is finally cracked by some real human emotions. As she struggles to balance her roles as a respectable UN ambassador and arm-candy to her husband in his re-election campaign, Claire's strength and vulnerability come to a head.
Kemal Harris, Robin Wright's real-life stylist and the season's costume designer, emphasized this conflicting duality when she created the first lady's looks. Citing the off-duty styles of 1940s Hollywood starlets as the inspiration, Ms. Harris sought to soften the edges while retaining the sense of power that was represented by the women of this era.
"When we started Season 3, [the Underwoods] are at the top and there was a moment of resting, a slight break, a moment to be like 'we are here," Ms. Harris told the Observer. "I didn't think she needed such severe power suits anymore."
Feminine details are added to the structured pieces that served as Claire's armor in the first two seasons. While there's still an abundance of pencil skirts and sharp blazers, they often feature delicate touches in the forms of knife pleats, puffed sleeves, and belted waists. For Season 3, Ms. Harris decidedly chose a color palette that avoided black in favor of burgundy, navy, and eggplant and introduced varieties of icy-tones, as seen in the the pale lilac dress Claire wears in the presidential portrait scene.
But perhaps the most shocking and controversial color change of the season was Claire's decision to go brunette in an effort to start fresh. Her momentary sense of freedom was undermined when she agreed to retreat to her blonde self again, a choice that was made for her by a public at large who preferred the first lady's lighter hair shade.
"When she went back to blonde, I styled her in a lot of oatmeal, cream, and very neutral colors and that was also the first time we did anything remotely like a Chanel shoe," Ms. Harris said. "All those types of looks and colors represent her character accepting and surrendering before she said 'that's enough.'"
While Claire's wardrobe as the FLOTUS includes pieces by Ralph Lauren, Michael Kors and Joseph Altuzarra, it also contains costume-made creations by Harris. One of these unique pieces was the wedding dress that Claire dons during the renewal of her vows with Frank. In creating this look, Ms. Harris sought to reflect the character's moment of rebirth without straying too far from her established personality.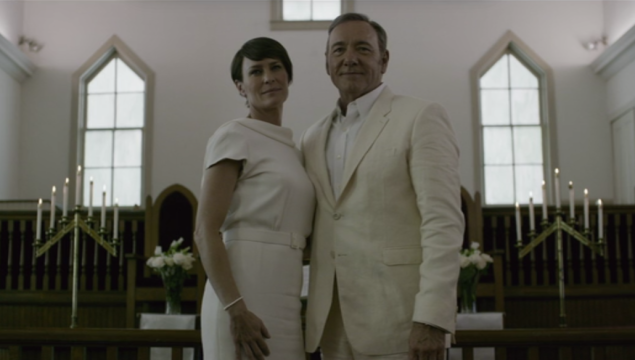 "The script read 'Francis in a white linen suit, no tie. Claire in a white summer dress,' and I'm like,' first of all, Claire doesn't own summer dresses, just like Claire doesn't own jeans or jogging pants'," Harris said, referring to the process of creating a dress that ultimately featured a cowl collar and a low, 'V' back detail. "So I had to speak with the director and say 'let's try to compromise.'"
Jeans or no jeans, Claire Underwood's Season 3 wardrobe has just the right balance of class and confidence to outfit the modern day Renaissance woman. And for that, she joins the ranks of this country's most stylish first ladies. Inspiration too, in terms of form and fit for any woman seeking a new take on wardrobe basics.