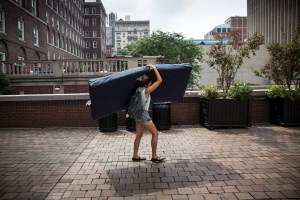 A Columbia University student who was accused of rape by a fellow student, who has been carrying a mattress around campus to raise awareness about sexual assault since fall last year, is suing the school, university president Lee C. Bollinger, and the alleged victim's thesis adviser.
Paul Nungesser was cleared by the university of any wrongdoing, but he alleges that his accuser Emma Sulkowicz has been harassing him through the mattress project, a senior art thesis she calls ""Mattress Performance (Carry That Weight)."
Mr. Nungesser's lawsuit also claims that Professor Jon Kessler endorsed Ms. Sulkowicz's "defamatory" project as an academic endeavor.
"She is actively earning course credit from Columbia for this outrageous display of harassment," the lawsuit states. ""Paul's legal rights are being violated…his well-being and future prospects are suffering immensely."
Ms. Sulkowicz is not named as a defendant, but she told the New York Times that she thought the lawsuit was ludicrous.
"It's ridiculous that Paul would sue not only the school but one of my past professors for allowing me to make an art piece," Ms. Sulkowicz said. "This is an artistic expression of the personal trauma I've experienced at Columbia."
According to Ms. Sulkowicz, in August 2012 Mr. Nungesser hit her, pinned her down and raped her in a dormitory. Mr. Nungesser claimed the pair had consensual sex.
Mr. Nungesser's lawyer, Andrew T. Miltenberg, said his client is being bullied through the mattress campaign.
"He's become the poster boy for something he didn't do," Mr. Miltenberg said.