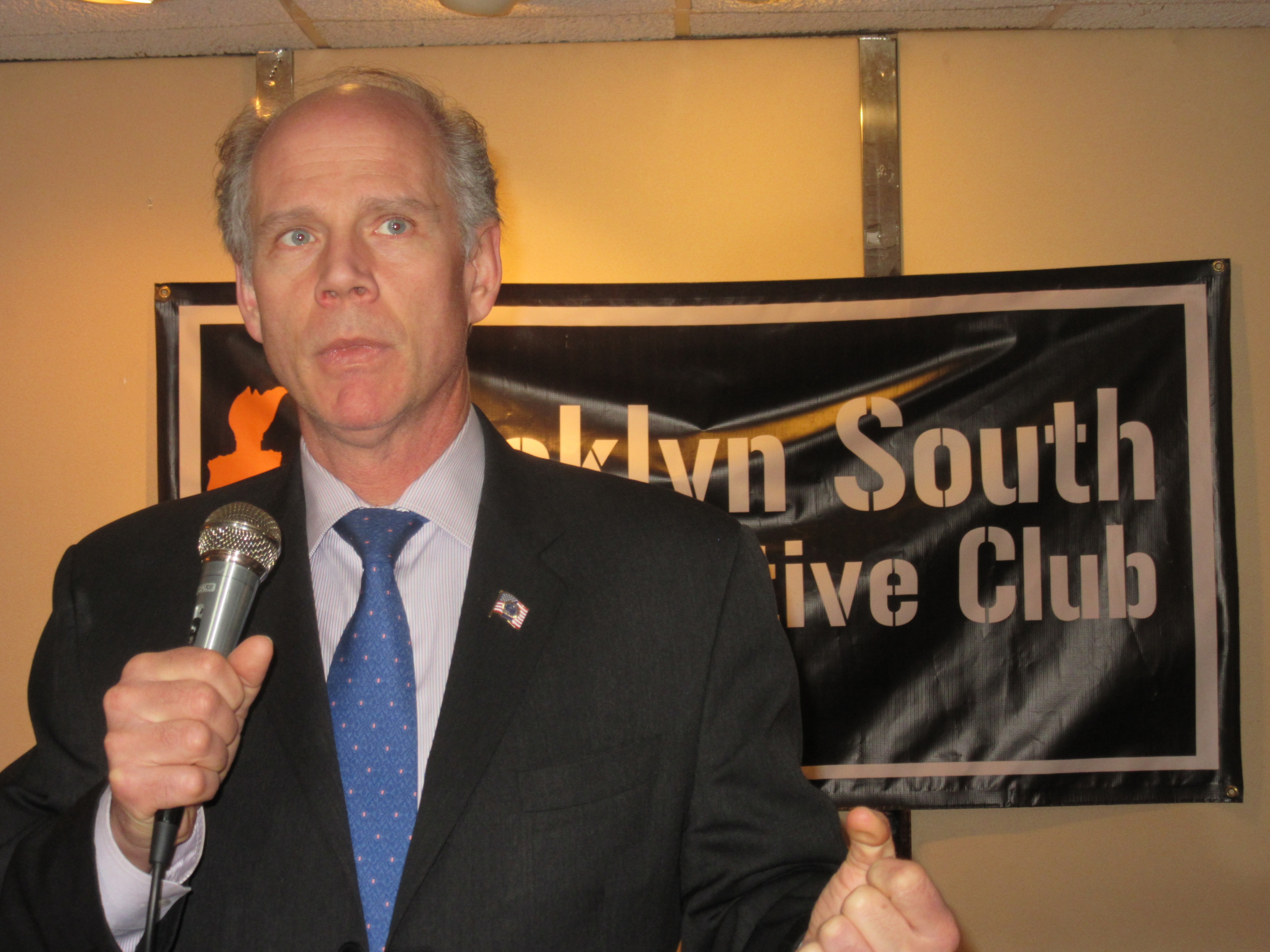 The congressional race between Brooklyn Councilman Vincent Gentile, a Democrat, and Republican Staten Island District Attorney Daniel Donovan took a harsh turn last night as two feuded over their respective records and over the Republican House budget.
The debate, held by the Bay Ridge Community Council in Mr. Gentile's home neighborhood, occasionally dipped into chaos as campaign workers for Green Party candidate James Lane exchanged words with a vocal Ted Cruz supporter. Meanwhile, Mr. Gentile, the underdog in the special election, sought to find a toehold for his campaign by tearing into Mr. Donovan's record as a prosecutor and by trying to tie him to his national GOP colleagues.
Mr. Donovan, in turn, accused Mr. Gentile of voting to raise taxes and argued that only he—as a member of the majority in Congress—would be able to influence future budgets and bring resources to the Staten Island and Brooklyn-based district.
To make his case, Mr. Gentile brought City Council documents containing Office of Court Administration statistics that showed Mr. Donovan's office had the lowest conviction rate for domestic violence incidents, the highest rate of dismissals in such cases and the second lowest conviction rate for violent felony arrests.
"That concerns me. See, those are real statistics that you can look at to determine a district attorney's record and effectiveness," he said. "You can see, this is the chart right here, and Dan can look at it if he wants."
Mr. Donovan pointed to his success in bringing social services for domestic violence victims to his borough, and his office's policy of getting tracer bracelets put on convicted abusers. He highlighted other statistics showing he led the city in conviction rates for 11 of his 12 years in office, and accused Mr. Gentile—himself an ex-Queens County assistant district attorney—of deliberately conflating numbers of people arrested with people charged.
"There is no office in the City of New York that has done more than mine for domestic violence victims," he said. "He's trying to portray something and it's actually not true."
Mr. Gentile showed the graphs to reporters after the event, which illustrated that Mr. Donovan's violent felony conviction rate is just one-tenth of a percent lower than that of the Brooklyn district attorney's office.
Both candidates also threw sharp words when the Republican claimed that Mr. Gentile had a history of voting for tax increases
"I think the best way for someone to determine, when you hear three people speaking about what they're going to do and what they're not going to do, is see what they've done in the past. Councilman Gentile has raised your taxes. He just has," he said.
Mr. Gentile fired back that he had voted in favor only of a two-year tax increase in 2003 on people earning more than $100,000, and had opposed subsequent tax hikes.
"What I've just heard here is a little political 'trick-o-nometry,' as I like to call it," he rebutted.
The councilman continually railed against the House budget proposal, which he claimed would destroy Social Security and Medicare, slash college tuition assistance, raise taxes on middle-class Americans and lower the burden on the wealthy.
"That can't happen. So why, oh why, would we strengthen their hand by adding another Republican to the majority in the House?" he argued.
Mr. Donovan said that he would have voted against the House Republicans' budget, but argued only a Republican would be able to critique and offer the spending proposals in the GOP-dominated body.
"There are good parts of that budget, there are bad parts of that budget," he said, though he defended the Republican aspiration to balance the budget and increase economic productivity. "If you want somebody to go down to Washington, and you think some of these things that the Republicans are doing in Congress are wrong, and you want somebody to tell them how it's going to hurt you and your families, the person who's going to be at the table, of the three of us, is me."
The oddest moment of the debate came during a public question period, when a conservative woman took the microphone to voice support for Mr. Donovan and attacked Democrats for failing to "uphold the Constitution." The room devolved into chaos repeatedly over the next 10 minutes as the woman bickered with left-wing supporters of Mr. Lane, the long-shot Green Party contender, whom she labeled communists.
The Green Party members even brought the debate to a halt at one point with a question about "alternatives to policing" which all three candidates declined to answer.
The special election for the 11th Congressional District, spanning all of Staten Island and several small fragments of southern Brooklyn, is set for May 5.