Hundreds of students, activists and concerned New Yorkers rallied at Union Square Tuesday afternoon calling for an end to police killings of minorities.
The protest was led by an appearance from author Dr. Cornel West, the academic, author and activist seen by many as an integral part of the discussion on race and equality in America. The organization he founded in 2011, The Stop Mass Incarceration Network, sponsored the event—one of many occurring simultaneously throughout the country. The non-profit group is part of the Alliance for Global Justice, and continues to fight against police brutality and mass incarceration of African-Americans and Latinos.
"There have been too many folk, not just murdered, not just killed, [but] systematically disrespected, and we have reached a point when we can't take it any longer," preached Dr. West to the crowd. He called upon people to not be made to believe racism doesn't exist simply because African-Americans hold high positions of power in the United States.
Before Dr. West evoked roars from protesters, Rev. Calvin Butts took the stand and had more specific demands. The pastor of the Abyssinian Baptist Church in New York City called for the dismissal of Daniel Pantaleo, the officer that choked Eric Garner to his death in July and avoided indictment.
"Power concedes nothing without demand, it never has and it never will," Rev. Butts opened in his speech. "We demand justice all across this nation for young men and women that have been killed unarmed … and we say to the police that if you can't respect us, you can't protect us."
Also in attendance was Eve Ensler–famous for writing the play The Vagina Monologues–who called for justice for the families who have lost loved ones.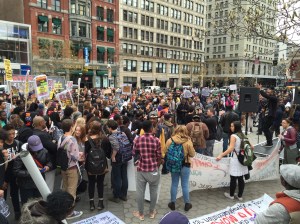 "I refuse the bullets of a police state that threatens to and continues to murder the oppressed rather than lifting their conditions," Ms. Ensler shouted to the crowd. "I am really calling on white people, we who have the privilege to walk the streets without fear, without the fear of being snuffed out by those who brazenly exercise their license to kill. I call on white people across this country to walk out today and every day until our brothers and sisters are safe and free."
14-year-old Milo Hume skipped out on class at Brooklyn Friends School with some peers–one of many students from multiple schools across the city that chose to play hooky in favor of the rally.
"A lot of kids were standing up and talking about the shootings and talking about police brutality and as a white person, I had always been very ignorant to it," Mr. Hume told the Observer. "I think the best thing for me as a white person to do is just listen and not be leading this stuff and not be making my own statements, but listen to what's happening, and try to learn more and see what I can do."
Organizers hope Tuesday's rally will reinvigorate the movement against racial profiling that was started last August on the streets of Ferguson.