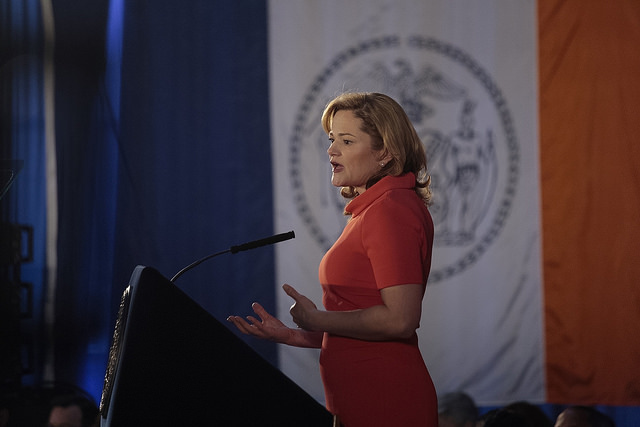 President Barack Obama's immigration reform executive order may be tied up in federal court—but that hasn't stopped the New York City Council from getting ready to implement it, Speaker Melissa Mark-Viverito told the Observer.
"We're just trying to put the wheels in motion and be ready to really roll, fully, once we get the approval—and we believe that court case is going to be overturned, thrown out, whatever—so the executive order can move forward," Ms. Mark-Viverto said in an interview yesterday at her City Hall office.
Mr. Obama's executive order would expand the existing Deferred Action for Child Arrivals program—and, if enacted, would allow as many as five million undocumented immigrants, who came to this country under the age of 16 or have family who are legally here and have resided in the United States for five years, to register to avoid deportation and to work legally in the country, if they have no criminal record.
The city had been gearing up to help immigrants access the program on Feb. 18, when it would have gone into effect—but a federal court judge in Texas has blocked the order from taking effect pending a lawsuit from Republican governors who allege Mr. Obama's executive action on immigration is unlawful. New York is among more than 30 cities that have filed in the case to support the president.
Ms. Mark-Viverito, who has made immigration reforms both locally and nationally a central focus in her time leading the council, said the court order hasn't slowed the city down and said she remains confident the order will become a reality.
"We're being very, very proactive and very ready as a city, because this is going to be a big deal," Ms. Mark-Viverito said.
The Council pushed for an additional $2.5 million in Mayor Bill de Blasio's November plan update to the current fiscal year's budget to help with the local roll out of the program, Ms. Mark-Viverito said, which will help the city work with existing non-profits and other partners to reach out to the 500,000 undocumented immigrants who call New York City home.
"We went to them and we said, 'Listen, we should anticipate, because some of the executive order stuff goes into effect before the fiscal year is up. So we can't wait until the July 1, the new budget, because some of this stuff is gonna be put into motion now, in April, in May," Ms. Mark-Viverito said.
The Council has also partnered with the New York Immigration Coalition for a series of events dubbed "Key to the City," which receives $200,000 in council funding and is designed to provide immigration services from foreign consulates to immigrants in the city. Ms. Mark-Viverito said the program—which provides a resource fair for immigrants with information from foreign consulates, legal services and other resources—has now become another way the city can keep undocumented immigrants informed about the execute order.
"Over 2,000 people come on any day that these events are organized, so we can already incorporate an element of this within those existing programs," Ms. Mark-Viverito said. "We can incorporate it into things that already exist and expand the scope of those events, so that's the kind of thing that we're looking at."
At those events, people are often offered the advice to continue preparing for the implementation of the program—they can obtain consulate IDs, and can get advice about what other paperwork they need to line up if they believe they will be eligible for deferred action.
"You can always start getting people ready," Ms. Mark-Viverito said. "It's frustrating, but we're telling them that we're still there to provide help to them and that there's things we can do in the meantime."
Locally, the city has taken its own action aimed at helping undocumented immigrants. Under Ms. Mark-Viverito the council passed a law creating the municipal identification card program, IDNYC, which city officials say will help undocumented New Yorkers get access to city services and bank accounts. The city got a bit of a jump on the executive order when it passed legislation aimed at stemming deportations by ending their cooperation with Immigration and Customs Enforcement detainers, and will now only hand over undocumented immigrants to federal authorities when there is a warrant and the person has been charged with a serious crime.
And Ms. Mark-Viverito, along with other city officials, has been a loud advocate for the undocumented children from Central America who entered the country alone and now have flooded the city's courts, partnering with the Robin Hood Foundation and the New York Community Trust to provide $1.9 million for lawyers to represent the children in court.
The council has also allocated some $4.9 million to ensure other New Yorkers detained and facing deportation will have a lawyer in court, provided by legal service organizations—representation they are otherwise not entitled to if they cannot afford it.
Ms. Mark-Viverito said the city's long-standing partnership with legal service organizations and its work with the New York Immigration Coalition, which itself represents many organizations, allows for the city to get information out quickly, and she hopes will also make implementing the order in New York easy—assuming the courts rule the way she hopes they will.
"That network is strong," she said. "We want to make sure they continue to have the resources to get the most accurate information out to people."