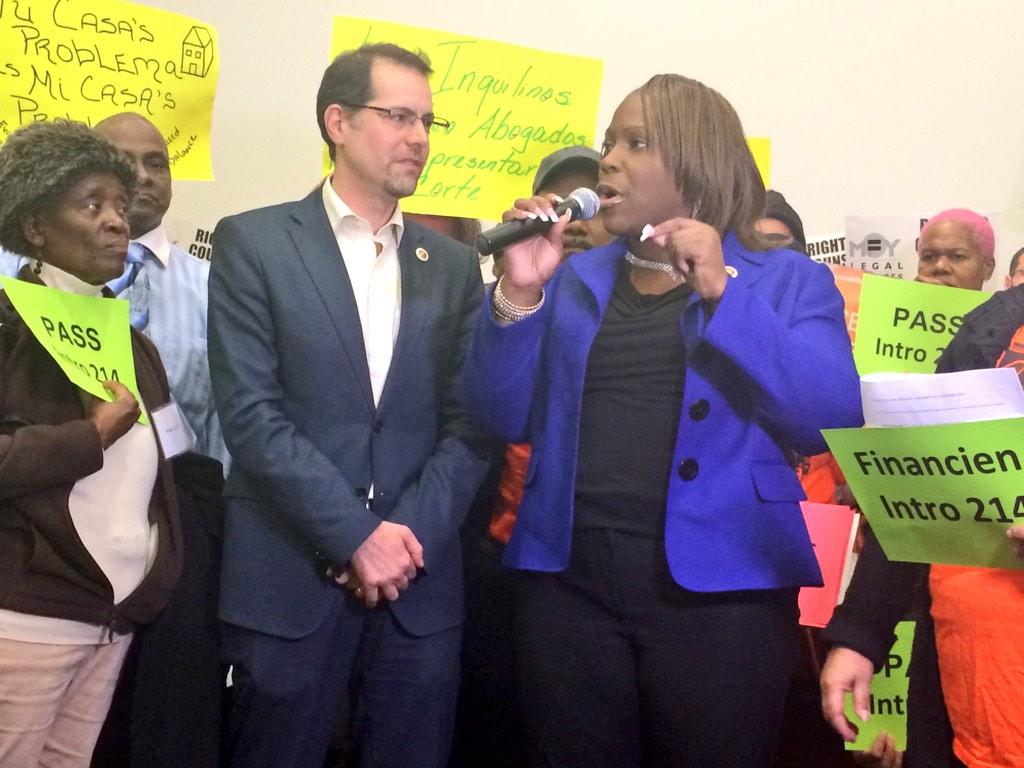 Bronx Councilwoman Vanessa Gibson today told reporters that the Council will soon renew talks over two controversial measures—a bill obligating cops to tell suspects they have a right to refuse search, and legislation outlawing police chokeholds—despite Mayor Bill de Blasio's outspoken opposition.Ms. Gibson was one of several elected officials to appear this morning at minority activist group Justice League NYC's announcement of a march on Washington, D.C., stepping off on April 13. The lawmaker, who chairs the Council's Committee on Public Safety, said she would oversee discussions of Bronx Councilman Ritchie Torres's 'Right to Know Act' and Queens Councilman Rory Lancman's chokehold ban within the next month, as well as on Public Advocate Letitia James' pilot program for police to wear body cameras.
"We do have another hearing that we are planning that is focusing on police reform bills, which includes the bill to make chokeholds illegal, the "Right to Know Act," the identification bill," she said, noting that the hearings would coincide with budget discussions. "And there are a number of other bills around the body camera pilot, and some of the other efforts that our police department is working on. So we are going to have one hearing on all of these bills, if not at the end of this month, it will certainly be in May."
Ms. Gibson initially suggested that the bills might be packaged together in a manner similar to 2013's Community Safety Act, which included a provision to create a new office of inspector general for the NYPD and to allow citizens to sue police officers for what they perceive as racial profiling.
"We're certainly going to have a hearing on all those bills and put them together and entitle them 'police reform,'" she said.
Mr. de Blasio, along with Council Speaker Melissa Mark-Viverito, has voiced opposition to the 'Right to Know Act,' as have most law enforcement unions and advocates. The mayor has also vowed to veto the chokehold bill, which he argued would limit the ability of cops to protect themselves in life-or-death scenarios.
He is supportive of the body camera proposal.
Ms. Gibson said she was unsure if Mr. Torres and Mr. Lancman's bills have the support of two-thirds of the Council necessary to override a mayoral veto, though she noted strong support in the Council's dominant Progressive Caucus.
"All of these bills have a wide number of support in the Council, and many of the prime sponsors—Council Member Torres, Reynoso, as well as Lancman and Cornegy and Williams—have all been spearheading, the Justice League and many others have been on board,'" she said. "We are having conversations. We have not gotten to the point yet of doing a tally of the number of votes we have in the Council."
The Right to Know Act has 25 co-sponsors, while the chokehold ban has 29. Each would need 34 votes to overcome Mr. de Blasio's veto.
Ms. Gibson said negotiations with the administration are underway, and left open the possibility of amending the bills and passing them separately.
"We are having conversations. We have not gotten to the point yet of doing a tally of the number of votes we have in the Council, as well as—we're still trying to work with the administration. A lot of this will come down to prioritizing what bills are the most important and what we can get through," said Ms. Gibson, a former assemblywoman. "I use my skills I learned in Albany, you don't get everything you want when you come to the table, but you put it all on the table."
Council members debuted the police reform bills last year in the months following the death of a number of black civilians at the hands of law enforcement nationwide—including that of Staten Islander Eric Garner, who died after an officer applied an apparent chokehold. The proposals have largely stalled since the assassination of NYPD Officers Wenjian Liu and Rafael Ramos in December.