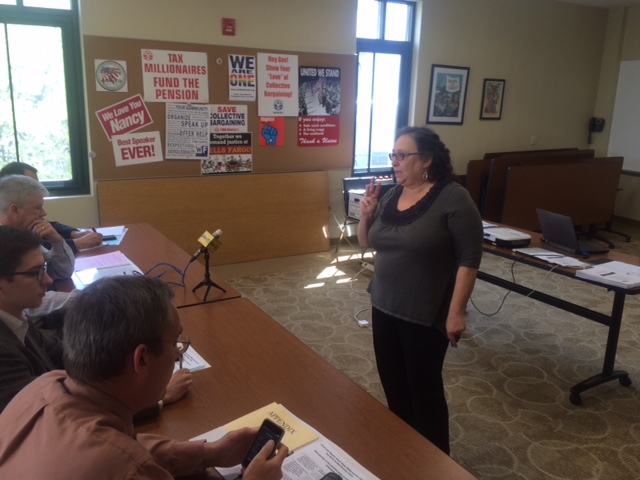 TRENTON – The head of New Jersey's largest public workers union made it clear after a review of the legal history of the ongoing court battle over the future of the state pensions and benefit program that the union's position is not up for review.
"We want [people] to understand that the line that somehow this is a very rich plan is so very false," said Hetty Rosenstein, the New Jersey state director of the Communications Workers of America (CWA), inside the union's downtown Trenton headquarters on Tuesday. "The normal cost for the civilian plan for state employees is between 8.5 and 9.5 percent of pay a year. People will pay 7.5 percent of that money. The state was paying about 21 percent of that normal cost in 2013. Our members are now paying 80 percent of the actual costs of their pension plans. The teachers are paying for most of their plans as well."
The future of the state pension and benefit program could be determined beginning at a New Jersey Supreme Court hearing on May 6, where arguments will be heard regarding the state's decision to cut $1.6 billion from this year's slated payment for the public pension and benefit system. Oral arguments for the case, in which the state and more than a dozen union litigants are involved, are set to be heard on May 12 before Mary Jacobson, a superior court judge in Mercer County.
Unions supporting a lawsuit against the state maintain that New Jersey Gov. Chris Christie is violating state law by not making promised payments in the state's upcoming budget and underfunding the pensions by $1.8 billion. Christie has previously stated that New Jersey's ongoing budget problems have made full pension payments impossible over the past two years.
Seth Hahn, the state legislative and political director for the CWA, laced into what he perceived to be a faulty narrative about the ongoing pension and benefits funding debate.
"There is a narrative out there that the both sides are equally at fault because the unions pushed for higher benefits," Hahn said. "In 2001, some unions pushed for higher benefits at a time when the plans were 109 percent funded. Since then, there have been eight different times where workers have had to pay more, and are getting fewer benefits."
An email request by PolitickerNJ to a Christie administration representative seeking comment did not receive an immediate response.