With legislative races across the state beginning in earnest, the Democrats Assembly Campaign Committee out-raised its Republican counterpart in the first quarter of this year's election season, according to campaign finance reports released today.
The DACC, which serves as the political arm of the legislature's Democratic caucus in the lower house, raised $311,060, more than twice as much as the Assembly Republicans Victory Committee, which raised $141,448. The DACC reported a total of $485,900 cash-on-hand at the close of the quarter, which runs from Jan. 1 to March 31, while the ARVC reported a total of $211,716.
Both committees help make up the "Big Six" which are geared toward funding legislative races in the state. On the Senate side, the Senate Republican Majority Committee out-raised slightly the Senate Democratic Majority Committee $ 27,024 to $ 17,404, while the New Jersey Republican State Committee reported raising $258,552 to the New Jersey Democratic State Committee's $218,006.
Together, the cash total is the smallest first quarter reserve for a legislative election year since at least 2007, said Jeff Brindle, the state's Election Law Enforcement Commission's Executive Director.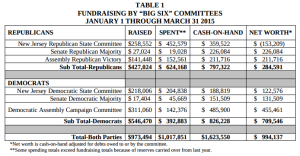 "While there still is plenty of time to raise money, the Big Six committees had bigger cash balances at this point in four previous election years," said Brindle. "It seems to further confirm our belief that party committee fundraising has been in a steady decline due to several trends."
That's probably because this year's election season is the first time since 1999 that the Assembly finds itself at the top of the ballot in November. There will be no state senate or gubernatorial races, which means those committees are going to be considerably less active than in previous years.
But rather than being a drawback for Assembly candidates who could otherwise benefit from the coattails of upper-ballot races, it could be a benefit, as it brings the lower house campaigns — as well lower house issues — to the fore.
"I think what it does is it focuses the attention on one race as opposed to a senate race and a governor's race," Assembly Minority Leader Jon Bramnick (R-21), co-chair of the ARVC, told PolitickerNJ last week. "So strategically I think it makes the message more clear: If you approve of the job their doing, vote for them. If not, vote for us."
It's probably too early to judge either party by the amount of cash in their accounts, however, and political strategist say the small fundraising numbers are due to the fact that it's still early in the campaign season.
"With 80-85 percent of the money being spent inside of Labor Day on the most competitive races, it really makes it difficult to conclude any trend lines from early finance reports," Mike Muller, one of the DACC's leading political strategist, told PolitickerNJ. "Additionally, unlike federal races being dominated by independent expenditure entities, state legislative campaigns will rely heavily on a combination of individual candidate fundraising and legislative leadership committee finance support in a very condensed timeframe."
Muller and Bramnick noted that three of the most competitive districts this year are likely to include LD38, LD1, and LD2, home to an embattled Atlantic City, where Republican incumbent Assemblyman Chris Brown (R-2) will run with Atlantic County Freeholder Will Pauls against Democratic incumbent Assemblyman Vince Mazzeo (D-2) and Colin Bell, also an Atlantic County Freeholder.
Brindle said that looking at combined first quarter totals dating back to 2007, fundraising and cash-on-hand figures — two key indicators of campaign finance activity — were lower only in non-election years, though parties during the first three months of this year spent more than they did in each of the four previous election years.